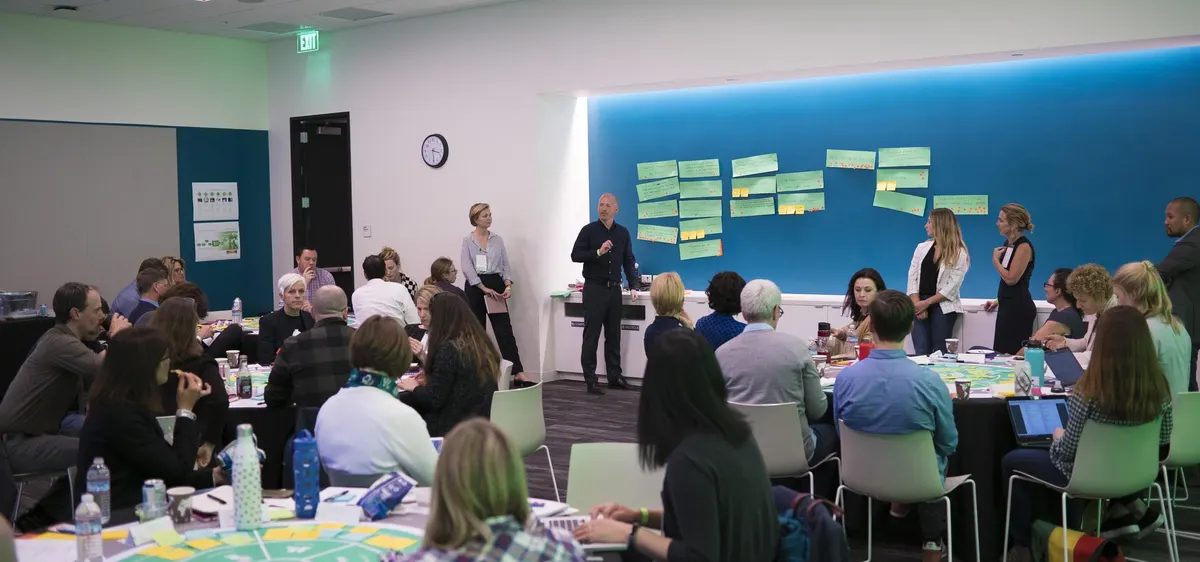 Solving our planet's most pressing issues will take unprecedented collaboration between a range of stakeholders, including businesses, governments, nonprofit organizations, and civic organizations. Attempting to solve these issues using the tools available to only one of these stakeholder groups is futile given the intersectional nature of global issues like climate change, poverty, discrimination, and racism.  


SecondMuse is a company that operates around the globe to bring various stakeholders together to reshape economies to be more inclusive, just, and equitable. The business has launched collaborations between companies, governments, NGOs, and more to address major global issues, such as plastic in our oceans and increasing inclusion in high impact industries. The company's extensive work is based on creating stakeholder networks to drive positive social and environmental change. 


"If you were to look at our throughline, much of it has to do with how we bring together stakeholders from all different sectors and solve problems," said Carrie Freeman, Co-Chief Executive Officer at SecondMuse. "We also engage entrepreneurs and really harness the ecosystem around them to create these solutions." 


Christopher Marquis: Your work has touched everything from health care to science to business incubation. What is the throughline? Can you share a specific example of one of your programs that exemplifies this approach? 


Carrie Freeman: Our theory of change is that the world has complex problems that can be solved. And when we look at those problems we see there are some that require moonshots and big ideas and disruptive solutions, and there are others, where we just need to make progress. We really like doing both and really believe that one of the key things to actually achieving both of those is to engage stakeholders from all different sectors. If you were to look at our throughline, much of it has to do with how we bring together stakeholders from all different sectors and solve problems. We also engage entrepreneurs and really harness the ecosystem around them to create these solutions. 


A program that we're focusing on right now is in Southeast Asia, and it is on reducing ocean plastics. It's called The Incubation Network, and it launched a couple of years ago. The direct harm caused by ocean plastics has really come into focus in the last few years. There are large organizations that contribute to that problem that have now committed funding and resources and said, "Hey look, we know this is a problem. We are part of this problem, and we know we need to solve this," but when you look at the available solutions that exist it's pretty slim. 


We have been working primarily out of Singapore, but also across all of Southeast Asia, to help build out that pipeline and build out the ecosystem of investable solutions. We are engaging all sorts of different system actors, so we work with entrepreneurial support organizations that say, "If we are going to focus on increasing entrepreneurs' circularity knowledge just in general — and specifically focused on ocean plastics — we need curriculum." So if you are in Ho Chi Minh or if you're in Mumbai or wherever you may be, let's actually go off and create this infrastructure to help entrepreneurs. 


We're a group of people working vigorously to better the world we all live in. You really have to create this ecosystem approach if you're going to try to address big problems. There's also a huge component of engaging with civil society — so much recycling happens in the informal sector. You have to engage government actors. We work with NGOs, we work with universities, we work with entrepreneurial organizations and investors, so I think the Incubation Network is a good example of seeing the breadth of our work. 


Marquis: How do you integrate principles of diversity, equity, and inclusion throughout your operations? 


Freeman: Diversity and inclusion was one of the core things that the company was founded on. It's just something that is part of our DNA, and many of our programs are actually specifically focused on increasing diversity in economies. So all of our programs have as a throughline, "How can we be more inclusive?" 


We work in New York with the New York State Energy Research and Development Authority, or NYSERDA. We run a climate tech accelerator and ecosystem program that really focuses on, not only the climate tech element of it, but the companies themselves, the manufacturing ecosystem around it. It is predominantly white males, so over the last several years we have really focused on how to increase support for entrepreneurs, as well as help educating manufacturers, to increase their inclusivity practices. We are really proud to say that about two-thirds of the entrepreneurs that we support are women or part of the BIPOC population. So that's an example when we came in, not with a specific focus on inclusion, but it's woven throughout our operations. 


One of our programs is called GET Cities. We're working with Break Through Tech and in partnership with Pivotal Ventures on increasing the number and impact of women in emerging tech hubs across the United States. It's one of the most important industries of our time, and yet it is certainly not representative. Millions and billions of dollars have been put into the industry, so we are specifically focused in this case on what are all the different things that need to be addressed in this system to increase women and other marginalized groups in tech education, within the workforce, and within tech entrepreneurship.   


Marquis: So how do you tackle issues like increasing representation in tech when they are impacted by so many facets of society, such as the government, education systems, and dominant economic models? 


Freeman: With the GET Cities program in particular, we looked at it through the journey of a woman from higher education all the way to holding an executive role at a tech company, and we considered how that can be achieved realistically. 

Some of the program is focused on that pipeline at the university level. With support from our partners at Break Through Tech we specifically engage at the university level or higher. How do you get female students interested in tech and how do you work with universities to break down barriers and make them feel accepted and welcomed. Then there's other work that's very much targeting the hiring practices of companies, making sure that these young women are getting those internships, for example, and they are getting the opportunities to be hired is one of the most interesting things when you look at this pipeline. 


Most young women actually end their career in the first five years. A lot of people think, "Okay, whenever a woman starts a family that's when the dropout rate goes up," but it's actually much earlier. Women get into these environments and recognize that it is actually not very inclusive, it is not supportive, and they don't want to make an entire career in an environment like that. In that case, one of the areas that we're really working on is having mentors from large organizations for these young women. We started this work in Chicago, which is a fabulous place to start it. 


We've got a program that is looking at both people in the first five years of their career and managers and mentors that's aimed at understanding how the dynamics in the workplace are actually creating this mass exodus, if you will. It's very much people understanding each other's viewpoints and then also putting the systemic types of processes and changes in place to address the issues. 


One of the key things is, once again, this collaboration and bringing different types of stakeholders together to deeply understand problems from other people's viewpoints, who are actually in the field and impacted by this. We're starting out in a really great strong place already, and we've gotten lots of early success in it. 


One of the other areas that we look a lot at is the storytelling. The GET Cities program is looking at how do you signal and convey to people that they belong? So all of our work involves signaling. These are simple things in a way, but we look at who you have on panels, who does the voiceover for your technology, what different languages do you use? All those things that demonstrate to other people that everyone is included and welcomed. 


Another example from a different angle are the community-sourced incubators we are developing in Fort Meyers, Florida and Battle Creek, Michigan. In these very diverse locations we have the same basic focus on strengthening local economies by supporting inclusive businesses and entrepreneurs. Our idea is to bring together more entrepreneurs into the fold and importantly is creating connections — increasing the relational wealth in the communities, For example, we have these successful businessmen actually engaging and supporting and working with women entrepreneurs and helping them get their Main Street businesses off the ground.