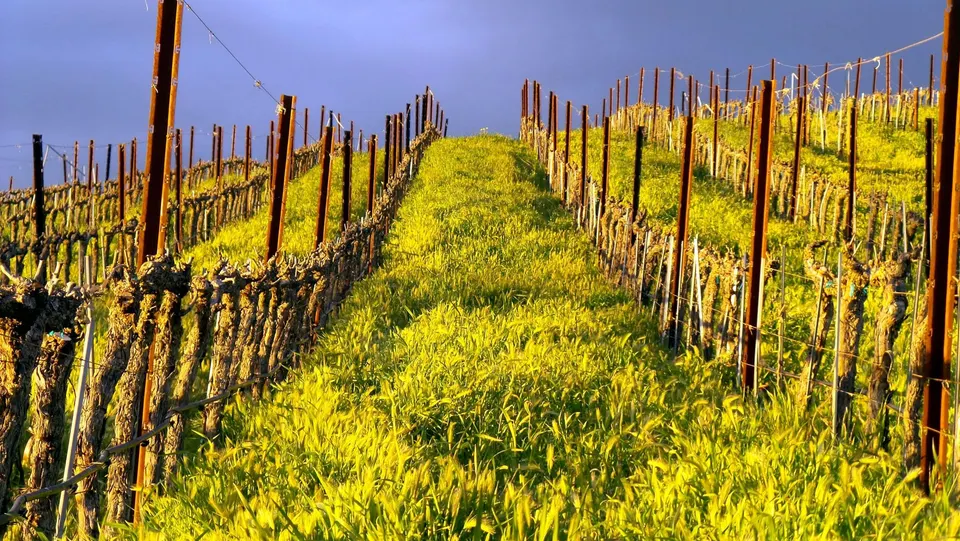 American wineries are increasingly adopting planet-friendly practices to ensure a resilient future and meet growing consumer demand for sustainability, but organic wine production in the United States lags the global rate. It's partially of a matter of taste, but some winemakers are pursuing new paths to reach consumers with wines made using organic practices. 

Thanks to its history of Earth-friendly practices, Tablas Creek Vineyard in Paso Robles, California was selected to be a pilot winery for a certification program overseen by the Regenerative Organic Alliance. The alliance was looking to go beyond the USDA Certified Organic standards by creating a new stakeholder-minded certification that incorporates soil health and animal welfare components as well as social benefit by considering the welfare of farm workers and farmers.  


To learn more about this new certification and the role of organic and regenerative agriculture in purpose-driven business for my research, I recently talked with Tablas Creek's general manager and partner Jason Haas, and viticulturist Jordan Lonborg. While the certification is new for Tablas Creek, planet-friendly practices — modeled on those used for decades at French wineries — have been the norm since the winery was founded in 1989 as a family-owned partnership. 


A 'Cool Opportunity' to Craft Standards 

While organic farming has been part of Tablas Creek's operations since its start, Haas says the winery's thinking and practices have evolved over time. "Our principal motivation behind this was to help the vines express the character of place as clearly as possible and minimize what we were putting on the vines and land," Haas says. That led Tablas Creek to some aspects of biodynamics — a holistic, ecological, and ethical approach to farming — and the start of its flock of sheep and use of cover crops, which eventually led to piloting the Regenerative Organic Certified (ROC) program through the Regenerative Organic Alliance. 


"There are ROC protocols that conform to that baseline of soil health, animal welfare, social welfare, but the specifics for what you have to do in a vineyard is going to be different than what you're going to be doing if you're growing rice or if you're growing cotton," he says. "Being a part of the pilot program was this cool opportunity for us to help craft those standards for the wine community. If there's the opportunity to share practices that we think are going to be good for the community at large, we're all in." 


Regenerative agriculture involves a closed-loop philosophy that limits the use of external products, Lonborg says, which means Tablas Creek generates its fertilizer on-site. "That's basically what regenerative farming is," he says. "It's nothing new, but it's a way people have been farming for hundreds and hundreds and hundreds of years, although like with other certifications, it forces you to look at your property a bit differently." 

Tablas Creek has also grown its original sheep herd of about a dozen to the current 250 who serve as "the heart" of the winery's soil fertility program, Lonborg says.  


"We generate all of our own compost on the property. We do not import any fertilizers whatsoever," he says. "The core of our pest management program, if you will, is the planting of perennial beneficial gardens and planting large swaths of annual beneficial gardens doing whatever we can by working with nature to make the property as viable as possible. Our approach is to take more cues from nature and try to work with nature as opposed to against it, or to control it." 


Another area of focus for the ROC program is carbon capture or sequestration, which requires comprehensive testing to show that Tablas Creek is maintaining or building carbon levels in its soil and addressing the climate crisis. "We include a cover crop during the winter months, so we're photosynthesizing 12 months out of the year" says Lonborg.  

But one unique aspect of ROC caught Lonborg's eye. "There's a social pillar tied to the certification … a huge focus on how you treat the people that are working at the winery, plus the animal welfare and farming aspects," he says. 
Making It 'More Than Just A Job' 
 
One of the biggest impacts of the ROC at Tablas Creek is the social benefit component that includes cultivating input and involvement of field workers, Lonborg says. "Around the world, the dark side of agriculture is the way the workers are treated," he says. 

Now, Lonborg says the Tablas Creek team has weekly meetings where the dozen or so full-time field workers discuss politics and other current topics, which is a new opportunity for many of them.  

"They never had a voice. They get jobs in the fields, and they're assigned the task, and they do the task, and they get another job, and they complete that task, and it becomes a repetitive motion," he says. "We want input, and it took a long time for them to start getting comfortable with that. We're at a point now where those walls are broken down. We can all talk about each other's jobs and come up with suggestions for how we think we can do things better." 


In addition to building worker empowerment and ownership, Lonborg says the winery has seen production benefits because the workers realize they are valued and feel a stronger connection with the business.  

"It's become much more than just a job or a place that they show up to every day and collect a paycheck on a Friday," he says. "There's a lot more meaning behind what they're doing now out there, and it's been super powerful to watch." 

Connecting with Consumers Overall, the wine industry has a unique opportunity to bring attention to the benefits of regenerative farming, Haas says, because many wine drinkers value where and how their wines are made.  

"There's a language that the wineries have had to develop that talks about the impact of their choices in the vineyard on the product that people are drinking," he says. "Because wine is a value-added product, wineries can be recognized and rewarded by the market for their investments, as the same practices that make for better soils also make for better wine in a more direct way than, say, a grain farmer or cotton farmer might be able to demonstrate." 
But Haas points out that "the reputation of organic wine in the United States is not good, and that's a relic of the way that the National Organic Program wrote the standards." To get the USDA organic seal, U.S. wineries cannot use sulfites, which keep the wine from oxidizing and inhibit bacterial growth — a different standard than the rest of the world. Haas says that makes the wines less shelf-stable and less attractive to many wine drinkers. 

"They tend to be marketed to the people who want to buy something that's organic rather than the people who want to buy something that's great wine," says Haas, who notes that Tablas Creek and many other quality wine producers in the U.S. and around the world actually are farming organically but choose not to market their product as organic.  

But this perception may be changing. "In general, younger consumers are more concerned with how the products that they buy and consume are made," Haas says. "The feedback that we've received from sharing the story of how we have been working on regenerative organics and the fact that we got the certification has been tremendously positive." 

New Ideas for Better Businesses 

Tablas Creek's regenerative practices even caught the attention of Yvon Chouinard, founder of Patagonia, who attended a dinner that featured some of the winery's lamb where he met Tablas Creek winemaker Neil Collins.  

Leading companies in the organic space like Patagonia and Dr. Bronner's were part of the Regenerative Organic Alliance that helped push for development of the ROC program. Patagonia wanted a more holistic certification that covered its supply chain, from cotton to row crops to orchards to chocolate, while rebuilding topsoil, reducing pollution, and sequestering carbon.  A few months after the dinner, Tablas Creek was invited to be a part of the ROC pilot program. 

Following the path forged by these larger companies through regenerative practices continues Tablas Creek's tradition of collaboration and community-building. 

Lonborg and Haas say learning and sharing with others is part of the way things are done at Tablas Creek, whether it's presenting seminars for other winemakers. "We have a long history of people kind of looking to us for new ideas, new ways of farming better. We do have a ton of just informal relationships with other people in the community," Haas says. "We did a series on dry farming with the California Alliance for Family Farmers. The lower the demand on this shared (water) resource that we all rely on, the better it is for everybody." 

Future plans include workshops on regenerative farming to help others get on that path, with Lonborg serving as a key resource for those looking to enhance their sustainability efforts.  

"A lot of people when they close their eyes and they think of a vineyard they just see grapevines," he says. "If you're going to start farming organically, you need to hit that reset button and re-evaluate what you think a healthy vineyard should look like. There shouldn't be just grapevines — it should be as far from a monoculture as possible. That could be planting fruit trees throughout your property or vegetable gardens or perennials … doing whatever you can do to create more of a biodiverse ecosystem. Getting away from herbicide usage and increasing biodiversity — those are the first big steps that farmers need to take if they want to move down that regenerative farming path." 

Through the ROC pilot program, Haas says he hopes that Tablas Creek has helped regenerative agriculture advocates reach new audiences and connect with future wine drinkers.