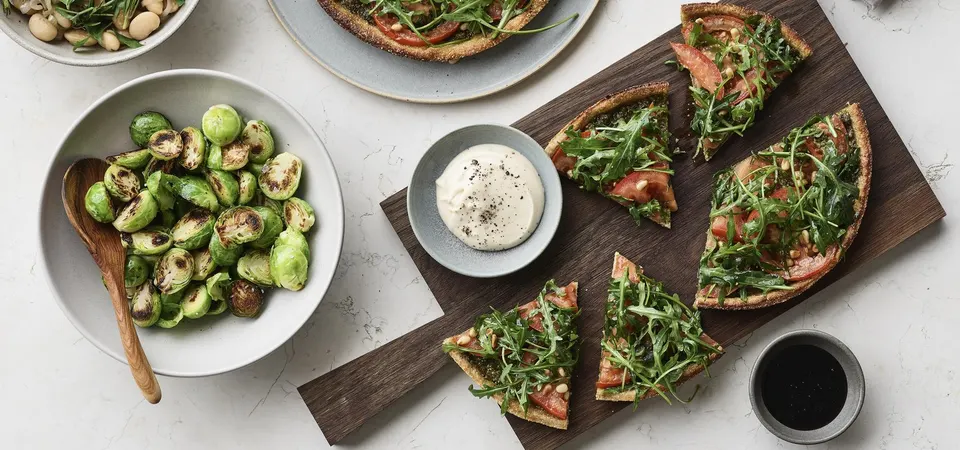 Our global agricultural system not only produces a large CO2 output but is also responsible for upwards of 45% of global waste. Vegan meal kit brand Simple Feast aims to address these issues by championing regenerative farmers and focusing on waste minimization.  The company was founded in Denmark and just entered the US market. Simple Feast has achieved B Corp certification for its social and environmental performance and believes its impact and a purpose-driven ethos will resonate with Americans.  
In the three years since its founding, Simple Feast has grown to serve 220,000 meals per month in Denmark and Sweden. The company calculates they save 2,235 lbs of CO2 and 60.5 gallons of water per meal compared to an average meat diet. Based on these figures, in January, 2021 alone, the company helped save a total of13,362,147 gallons of water and 493,341 pounds of CO2. 
I recently interviewed CEO Jakob Jønck on how he intends to scale his company in America. Below is an lightly edited transcript.  


Christopher Marquis: You mention Simple Feast champions regenerative farmers and waste minimization. Can you describe how you have done so in Denmark and how you will replicate this in the U.S.?   


Jakob Jønck: Our relationships with our farmers are a critical part of our business. With a global food system set up to benefit retailers, rather than consumers or the earth, we decided to rework the system from the ground up. In the Nordics, we champion organic and regenerative farmers by working with them directly for as long as we can. We work only with organic farmers and have a set of principles that all of our suppliers have to live up to in order for us to partner with them. A few of the requirements include being 100% organic, following labor laws, and a regenerative perspective on how they take care of their land. 

As we expand to the US, we're looking to replicate this farm-to-doorstep approach, which takes time. As we first launch in California, we're recreating the same processes as closely as possible, but will need to work with a few distributors initially as we develop our relationships with local farmers and scale our business. We expect to work directly within the first year in-market. 

Launching in the U.S., California was a natural first market for us given its abundance of amazing produce and organic farms. Sustainable business is not always the most rapid, but we're making sure we do it right by our customers and the planet. 

We estimate our meals are saving 60-75% of CO2 compared to typical U.S. meals. Additionally, a family who's a Simple Feast customer, is saving 250 gallons/per day of water when compared to an average meal. This includes calculations of livestock water consumption and CO2 output and transportation of both raw materials and final product.  


Marquis: How do you factor travel related carbon for meal kit delivery into your environmental impact assessment?   

Jønck: One of the beautiful things about local, organic and regenerative farming is the minimal impact on the environment where it can even become a positive relationship. With a complete focus on local sourcing and plant-based foods (as opposed to livestock), environmental impact is built into our model by design. 

As far as delivery to the consumer is concerned, we prioritize route optimization and deliver to 50-60 families in one truck route, which minimizes CO2 output further when compared to all 50+ families driving individually to the grocer. We deliver once a week on Sundays for predictability and transportation minimization reasons. On top, in the Nordics we are coming close to 30% of our deliveries done with electric vans. 

Marquis: How have you varied the menu and portion size for USA v. Denmark/Sweden?   

Jønck: We've tested a lot with our portions and find producing the perfect size for every single person will never exist as we all need a different caloric intake based on our personal weight and activity level, not the country we live in. 

We've ultimately decided to not change this too much for the U.S. as we've found it's a great system to give anyone what they're looking for in terms of portioning.  

Marquis: Some mission-focused food companies do include minimal meat offerings for the U.S. market as completely plant-based may limit market acceptance. Did you consider this? 

Jønck: As an entrepreneur, I completely understand this perspective. As a founder running a company with an environmental mission, we've decided against it. In fact, four years ago, we had a bit of meat in some of the dishes for this market acceptance reasoning. We found, however, if we start including meat, everything else is perceived as a side dish.  

Our business is different as we build food innovation by putting plants at the center of plate. If a customer wants to add meat, they're welcome to, but it's not our job as a business to solve for meat. When we as a culinary team don't have to care about meat, we can spend time on true plant innovation. For example, grocers give you the choice between six or seven potatoes, but there are over 3,000 potato varieties out there. That's where we spend our time and resources. Our customers have become more interested in fermented products, sauces, and the true healthy gastronomy plant-centric meals can offer.  


Marquis: Why not expand further in Europe as opposed to USA? Why Southern California as opposed to another USA region? 


Jønck: California was a logistical decision as we began to expand outside of the Nordics. In Europe, we're restricted by the seasonality of ingredients. Restaurants that lead the food innovation in Europe are having to import their ingredients from all around the world or spend a tremendous amount of energy growing crops indoors. In California, with a mild climate and ample USDA organic farmers, we can source seasonal ingredients locally 10 months out of the year using the best and most sustainable power source - the sun itself.  
Marquis: Why did you become a B Corp? What did you learn as part of the process of certification? 


Jønck: Becoming a B-Corp was a natural fit for our business. I believe firmly in corporate altruism and am proud to have built what it means to be a B-Corp into every aspect of the business possible, starting from day one. This includes a digital produce exchange platform that connects us directly with farmers to help plan a zero-waste order and delivery system, vertically integrating kitchens with chefs as opposed to redistributing produce in a warehouse, portioning sizing to reduce food waste, and rejecting single use plastics.  The most surprising part about the certification process was proving this was actually in our DNA, not something we were superficially changing about our business. For the first time instead of just naturally operating under B-Corp principles, we had to start documenting, proving, and talking about it on a larger scale. 

Marquis: How have you adapted your business model to support your mission? 


Jønck: We are a food innovation company that's vertically integrated and innovate to best support our environmental and health-focused goals. In order to maintain the freshest product while minimizing waste, we've developed innovations like our closed loop delivery in the Nordics (which we plan to replicate in the U.S.). In fact, we are the first direct-to-consumer food company in the world to go completely waste free in terms of delivery materials, including insulation. 


We've also minimized steps from the farm to your house. It's difficult to get fresh, locally sourced ingredients from nearby farmers at scale. To make it possible, we had to find a way to streamline our model. Whereas the traditional food system is more geared towards maintaining longer retail shelf-life, ours is built around getting fresh foods to consumers in as few steps as possible. 

Lastly, we don't have warehouses, we have kitchens. Unlike most meal kit services out there, we have kitchens where our chefs are designing the meals and preparing the ingredients as opposed to packaging facilities. To make this work at scale, we needed to overhaul our business operations to be more like a restaurant that is scaling than like a meal kit service just distributing raw ingredients.  


Marquis: There are a lot of plant-based companies out there today, what makes Simple Feast different?  


Jønck: First of all, we're excited to see the growing consumer interest in plant-based foods and it's great to see so many strong players in the market. Whether people are eating plant-based because of us, or someone else, we consider it a win for people and the planet.  


We take a fresh, whole foods, organic approach to plant-based food innovation and eating. Instead of over-processing ingredients to create a plant-based product, we use tried-and-true techniques like precision fermentation to unlock the optimal taste and nutritional value in our meals. Then we put this philosophy into action when thinking about how can scalable plant-based products be done version 2.0 where they are as good for you as they are for the planet. Most other plant-based food companies have solved for the planet, not for human health. We are doing both. 


We also have chefs with Michelin-starred backgrounds designing these plant-based feasts. Eating plant-based or being "vegan" can carry the stigma of being healthy at the expense of tasting delicious. We fundamentally disagree with this and think that the ultimate challenge is creating plant-based foods that actually taste great. Our chefs bring their culinary excellence to maximize the flavors and indulgence in plant-based foods.