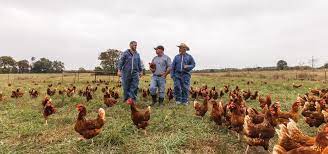 Workers are voluntarily resigning from their jobs in record numbers in what is being called The Great Resignation. In fact, more than 11 million workers left their jobs between April and June of 2021, according to the U.S. Department of Labor. Many companies are seeking the driving force behind this economic trend.There are myriad theories, but one of the most plausible explanations seems to be that people are reconsidering their priorities after dealing with the COVID-19 pandemic for nearly two years. 
To get a better understanding of the trend and follow up on an earlier conversation about stakeholder-focused business, I talked with Russell Diez-Canseco, President and CEO at Vital Farms, an ethical food company based in Austin, Texas. As a Certified B Corporation since 2015, Vital Farms balances purpose with profit through a commitment to its stakeholders, who include its employees, network of family farmers, suppliers, customers, consumers, communities, the environment, and its shareholders.  
He stresses that it's important to embrace a people-first culture, and how that strategy can help other companies create strong connections with their workers. "It's hard to build a high-performing culture if people aren't having their most basic needs met," Diez-Canseco says. Listening to the needs of employees and following through on making changes to fit those needs have helped the company evolve throughout thepandemic.
In our conversation as part of my research on purpose-driven business, Diez-Canseco discusses embracing remote work and searching for ways to bring connectivity to the experience, continuing to foster strong relationships with Vital Farms' network of over 250 family farmers, and increasing their diversity, equity, and inclusion efforts. 
Christopher Marquis: How did Vital Farms first respond to COVID-19 and adapt its practices as a company?
Russell Diez-Canseco: 
We started like everyone did in March of 2020 just trying to do the best we could with the limited information anyone had at the time. And after we had worked remotely for a few months, we realized a lot of people actually enjoyed it, including me. 
So, we started to ask everyone what they preferred. We never go into a conference room as a senior leadership team and make these decisions on behalf of our crew members; we ask them what they want. About 90% of our employees said they wanted flexibility — the freedom to choose whether they could come into the office. And as we were making this decision — whether we should move away from an office setting permanently — we talked with other companies who had experience working remotely. What I heard consistently was that you can't think of working remote as a problem to minimize while you're waiting to get back to the "real" way of working. You have to fully embrace it.
It was upon hearing this feedback that a few things became painfully obvious to me. First, until we had committed to working remotely, the whole experience would feel like a distraction while we waited to get back to the office. Second, as long as we were still budgeting based on the way the world used to work, we would be making insufficient investments toward connectivity for remote people.
And although we realized we could save money on real estate, the advice I got from those with experience with a remote culture was not to think of that savings as money to drop to the bottom line. That budget should now be your traveling and connectivity budget. Basically, don't make the choice to work remote about the money. Make it about the people, and make it work the best you can.
So, around the beginning of 2021, we decided we would no longer have a headquarters building. We would embrace working remotely as our "forever plan." And an interesting phenomenon occurred after working remote for three months. We realized we could hire people from anywhere in the country. This became a wonderful opportunity because now we are attracting great people we would not normally be meeting. In fact, if you look up the statistics, about 65% of our crew was based in Austin, Texas, back in March of 2020. But today, only 33% are based in Austin. So, we have committed, and we're working really hard to meet the needs of everyone. 
Marquis: Can you speak more on how the different teams are working on connectivity? Is there a space your employees can actually go to, or do you rent space as needed?  
Diez-Canseco: When we declared we would not go back to the office as a place to sit at a desk, we created a committee from throughout the company to re-imagine our office as a shared working space, a gathering space, and a celebration space. Because there are still in-person creative, collaborative, training, and connectivity needs and we wanted to fully support that. 
We are currently remodeling our office in Austin to be a shared workspace. We also have a little bit of an annex space that we allow people to reserve. But in the spirit of not looking to pocket the real estate savings, we usually rent conference rooms, hotel rooms, or meeting rooms. We use our resources wisely, but if we need to get together, we get together. And when you have committed top to bottom, right to left, to work remotely as the sole way you're going to operate, then you can apply our continuous improvement mindset to solving the problems associated with working remotely.
Here's an example: I was at a conference last fall and another CEO shared some practices they adopted to collaborate in person. He shared a very simple idea that I loved — and that we've started experimenting with. He said that when you're in a conference room and everybody is together in person, but one person is remote, that the remote person's experience is altogether different. They are looking at everyone talking to each other. They're off at the end of the conference table just watching a roomful of people engage. He said one wayto make it more accessible is to have everyone in the conference room actually participate in the online meeting from their own laptop while around the conference table instead of using the big screen on the wall. That way you can talk to the person across from you and the person who's remote can see your face as if you're on a Zoom call. It was a brilliant idea, and so we're constantly mining the world for nuggets like this one to strengthen how we practice a remote culture.
Marquis: What are three pieces of feedback that you would give other CEOs in regard to working remote?
Diez-Canseco: Number one goes back to our stakeholder model. You have to start thinking about your people, and not just about how you can get them to be productive. Once you start thinking about people as people, you can start to ask the right questions about their hopes and dreams, their wants and needs, and their true limitations. Because really, it's hard to build a high-performing culture if people aren't having their most basic needs met. 
Second, if you're going to make working remote work, you have to embrace it. You can't think of it as the thing we're going to sit through until we get back to the office; you have to fully commit. This will inform how much time you need to spend investing in creative solutions and in thinking about budgeting. We have a person on our team who probably spends a third to half her time just thinking about remote connectivity, planning events, and finding vendors who can do things like teach a cooking class. We're trying to take all of the things we love about being together and finding a way to somehow bring a little bit of that experience to our  people who live across the country. We're still learning, but I think it works really well.
Last, don't think of working remote as a way to save money. Start with talking to your people because ultimately it has to come from a place of caring for stakeholders. If it's not, then you're going to optimize the wrong things. 
Marquis: Let's shift our focus. We've talked before about your work with family farms who are your suppliers. I'd love to hear about what you have done throughout COVID-19 to enhance these relationships. 
Diez-Canseco: We have been very intentional about investing time, money, and energy in being really great partners with our suppliers. And that doesn't necessarily mean paying them more than the other guy. It means a commitment to sustainable outcomes for our stakeholders. We are focused on helping ensure they are economically viable. So what does that look like? Well, we have about 25 people supporting our network of over 250 family farms, which is a one to 10 ratio. And these 25 people have myriad jobs, one of which is to build a relationship of mutual accountability with their farmers. 
Separately, we want to make sure that what happens on the farm meets or exceeds our brand standards every day. But it all starts with the foundation of the relationship that we have with them. Because if all we did was show up every day and try to catch our farmers doing something wrong, or make it feel like we were always giving them a correction of errors list, then it's really hard to build a trust-based relationship. The primary role of those 25 people is to support them in being successful, to be genuine, and to create friendships, all before they even decide that they want to work with us.
I remember reading about McDonald's University and how they offer training. Their workers go to training before they can become a franchise owner. And so we too offer training to our prospective farmers before they even sign up. Many of them haven't been poultry farmers before, and we want them to know exactly what they're getting themselves into.
Marquis: What are their backgrounds if they're not already poultry farmers?
Diez-Canseco: They are other kinds of farmers. And maybe they're the pillars of their community with a commitment to doing things the right way. Maybe they have the right piece of land in the right part of the country. And now they want to consolidate and refocus their farming specialties to poultry and work with us. 
So, we talk and offer support throughout that relationship. Like, "Hey, if you're curious then let's teach you more to make sure you know what you're getting yourself into." For example, one of our farmers may want to build a new barn to meet our company specifications, and they've never managed that kind of construction project before. Then we will have somebody come out to hold their hand as they work with vendors and so forth. We'll offer extra special attention when their first flock of birds arrive because we know the challenges involved. It's mostly about how we can help them and help answer their questions. In the franchise world I think it's called a business success manager — somebody who comes in and says "Here's what some other farms are doing and they're seeing results."
Separately, we have a lot of audits. But we specifically use a third party to audit. This takes the pressure off the relationship between the person who shows up every week and the farmer. Now these two can simply work together to pass the audit, instead of feeling like they're friends for 29 days, and suddenly on day 30 they're enemies.
I can't promise that 24 hours a day, seven days a week, I know exactly what's going on. So the best way to make sure everything's working the way we say it is, day in and day out, is by building the kind of trust-based relationship, ownership, and engagement between us and the farmer. That's how we're going to be successful.
Marquis: Next, I'd love to hear more about your company's DEI (diversity, equity, and inclusion) focus. Why do you think it's important and what effects have they had? 
Diez-Canseco: What I've heard loud and clear when talking about DEI is that it's a journey and that you're never done. So, I won't tell you that we've perfected any of this.
When I became CEO, we were not a public company yet. The board was primarily comprised of private investors. We had several rounds of private investment over the years, and usually when you invest, you have a right to a board seat. So, we had a pretty homogeneous board of white male, private equity, venture capital, well-intentioned impact investors. And their area of expertise was consistently finance deals acquisitions. 
So, I said, "This is the first time I've ever been a CEO, but I think we need some diversity on our board." I knew this would have benefits in terms of bringing more diversity of thinking, experience, and expertise. For example, I wanted somebody who knows branding because we're at a branded consumer goods company. But nobody on our board was a brand expert. So I knew we needed a marketing leader on our board. 
An old adage that I grew up with in the food business was that you want your people to reflect your consumer, because it's really easy to not connect with consumers' needs if you can't understand their world. So what does that look like? In my experience the majority of people who buy food in this country at retail are women, so we probably needed more women on our board and on our leadership team. Then you can play that thought process out across a lot of elements of diversity. 
The board was very supportive of these changes. Some of our board members even said they'd be willing to release their board seat if we found the right person. And so we engaged one of the big recruiting firms to advise us. They have a tool called a board matrix where you identify all the board members and talk about all the things they bring to Vital Farms. Then you identify gaps and look to fill the gaps. That created sort of a go-get list of the kinds of people for whom we might be looking. And over the last two years we built the board of our dreams — a board that is, I believe, two-thirds diverse across racial ethnic orientation and gender. It's an incredible board that's high performing; it's the opposite of a rubber-stamp board. And the questions, encouragement, and thinking is so much richer because of it.
Marquis: How about throughout the rest of the company? 
Diez-Canseco: What's that old saying? If you want to go fast, go alone. But if you want to go far, go together. There was one fast thing I could do because it was more in my control. I could bring new people onto my senior leadership team. I could try to fill the top of the funnel with diversity. 
Over a year ago my senior leadership team had one woman on it, and the rest of us were white males (I'm Hispanic, but I'm also white). Today, we are a gender-balanced leadership team. I intentionally filled the funnel, and it turned out to be very possible to have a senior team that was gender-balanced. Throughout the rest of the organization, it's slower going.
But we have committed to invest internally in DEI, embedding these topics in the way we operate. We called the National Diversity Council, who advised us in how we could embrace diversity as an organization. Next, we hired a DEI manager, which in hindsight we should have done years earlier. But better late than never.
We needed somebody who would bring a lot of energy to this initiative and hold us accountable internally to making the progress we wanted to make. There are documented goals that run the gamut from a culture committee that enhances belonging by celebrating many unique differences across our crew and forming closer connections, as well as a wellness committee that oversees a corporate wellness program focused on mental, physical, financial, and occupational health. It all shows up in the spirit of "walk before you run," or "done is better than perfect." We have much more to do in the years ahead as we continue this journey.