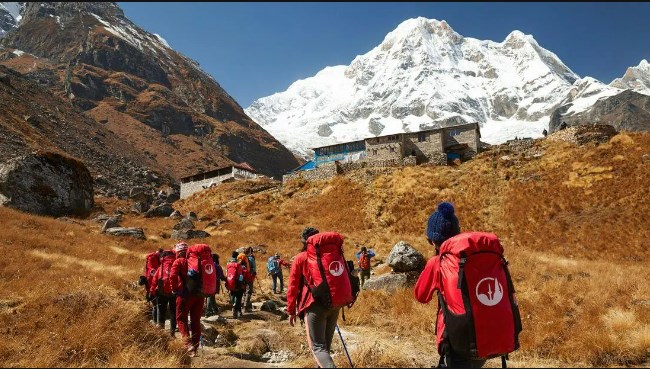 Over the last two years, the tourism industry has been one of the sectors most affected by the COVID-19 pandemic. Countless trips and events have been canceled, borders closed, and travel restrictions enforced both domestically and internationally, creating an immediate and continued strain not only on this industry, but also local economies and people's livelihoods. James Thornton CEO of Intrepid Travel, the world's largest B Corp certified travel company, shared with me that the pandemic presented the most challenging years the business has endured in its 32-year history.
Yet, despite these unprecedented setbacks to the global tourism industry at large, Thornton also told me that Intrepid Travel has been able to grow, invest and further demonstrated that doing good for the world is also good for business.
For instance, earlier this year, the company achieved recertification as a B Corp and unveiled a new vision and renewed purpose focused on empowering communities, protecting the planet and creating a more equitable experience for all travelers. Thornton shared that aligned with their new mission, Intrepid Travel has focused on creating over 200 new global trips with a renewed focus on wildlife and environmental conservation, disability support, preservation of indigenous and minority cultural traditions, gender equality and empowerment, as well as skills training and education.
More details from my online conversation with Thornton are below.
Christopher Marquis: I see Intrepid Travel is over 30 years old and is the "world's largest purpose-led adventure travel brand." Can you discuss the founding and evolution of the company and its purpose?
James Thornton

:
Our founders Darrell Wade and Geoff 'Manch' Manchester didn't start out with a plan to create the world's largest purpose-led adventure travel brand. In 1989, they had just returned from travelling with a group of friends through Africa in a converted rubbish truck. During their adventure, they had an idea for a new style of small group travel. From the start, they believed travel could benefit both travelers and the communities they visited: using local accommodation and transport, eating in neighborhood restaurants, and travelling with local leaders ensured more authentic experiences and meant more money generated through tourism stayed where it belonged: in local pockets.
Manch was the company's only guide and Thailand was its only destination. There were 46 travelers in that first year. As the appetite for this style of authentic, immersive travel grew, so did Intrepid Travel's product offering. And with this growth, Darrell and Manch recognized that they had a responsibility beyond just the product. They always believed Intrepid Travel would be more than just a travel company.
Then and now, we believe that our whole business can be a force for good. We exist to inspire, create, share and lead the best travel experiences ever – for both the people and the planet. Over the years we've advocated on issues such as climate action, vaccine equity, human rights, animal welfare, child protection and gender equality. We were the first global tour operator to end elephant rides – it was a risky decision at the time, but doing the right thing not only helped to grow our business, but it has also changed the industry. We pursue partnerships that genuinely empower communities. The Intrepid Foundation has raised AUD $11.66m for more than 130 communities around the world since 2002.
Intrepid Travel has been on our carbon journey for more than 15 years. In 2008 we became a signatory of the world's largest corporate sustainability initiative, the United Nations Global Compact. Two years later, we became a carbon neutral travel company. We realized in 2019 that being carbon neutral simply was no longer enough. At the start of 2020, we declared a Climate Emergency as a founding member of Tourism Declares, a collective of businesses, organizations and individuals who are concerned about the climate crisis. As part of that, we adopted our seven-point climate commitment plan, which includes setting science-based carbon emissions targets and becoming climate positive by actually creating an environmental benefit by removing additional carbon dioxide from the atmosphere.
Despite 2020 being a devastating year for travel, Intrepid became the first global tour operator with verifiable science-based targets through the Science Based Targets initiative (SBTi). This independently assesses corporate emissions reduction targets in line with what climate scientists say is needed to meet the goals of the Paris Agreement for a 1.5C° future. From a practical perspective, that means we will transform our business for a low-carbon future by reducing emissions across our operations and trips, over the next 15 years.
We achieved B Corp certification in 2018 and recertified in 2022, which means we're part of a global community of companies who are redefining success in business to build a more inclusive and sustainable economy for the long-term. Being a B Corp means we're committed to our purpose beyond profit: using travel as a force for good in the world.
Marquis: What does it mean to be a "purpose-led adventure travel brand?" (Obviously, something will need to be said about carbon, but I am particularly interested in effects on communities visited). What should travelers expect from such an experience they would not get from a conventional travel provider?
Thornton: We believe that with great travel comes great responsibility. We truly want to be the best travel company not just in the world, but for the world. Our responsible travel policy outlines our commitment to preserving the environment, supporting local communities, protecting the vulnerable and giving back to the places we travel. To be purpose-led means we make decisions with people, planet, and profit in mind. Purpose for us is not a buzzword; it is the lens in which we approach everything in our business. From Community-based tourism to experiences that support First Nations and Indigenous communities, we want to create an experience that is meaningful for everyone, that brings just as much joy to the hosts as it does to our travelers. We're genuinely connected to and invested in the places we go, the people we meet along the way, and the communities at the heart of each experience
Marquis: The last two years there has been a devastating global impact of COVID-19 on the travel industry. How was Intrepid Travel able to stay resilient and keep its standards as a responsible business during this period?
Thornton: We've seen a lot of challenges in the world over the past 30+ years; global recessions, natural disasters, political conflicts, but the impacts of Covid-19 are unlike anything we've seen before. In these moments, it's important to remember who we are, what our values are, and why we do what we do. Intrepid was started because we wanted to change the way we all see the world. It has never been clearer that to be a responsible travel company is ongoing commitment to being a business that is a force for good. We will not be immune to the economic impacts of a global pandemic, but as a travel community, we are using this moment to rebuild responsibly. We have always found a way to overcome these challenges, supporting those around us and coming out stronger on the other side.
Marquis: I see Intrepid Travel in 2022 recertified as a B Corp. Why is being B Corp certified important to the Intrepid Travel brand and broader industry at large? What has Intrepid Travel doing to maintain its B Crop status? E.g., have you taken any new initiatives or launched any activations?
Thornton: Last year when the time came to recertify as a B Corp, we recognized that putting our business under the microscope during its darkest hour had never been more important. Following a comprehensive audit in 2021, Intrepid has recertified as the world's largest travel B Corp, achieving a new score of 91.2 from the B Corp Impact Assessment, up from our 2018 score of 82.7. This is an 10% improvement over the past three years. Going through this rigorous process has helped us become a stronger business for when we're on the other side of this pandemic. The certification focuses on five categories —governance, workers, community, environment, and customers —that help us to become a better business. (James Thornton's full op ed here) While today we hold the title as the world's largest travel B Corp, true success will be the day when we pass the torch. We would like to see all travel businesses meet the highest standards of verified social and environmental performance, and we hope other bigger players in tourism begin to pursue B Corp Certification for themselves. We encourage travel businesses interested in learning more about the B Corp process and how to get started on their own journey to drop us a line: purpose@intrepidtravel.com.
Marquis: What advice would you give to companies trying to achieve similar status/mission? Where do they begin?
Thornton: I tell companies to 1) Always start with your "why?" Is your reason genuine? Are you being a force for good for the right reasons? 2) Reflect on what unique areas your business can influence. For example, Frontiers North, a B Corp based in Manitoba, Canada has an Electric Vehicle Tundra Buggy that provide a completely silent, non-intrusive touring experience and reduces environmental impact through zero-emission vehicle technology; 3) While the certification process varies depending on your company's size and complexity, all companies must do some hard work. It takes honest reflection and assessment of your entire company. It takes a significant amount of time and a commitment to improve; 4) Join the network of B Lab organizations around the world to support the collective vision of an inclusive, equitable, and regenerative economy.