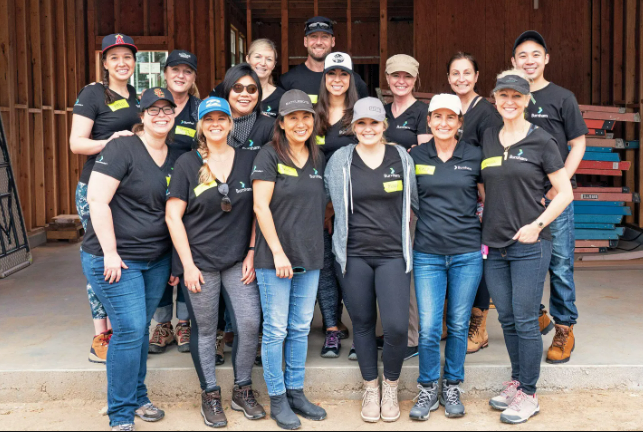 The rising cost of health insurance in the United States — up nearly 50% in the last decade — continues to put a greater financial burden on individuals and businesses. Access to health insurance has been tied to employment for most working-age U.S. adults since World War II, with 59% of companies offering health insurance in 2021. But the rising cost of coverage has businesses — especially smaller firms — considering other options.

Burnham Benefits is among the employee benefits consulting firms looking to shape new options while helping employers provide quality health coverage for their workers. The Irvine, California-based company recently launched a healthcare program called B Healthy as an alternative for Certified B Corporations. It's structured as a health insurance captive, under a self-insured plan arrangement, which is designed to help businesses partner with like-minded companies, reduce their financial risk, and gain control over their healthcare program. B Healthy is designed with values beyond profit: valuing worker well-being as part of the stakeholder mindset and innovating to maximize benefits while keeping an eye on cost.
Kristen Allison, President and CEO of Burnham Benefits, says programs like B Healthy allow companies to better tailor health insurance plans to match their needs. "Self-funding has the biggest opportunity to really be able to have meaningful and independent choices. If you go directly with a carrier, they give you their programs, and they mark them up," she says. "It is not a one-size-fits-all with any company, but with the tools we have on the data, analytics, and big creative ideas and the constant curiosity on what works — that's the driver."
As part of my 
research on purpose-driven business
, I recently talked with Allison and her Burnham colleague Alison Neilson, the company's Lead Actuarial Consultant, more about B Healthy and the story behind Burnham Benefits and its collaborative, innovative products and work environment. This article shares excerpts from our conversation.
Chris Marquis: How did you establish Burnham Benefits with a social impact business model and instill policies to benefit employees and the environment?
Kristen Allison: 
I came from a larger company, and that was instrumental in making me feel part of something bigger. Burnham Company's chairman and former president was a big philanthropist in San Diego. He set a tone of giving back. So it had that dichotomy of this large national versus this regional company with a heart that had a different focus. The person that ran the insurance division died tragically, and they were going to sell this insurance division to a large firm. And I thought, "I really like this regional business. I feel like I'm making a difference." I felt that I had more control over my destiny in that environment so I ended up buying out the benefits division and partnering with Burnham, so we kept the name.
At Burnham Benefits, we're strictly employee benefits and group retirement. Women play a big role in employee benefits; they lead with their heart. They're trying to help employers help their employees and their families, and provide the right coverage and affordable care based on their wages. While a lot of women work in employee benefits, it has been rare for women to lead a company for employee benefits. The firm grew and grew and grew on a regional basis in California.
I think why Burnham has been super special is it's a low-ego company; we are super collaborative, consultative. There is a sense of this community and we're all in it together. We really have nurtured women in the industry to think the sky's the limit. We allow you to find your path and support you and trust you. There's a huge loyalty with that.
Alison Neilson: Kris is being humble, she has been the cultural gatekeeper through the growth of Burnham and meeting with people when they come in — any position, getting to know those people — and making sure that new hires fit the culture. It started with her vision, and she has continued to mold it and shape it. As new people come in, they help with that vision.
Marquis: How was B Healthy developed and how has the program evolved since its start? Was it a concept developed by all the companies involved (Fors Marsh Group, Ventegra, Innovative Captive Strategies, Burnham Benefits) or did some join later? Who can join B Healthy?
Allison: We've had the ability, like Alison said, to encourage people to think with no limits, so it allows a lot of creativity. Ali has been leading our B Corp effort, and she came up with this idea for a B Corp program for insurance, because she felt that people have the same values and wanted to be part of this, they could be healthier.
Neilson: In the more recent years, there has been a push to do business with other B Corps to grow the movement. At the 2019 Champions Retreat in Los Angeles, I met with Fors Marsh Group President Ben Garthwaite, who in passing mentioned the idea of a health insurance captive and helping B Corps get ahold of their health care costs. He had experienced a lot of frustrations with double-digit insurance cost increases every year. I talked with him afterward during zoom meetings to come up with this idea.
Captives have been growing more popular, I would say, and they really allow smaller companies greater control. Generally smaller companies have had an insured product where you're just paying a premium every month to the carrier and you have no insight — you don't get any claims experience, you have no control. It's very profit driven. The insurer tries to give you the highest rate possible while retaining your business — it's like buying a car when they're only giving you enough information and enough reduction in the price to make the sale.
Every single company that comes into the captive has its own benefits offerings. They're underwritten based on the enrollment and their population and claims history. But the premiums are pooled for these companies and the risk is shared, and we know that a company is going to have a bad year, on average, every four years with catastrophic claims that come up. So these groups just take turns having bad years while working to manage their claims risk by putting in programs, preventive care, things that help mitigate some of that risk. Within the captive if you have a really bad year, you have this track record of helping manage the risk on your plan. So you're not going to see a huge increase because you're stabilizing those premiums year over year.
Because a captive plan is self-funded, you're essentially your own insurance company. This captive concept allows smaller to mid-sized companies have that self-funded model, because there's a sharing of risk, and that's really what Ben's vision was. So we collaborated and worked together. For pharmacy claims adjudication we went with Ventegra, which is a B Corp as well, as the goal was to build in as many B Corps as possible. Innovative Captive Strategies, the captive manager, is actually exploring becoming a B Corp because of this initiative.
For now, Fors Marsh Group is the sole member. We've been working with other brokers as well to open it up and facilitate this B Corp collaboration. Fors Marsh Group also is becoming more involved in talking with other companies and being a resource. They were the guinea pigs and are a successful case study, and can now talk about their experience in this model and all of the great things that they've been able to do.
Fors Marsh Group had a very positive year, both financially and from a benefit enhancement perspective. That really was the goal and our vision for B Healthy: to save money by better managing claims, getting insight, and offering benefits that employees need. And also enhancing benefits where it makes sense. Fors Marsh Group rolled out a mental health solution, they rolled out an infertility solution, and they're now covering bariatric surgery. They just implemented a wellness program with incentives. They wouldn't have been able to make any of these enhancements because of double-digit cost increases that they were experiencing before.
Marquis: In my research I've been focusing on how companies, broadly speaking, have social impact by coming up with innovative, creative solutions. What innovations are you seeing or driving in your industry?
Neilson: One big thing that we're seeing is leveraging virtual care. Before it was primarily used for urgent care. You have a throat infection, you get on a call, you get the next available physician, get a prescription and that's it. And now we've been rolling out solutions that are virtual direct primary care where you have this virtual, long-term relationship with the primary care provider. They become your quarterback of care referring you into your insurance network and helping you find high-quality providers.
Also, having different modes to access care is more convenient for the member. For example, having the option to access mental healthcare services virtually, especially during the pandemic, has been extremely beneficial. Fors Marsh Group rolled out a substance abuse recovery program working with their mental health vendor. They work together to ensure that the employees are doing what's needed in order to keep meeting recovery milestones and fulfilling the employment contract. It's exciting to be part of these types of innovative programs that also speak to the B Corp culture and how companies want to help their employees.
Allison: Self-funding has the biggest opportunity to really give companies meaningful and independent choices. If you go directly with a carrier, they give you their programs and they mark them up. We spend a lot of time and resources on data analytics, on understanding the largest claim drivers, fraud, and other ways to improve the overall cost, which actually ends up going back to the participant. It is not a one-size-fits-all with any company, but with the tools we have on the data, analytics, and big creative ideas and the constant curiosity on what works — that's the driver there.
Marquis: How have you seen COVID-19 affecting the health insurance market?
Neilson: The pandemic has made my job, from an actuarial perspective, very difficult because we project future spend based on historical trends, and the trends and utilization patterns we've seen over the last two years are all over the place. Restrictions and lockdowns had a huge impact on the use of healthcare. One consistent trend throughout the pandemic was an increase in substance abuse and the overall increase in utilization of mental health services. Employers have a large desire to understand what's happening and how they can help their employees. Elective procedures for issues that were not life-threatening were delayed early in the pandemic and have since been recouped throughout 2021.
I think the next focus will be long COVID, not only from those who had COVID and now are having ongoing health conditions, but for those whose lifestyles were impacted and became less active as a result. The average weight gain was 1.5 pounds a month for the first half of the pandemic, so we anticipate those types of impacts as well.
Marquis: How has B Corp Certification influenced policies and operations at Burnham Benefits? Any learnings or takeaways from the B Impact Assessment process?
Allison: One of the biggest benefits of being a B Corp has been attracting like-minded people. It opens the door for people to find us and say, "I want to work at a B Corp." We have such loyal employees, and we haven't seen the effects of the Great Resignation because we feel so tied to one another. We feel we want to stay together, we respect one another, and it just continues to bring the right talent in the door.
It also brings in the right clients. If we have a client that says, "I want to pay the least amount and want to do the minimum for my employees and nothing for the dependents," that's not our type of client. When companies care about their employees and want to help keep them healthy, we think there should be more affordable options. We spend a lot of time on data analysis to understand where the sweet spot is for them to have coverage.
It's been an interesting journey as a B Corp. When we applied, we didn't do it to hire employees or attract the right type of clients. It's just been the evolution, and we're proud of that. Instead of me managing it and stressing it and having to shout out a mission statement, it's embedded. I love meeting other B Corps because we're all on this journey together.
Every time we go through the assessment — the original or the recertification — we have some really cool takeaways. You think you're not part of the problem and then you start thinking, "Maybe we are part of the problem in these areas." We can do this, we can change our handbook, we can shift how we're hiring and what is our lowest paid or highest paid and how do we give people a break. You consider what you can attack on that list now, and what we can start thinking about differently.