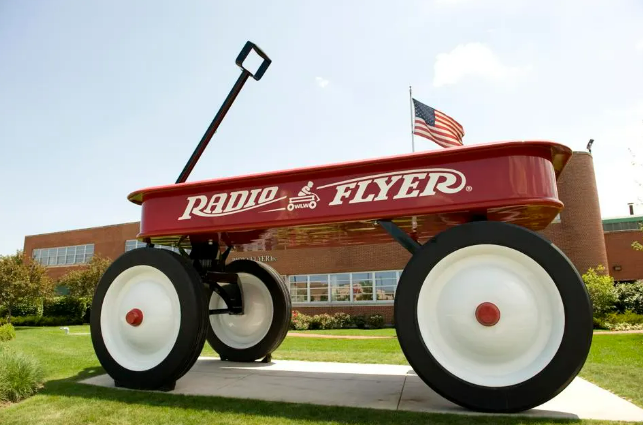 Radio Flyer, the maker of The Original Little Red Wagon™, is an iconic brand that instantly transports many people to a happy time —the best parts of childhood. I recently had a chance to catch-up with Robert Pasin, the Chief Wagon Officer of Radio Flyer, a business founded by his grandfather in 1917.
Robert told me how he and his team of "Flyers" are focused on building a highly committed and creative team, and instilling a culture of innovation and that company sales have grown by a factor of ten since he took over in 1997. Further, the company's product line has expanded beyond the iconic Little Red Wagon™ to include tricycles, scooters, and other ride-ons featuring innovative, beautiful, playful designs. I was also surprised to learn that Robert is also the Emmy-winning producer of the animated short film, 
While families have trusted and loved Radio Flyer for 105 years, Robert had to pave his own path and reinvent the company to ensure the brand could continue to evolve to meet customers' needs without losing the brand nostalgia that so many know and love. In 2021, for the first time in Radio Flyer history, the brand created a line of products for adults: FLYER, a line of electric bicycles designed specifically for families.
For more than 20 years, Radio Flyer has also partnered with the Starlight Foundation to provide wagons for use in hospitals. The iconic Little Red Wagon has been delivered to more than 800 hospitals throughout the country bringing smiles, laughter and imagination back into the lives of young patients.
Robert told me how he has focused the company on sustainability and practices such as carbon-neutral shipping, aiming to stand apart from the fad-driven, packaging-heavy nature of the toy industry. From sustainable packaging to Radio Flyer work hard to ensure customers can feel certain their purchase is made with eco-conscious practices in mind. In September 2022, Radio Flyer became a Certified B Corporation, becoming the first global toy and eBike manufacturer so recognized for its commitment and progress toward positive environmental and social impact.

Below is an edited excerpt from our discussion.
Christopher Marquis: Can you please share a bit about the history and values of Radio Flyer?
Robert Pasin: Radio Flyer was founded in 1917 by my grandpa, Antonio Pasin, who started the business with a wooden coaster wagon that he would make at night and sell during the day. He was passionate about making a beautifully designed, quality product that would last a long time. One of his core values was to create products he could be proud of and that had inherent value.
Now, more than 100 years later, Radio Flyer makes much more than our iconic Little Red Wagon™. We make everything from tricycles to scooters to bounce houses. And, while we are now the world leader in ride-ons for kids, we recently joined the micro-mobility movement by launching electric bicycles for adults. This product line is designed to meet the needs of families on the go, providing a sustainable and convenient alternative to cars. Our goal is more bikes rides and fewer car trips.
Despite our significant product diversification, our mission has remained the same for over a century. We bring smiles to kids of all ages and create warm memories that last a lifetime. This is why we pursued B Corp certification, the gold standard for companies who are working hard to be good citizens of the world. We are committed to doing our part to preserve the environment for generations to come so that kids and families can continue to exercise their imaginations and enjoy outdoor play.
Marquis: Tell me about what eco-conscious practices are implemented when customers make a purchase on RadioFlyer.com.
Pasin: More than 20 years ago, as I became more aware of threat of climate change and the importance of sustainability, I realized that we could do better. It was the right thing to do. We kicked off our sustainability journey with measurement. Once we had a baseline, we had to work toward improving and expanding our goals diligently.
One of the things we have going for us is that our products are inherently sustainable because they can be reused, passed down through generations, and repaired if needed. In addition, the carbon emissions from each item purchased on RadioFlyer.com are 100% offset through a verified emission reduction project. Our entire product line is now 99.6% PVC-free, and we have started replacing polybags with more paper-based packaging, saving more than 43,000 pounds of single-use packaging per year. We have also diversified our supply chain to increase the amount of recycled content used in our packaging to 87%. Much of this work is done in factories powered by solar, which in 2020 led to more than 500 tons of avoided CO2 emissions.
Marquis: What are some of the sustainability initiatives your team is most proud of to date?
Pasin: One of the products we are really proud of is our Beach & Boardwalk Wagon. The Beach & Boardwalk Wagon is the most sustainable product in our product line with a body made of 100% recycled PET from plastic water bottles, bottle caps, soda bottles and food containers. Each wagon removes approximately 90 plastic water bottles from landfills and oceans, and 15% of the plastic used in the wagon frame and wheels are made from recycled content. I think this is a perfect way for parents to share the importance of recycling and sustainability while picking up plastic waste from beaches.
While the Beach & Boardwalk Wagon stands out, I am proud of all our sustainability initiatives and our progress to date. It's rare to see legacy brands like ours embracing sustainability, and while we know we won't get it perfect right away, we are actively learning and adjusting our approach to be better.
Marquis: Radio Flyer has traditionally been a toy manufacturer but launched its first adult eBike line, FLYER last year. Why get into eBikes now?
Pasin: Years ago, I was in Amsterdam when I saw families using cargo bikes as an alternative to cars, using them to take kids to and from school and other activities. Immediately I thought, "how cool!" But if you've ever ridden a traditional non-powered cargo bike with two kids, it is really hard to pedal – especially up hills.
So, in June 2021, we launched the Flyer™ line of adult eBikes. The Flyer™ line is an extension of the Radio Flyer brand created with the same beautiful design and quality that has inspired our work for over a century. We launched our first two Flyer™ eBikes, the M880 and the L885, and recently launched our new Flyer™ Folding Cargo in October 2022. This shift made sense for us because most of our products are designed for active play and aim to get kids outside, which is the role these eBikes play for the whole family. The extension into adult products allows us to serve generations over time.
All of our eBikes are designed with unique accessories that enable parents to enjoy a bike ride with their kids. For instance, you can add things like a water bottle holder, cell phone mount, storage baskets, Kid & Cargo Carrier for kids ages 5-10 years and a Maxi Seat that safely harnesses younger riders, ages nine months-6 years. In fact, we are hearing so many stories about parents using the eBikes to skip the dreaded school carpool lines.
We are passionate about helping parents rethink transportation and consider a more sustainable and convenient mode for the whole family. We want to replace neighborhood car rides with eBike rides so families can explore the outdoors while doing their part to protect it.
Marquis: Your team also built the Hero Wagon for use with children undergoing medical care in hospitals. How did this idea come to life and what was the driving force behind this project?
Pasin: Radio Flyer has supported the Starlight Children's Foundation mission of bringing joy and comfort to hospitalized children and their families since 2001. Radio Flyer's partnership started with donating more than 15,000 of our iconic red wagons to children's hospitals and other healthcare facilities.
The Hero Wagon came to be after years of observing how our products were being used in hospitals. We saw the joy they could bring and wanted to make them even better and more functional for hospital staff. That's how the Hero Wagon was born – we evolved our patented folding wagon to provide an easy solution to store, sanitize, and carry necessary equipment like IV poles through the halls of hospitals.
The Hero Wagon is very near and dear to our hearts at Radio Flyer, as it encapsulates what we strive for as a company. If we can bring just one smile to kids enduring some of their hardest times, we have exceeded our mission with the Hero Wagon.
Marquis: Your grandfather built this business 105-years ago. What do you think his reaction would be looking at how you've grown the business today?
Pasin: I think he would be both amazed and proud to see how Radio Flyer has evolved. My grandpa had a clear mission when he created the company, and the purpose carried through when my father took over; however, as we all know, the world has changed vastly over the last few decades. By the time I took over, I realized we needed to start conducting business more purposefully to make sure the next generation's memories could last a lifetime.
We're passionate about sustaining a world where families can explore the outdoors and embrace their imaginations. And we know we cannot go on this journey alone. We trust that, if we all work toward the values the B Corp model exemplifies, we can create a world that allows our kids and grandkids to create those long-lasting memories my grandfather dreamed for our family.
Marquis: Radio Flyer was named the first global toy and eBike manufacturer to receive a B Corp certification. Tell me about what led you to getting this certification. Why is it meaningful to you?
Pasin: Historically, the toy industry hasn't been the first group that comes to mind when discussing sustainability– we have unique challenges to overcome, like the broad use of plastic, the economics behind sourcing sustainable materials, and the fad-driven nature of products. This is a large part of why we at Radio Flyer feel a unique responsibility to do better. We recognize that sustainability is not just a passing trend and are looking to be a leader in this space. We incorporate sustainable practices into our business model, our individual products, and our HQ operations. It can be rare to see legacy brands embracing sustainability wholeheartedly and topping impact lists like we are, which is why we knew it was important to double down on our commitment to sustainability and social impact. Sustainability is critical to successful business operations for many reasons, but for us, it signals how we continue to challenge the status quo, and encourage others to do the same.
Marquis: How do you expect your customers to react to the news?
Pasin: So many corporations and consumers are looking to make a difference nowadays. It doesn't stop at the manufacturer or brand. Consumers increasingly want to know if companies and brands are good citizens of the world, if they are treating their employees right and doing their part to protect the planet.
Consumer purchasing behaviors are changing: they are looking to incorporate more sustainable products. In fact, we have found that consumers understand the value of products that cause less harm to the environment. Consumers are looking for sustainable options and products they can feel good about purchasing and I think our efforts in this space give them one more reason to consider Radio Flyer.
Marquis: Where is Radio Flyer headed and what are next steps for the business as it continues to become even more sustainable and socially responsible?
Pasin: Our goal is to be around for another 105 years. We're in it for the long haul and want to keep making products for families that delight families across the globe. We are going to keep working hard to continue improving and have a positive impact on the world. We are taking it one step at a time to ensure that we are not rushing or skipping important steps in our sustainability journey. I am working closely with my team to determine where we are headed next. We are working against our science-based target goal for 2030, including reductions to Scope 1, 2 and 3 emissions.
We've successfully reduced our Scope 1 and 2 emissions through major changes made at our headquarters that resulted in higher operational efficiencies across water, energy, and other resource usage. This led to our LEED Platinum certification, which makes us extremely proud.
We have made progress in our Scope 3 emissions through products made using recycled materials, better packaging selections, and increasing renewable energy usage in our factories, but like many companies, we still have more work to do in this area.
We've also made great progress in areas outside of sustainability. We are committed to being anti-racist and creating an inclusive environment that makes Radio Flyer a world-class workplace. Last year, in early June, amidst the social unrest experiences across the country, we asked our Flyers for honest, anonymous feedback on how we were doing and what's needed on the diversity and inclusion front. Based on the feedback received, we have outlined an action plan categorized into five buckets: Hiring, Leadership & Education, People Practices, Organization Culture & Benefits, and External Partnerships.
There is still work to be done and our push to create positive change will never stop but we are proud of the progress made to-date, and I cannot wait to see where we go next.