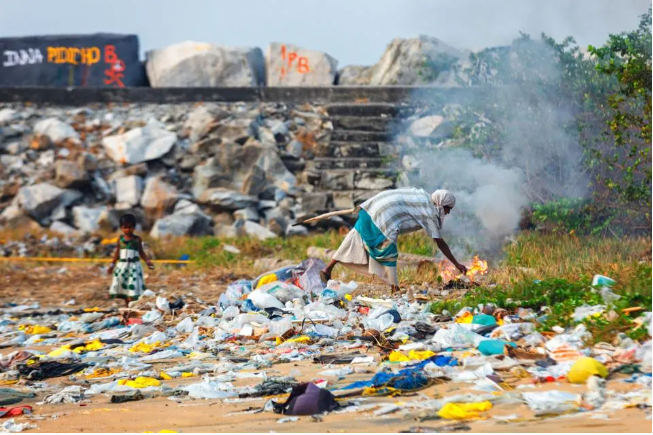 The pervasiveness of plastic has become a global concern. An estimated 242 million metric tons of it is generated every year, and the United States is one of the top generators. While recycling sounds like a simple solution, it's not. Plastic recycling has proven to be ineffective, as evidenced by a shocking statistic from Our World in Data: Out of the 5.8 billion metric tons of plastic waste generated between 1950 and 2015, only about 9% of it has been recycled. The rest has been left to be incinerated, landfilled, or littered. On top of that, a more recent report from nonprofit The Last Beach Cleanup and advocacy group Beyond Plastics found that number to be even lower, with only 5% to 6% of the U.S.'s plastic waste converted into new products in 2021.
It can be hard to believe that so little plastic has actually been recycled, considering how commonplace recycling has become. But the truth is, plastic is not easy to recycle. Plastic products are usually made up of a mixture of chemicals that can create difficulties in the recycling process, and it's harder to isolate the base materials that can be recovered and reused. So how come environmental campaigns frame recycling as such a simple solution?
The plastic problem isn't new, of course, but I learned more about its wide-ranging consequences during a recent conversation with Judith Enck, president of Beyond Plastics. The nationwide project based at Bennington College in Bennington, Vermont, pairs the experience of environmental policy experts with creative college students to achieve the institutional, economic, and societal changes needed to combat the plastic pollution crisis.
During our conversation, Enck addressed the crucial need for companies to be held accountable for the environmental impacts their products make, as well as the major problem with chemical recycling and the abundance of greenwashing among companies taking "environmental action."
Extended Producer Responsibility
As I shared in my first article from my conversation with Enck, the first step she suggests to combat the plastic problem is to create clear and measurable requirements in extended producer responsibility (EPR) policies, with an emphasis on reduction. EPR is the concept that manufacturers and importers should be held responsible for the environmental impacts of their products throughout their life-cycle.
Although many environmental groups agree that putting these policies into place is important, many special interest groups have taken advantage of legislators who lack policy depth on such a complicated issue, and as such have developed their own EPR bills. Take, for example, the American Legislative Exchange Council (ALEC), which is known for writing model legislation with the major corporations — typically the same companies that fund ALEC — then encouraging their introduction through legislative partners nationwide. "They drafted an alternative EPR bill on the topic of plastics, but these model bills are coming directly from the packaging industry," Enck says.
Many EPR proponents argue that putting fees on packaging will result in packaging changes and improvements. And although that's a well-intentioned theory, Enck says companies will likely pass on those fees to consumers. Some of the bills currently being proposed give too much control to companies, which tend to find ways around their responsibilities if they are not meticulously defined. Enck says it's even more problematic that many of these bills allow for chemical recycling.
The Problem with Chemical Recycling
Until 2018, the U.S. shipped nearly half of its plastic recycling to other countries (mostly China). But in 2018, China stopped taking any plastic that wasn't pristinely sorted. Other countries soon followed suit. As such, plastic began to pile up in the United States, where it was landfilled or routed to incinerators to be burned. Incineration, sometimes called chemical recycling, has been hailed as a "promising new recycling technology," but it is not a magical solution. And unfortunately, many of the new EPR bills that are being introduced include language that will allow for chemical recycling.
"Chemical recycling is not recycling," Enck says. "It takes waste plastic, heats it at high temperature, and then creates a low-grade fossil fuel."
As the Natural Resources Defense Council (NRDC) explains in a 2022 analysis, chemical recycling typically falls into two categories: plastic-to-fuel and plastic-to-chemical. Plastic-to-fuel conversion involves pyrolysis or gasification, both of which use heat and chemical processes to break down plastic waste into products that are turned into fuels. The plastic-to-chemical process uses treatments such as heat and solvents to create feedstocks that proponents claim can be turned into other chemicals or new plastics.
Both categories are teeming with health, environmental, social, and economic concerns. Specifically, plastic-to-fuel conversion produces harmful air pollution and greenhouse gases when burned. The NRDC found that Agilyx, an Oregon-based processing plant hailed as the "gold standard of chemical recycling," has produced hundreds of thousands of pounds of toxic waste in a single year. In addition, many of these facilities are in or near lower-income communities with residents who are more vulnerable to health risks.
So if chemical recycling is not the solution, why do so many proposed EPR policies greenwash the plastic-to-fuel processes as recycling? Because it's simpler and less expensive, of course. This is true among many of the "environmental actions" various companies have taken up.
Greenwashing Groups
The perception that plastic is easily recyclable — and that the burden of recycling lies solely with the consumer — has been shaped by decades of carefully constructed campaigns paid for by many of the most prevalent producers of plastic.
If you were alive in the '70s, chances are you're familiar with the "Crying Indian" ad from the environmental nonprofit organization Keep America Beautiful. The ad featured a Native American man crying over the destruction of his homeland from visitors' reckless littering. It was a compelling and effective visual. However, if you take a look at the organization's board members, you'll find representatives from Dow Chemical Company, PepsiCo, Coca-Cola, and Nestle — companies that all rely on the production of single-use plastic. If anything, this fact alone should challenge the intention behind the organization's altruistic campaign. By shifting all blame of the plastic crisis to the consumer, manufacturers are free to keep producing plastic products.
Then there's an organization called The Recycling Partnership, which sounds promising. "The Recycling Partnership has a nice name, but the company is actually funded by Dow, Exxon, Coke, and Amazon," Enck says. One of this organization's board representatives also is a member of the American Chemistry Council — an industry group that represents plastic manufacturers. (NOTE: following publication, The Recycling Partnership reached out to me with a statement from their CEO about their work as it relates to this article.)
A concerning detail about The Recycling Partnership is that it supports the EPR policies in New York Gov. Kathy Hochul's budget. As detailed in my earlier conversation with Enck, Hochul's proposal allows for chemical recycling and fails to make any packaging reduction requirements — as opposed to an alternate bill from Assemblyman Steve Englebright, which rejects chemical recycling and will require a 50% reduction in plastic units over 10 years.
But the main concern surrounding Hochul's EPR proposal is who will make the decisions about what types of materials will be recycled, and at what rate. "A lot of companies want the Legislature to authorize the establishment of a Producer Responsibility Organization, or PRO, where they have complete control over everything," Enck says. Unfortunately, as Enck points out, many PROs lack oversight and will ultimately develop the most inexpensive, ineffective EPR possible.
Once again, these types of "environmental action" are simply a Band-Aid over a much larger wound. As Enck and others point out, combating the plastic problem requires a mindset shift from believing recycling will solve the problem to finding legitimate ways to reduce the production of plastic. And that means companies need to be held accountable for the environmental impacts of their products.