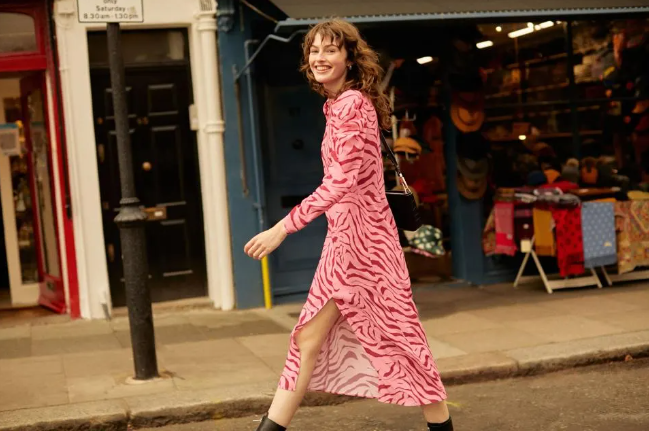 Notting Hill is famous for its colourful houses, colourful markets and colourful characters. So it is appropriate that in one corner of this west London enclave is headquartered a new fashion brand that is all about bold print patterns and bright designs.
But OMNES wants to be more than just beautiful on the outside— it was set up with the specific aim to make sustainable and ethical fashion accessible to the masses. The company was founded with the specific mission to produce "fashion that doesn't cost the earth" and is climate positive and highly transparent.
Despite launching in 2020 during the height of the pandemic, OMNES has built a large word-of-mouth following and is expected to reach £6m in sales this year – all through its website.
Fans include Bridgerton star Florence Hunt; Irish comedian, actor and writer Aisling Bea, who plays alongside Paul Rudd in Living With Yourself; and British TV presenter Holly Willoughby.
Founder Jordan Razavi spoke to me from Great Western Studios, the creative hub where its 22 designers and office workers are based, to find out more about this bold new venture.
Marquis: You say you have achieved the Holy Trinity of fashion retailing— desirable, affordable and sustainable clothes. How did you do this when much larger brands have failed?
Razavi: OMNES is Latin for 'all' and we wanted from the very start to show that clothes could be desirable, sustainable and affordable all at the same time, for everyone, and also make the world a better place. So it's baked into our DNA: we set out from the start to have a total 360 approach to sustainability without any greenwashing.
It means that we put the processes in at the start and collaborated with suppliers and manufacturers to achieve them. Installing a partnership policy which ensures all our factories are audited for equal pay, fair working conditions and a range of other worker rights was essential for us. We are a business so we need to be viable – but people and the planet are as important as profits and if at times it's difficult to satisfy all three, then it's the margins that give.
Sustainability and transparency are not things that have been retrofitted into the business with a few product lines and some marketing. It's in the brand DNA and has been built into the company from the start, at the very heart of the business model.
Marquis: For a new company, finding and maintaining good and ethical supply chains and accountability is incredibly difficult and takes enormous amounts of resources – especially if it's across borders, how do you do it? Your website reports your supply chain is so transparent that consumers can even drill down to see how much holiday pay workers get. Can you provide more details on that?
Razavi: It took nearly two years to find the partners we wanted to work with in making OMNES a completely sustainable brand. Right from the beginning we have worked hard to ensure every process is researched and carefully monitored to ensure that every item is made to the highest environmental standards.
We start by building up the top line policies for our partners and collaborators, and then work with organizations to make sure that they are policed and applied. All suppliers must work to our partnership policy which is published on our website.
For example, when it comes to suppliers we predominantly look to Sedex, the British based non-profit organization that audits and scores factories according to the United Nations Guiding Principles and the conventions of the International Labour Organisation.
On our carbon footprint, we use a British clean-tech start-up called Earthly, to offset our carbon footprint. The company invests in projects that protect, restore and re-establish crucial eco-systems like forests, peatlands, mangroves and seabeds. We're on a journey and using these partners means we can publish everything on our website to show total transparency down to the number of holidays and wages that workers get.
Marquis: You say on your website that you are climate positive and offset 10 per cent more carbon than you produce. How does that actually work? Why 10 per cent more? What practices does the company do to reduce further its carbon footprint? Many brands claim to be sustainable but are often accused of 'greenwashing'. How are you different? How can you prove that? What are the hard and fast rules you live by, that others may compromise?
Razavi: In terms of greenwashing, because there are no current regulations in the industry, we're making our own rules and regulations to ensure we practice the strictest standards of sustainable fashion. One example of this is with our use of deadstock material. We ensure that all of our suppliers sign a contract guaranteeing that any deadstock fabrics we use are more than two years old.
In terms of offsetting our carbon footprint, we're actually changing this to 25 percent, an initiative that will launch with our sustainability report in August. We wanted to start with 10 percent as that was an achievable figure for a new business, now we're ready to deliver more.
Having an outside company like Earthly auditing us means there is nowhere to hide. This new eco-system of companies around sustainability has been created by very passionate people and they are not going to compromise. Earthly offsets our carbon through BAM which stands for Bosques Amazonicos, which is an organisation that protects and improves rainforests in Peru. Not only that but it supports the local Brazil nut industry that provides employment and livelihoods.
We are equally as passionate and our sustainability team also audits what we do and is always looking to improve our processes. For example, one of our biggest uses of carbon is the need to fly samples to and from our suppliers and we hope to reduce this with more digital based design processes. We are also excited that we will soon start manufacturing part of our collection in the UK, which will also go some way in reducing our carbon footprint.
We are a fashion brand so obviously we want to produce clothes that you look good in but just as importantly we want to feel good about making them and for you to feel good about buying them. Last Christmas we made a decision not to produce any clothing with sequins because we could not source a sustainable quality of material, so we just didn't do it. For a fashion retailer, that's a significant financial sacrifice to make during the party season. We are also in the process of becoming B Corp certified, which is also a reassuring stamp of authority.
Something that I'm also proud of is that we're a Fair Living Wage employer. For us, sustainability isn't just about fashion, it's the sustainability of your team and global network of employers — so being a Fair Living Wage employer was a priority.
Marquis: There is a lot of talk about the circular economy, how do your clothes fit into that? Could you give an example of how one of your products could have many lives? Many recycled products use more energy in their production than brand new fabrics, how do you guarantee that is not the case?
Razavi: Moving towards a circular economy is something we're passionate about as a brand. Meaning from the first stages of design to the end of the life-cycle of the garment, we make sure that we close the loop as much as possible through eliminating waste and keeping products in circulation. We do this in three ways; through incorporating deadstock back into our collections, our charity affiliations, and our recycling program.
This year, we've launched our first ever deadstock collection, not only does this help reduce textile waste but it also offers our customers a unique capsule collection in the sense that the deadstock garment will not be in production again and it's produced in lower quantities, meaning what they get is truly one-of-a-kind.
We've always worked with charities on our end of life product, and at the moment we're forming a partnership with two new charities, Dress for Success and Smart Works, that empower women to achieve economic success and thrive in the workplace through providing them with development tools and professional attire. We always ensure any excess garments that we hold stay out of the landfills and often put to good use through our clothing donations to them.
To obtain our materials, we work with fabric mills that have signed up as part of the Sustainable Apparel Coalition – an organization committed to measuring and improving social and environmental sustainability impacts.
Marquis: Your company website says that 80% of a garment's environmental impact is determined at the design stage. It's a fascinating and refreshing claim. Can you explain how that works? Do you have any outside industry sources to confirm this?
Razavi: I believe this originates from an EU eco-design directive report. For us, it's about carefully considering the fabric choice and the design details of the product from the beginning. At OMNES, we think about the garment's life cycle from the outset, ensuring all stages of the creation process and decisions surrounding our supply chain are both transparent and responsible. We strive to use the most sustainable, innovative materials to ensure we are not only creating beautiful, high-quality, accessible products, but also that we are reducing our environmental impact as much as possible.
Marquis: Your clothes are priced slightly higher than some so-called fast fashion outlets, do you think consumers will pay the extra and why? Many consumers profess wanting to shop responsibly but the facts don't always bear this out. Companies like Shein and Boohoo go from strength to strength with extremely cheap throwaway fashion. Do you think that will change or are your customers completely different to those who buy fast fashion?
Razavi: Our prices can at times be marginally more expensive than some of the high-street brands, but generally we believe we match them, excelling in quality over fast turnaround.
Our target audience is a global 20 to 35 year old woman who cares about the world they live in and wants to buy better. We believe that there is a shift. Customers are becoming more savvy, wanting more investment pieces that will last a long time and are accessibly priced, OMNES isn't a fast fashion brand.
I'd be lying if I said all of our customers are completely different and that everybody bought our clothes because they wanted to save the planet, many buy them because they are well made great designs, but they also avoid that nagging guilt that goes with cheap throwaway fashion.
Marquis: Sustainable fashion is becoming more of a crowded marketplace with the likes of even H&M trying to move into the space: apart from your great designs, what is your unique selling point?
Razavi: Our strengths are our total transparency and that we built the company from scratch with sustainability and fairness at the very heart of the business model. It is not something we have retrofitted and it is across the whole business, not just a few product lines. We're learning a lot on this journey and my ambition is for OMNES to continue its expansion, never rest and be the sustainable high street brand that people can feel good about buying from.