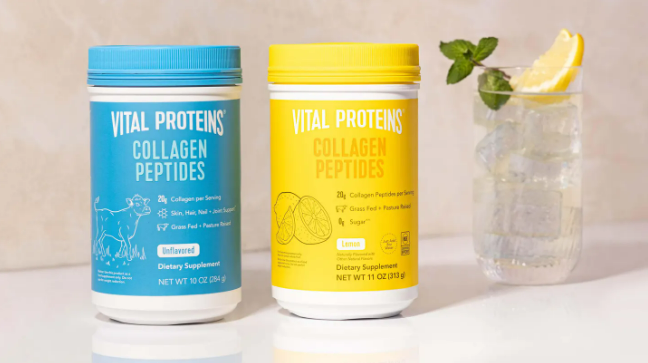 In under a decade, collagen brand Vital Proteins has quickly risen to become the leader in its category in the U.S. with wide acclaim from both everyday consumers and the likes of celebrity fans like Jennifer Aniston, who is the company's Chief Creative Officer.
Now with a global footprint in more than 24 international markets and a growing product portfolio, Vital Proteins is entering its next chapter. Under the leadership of Tracey Warner Halama, who has been with Vital Proteins since its founding and became CEO this year, the brand aims to become a modern company by promoting employee well-being, giving back to the community, and advancing sustainability initiatives.
Halama discussed with me how she is on a mission to transform Vital Proteins into a brand that not only makes people look, move and feel their best, but does good for the world. This commitment is in line with trends that show the growing need for brands to do more to demonstrate their positive impact in a measurable, authentic way.
Some research for instance shows that consumers are more than 4 times as likely to trust the company when they think a brand has a strong purpose, according to a global study from Zeno Group. Further, employees want to work for companies that share their personal values. As an important step in Vital Proteins' journey, the company recently announced becoming B Corp certified following a rigorous review of its impact on workers, customers, community, and the environment.

I sat down with Warner Halama to learn more about how Vital Proteins is embedding purpose into its culture, the core values guiding the business, and steps the brand is taking to make a difference.

Christopher Marquis: Tell me about Vital Proteins. There are many other supplement brands in the market these days. Why did you join Vital Proteins and what differentiates the company and its products from competitors?
Tracey Warner Halama: Vital Proteins is a leading health and wellness company that offers premium, collagen-based products to help individuals move, look and feel their best. Since the founding of Vital Proteins almost a decade ago, we've grown to be the leading collagen brand in the U.S. and have scaled to achieve mass distribution with a growing global footprint in 24 international markets and counting.
While the organization has certainly evolved during my 9-year tenure, one thing remains the same: Vital offers products that work. And it was actually my personal experience with what would become our flagship product, Collagen Peptides, that seduced me away from my safe, predictable, multi-decade leadership presence in the tech sector.
In 2011, a friend of mine – Kurt Seidensticker and founder of Vital Proteins – reached out to me with a request to try ingestible collagen, or collagen peptides. After regularly consuming the product himself, and noticing his own favorable wellness experience, he wanted mine as well.
Six months earlier, I had torn my shoulder labrum doing CrossFit. After six months of rehab, I still had significant mobility limitations, to the point where I couldn't lift my suitcase in the airplane's overhead compartment. After nearly three weeks of adding collagen to my daily coffee or smoothie, I had an epiphany when I went to retrieve a platter from my cupboard, and I could extend my arm above my head without pain. It was really a life changing moment for me and if collagen could positively impact my life in a mere three weeks, how many other people would benefit? I took a 70% pay cut, took a significant risk to enter a brand-new industry and pursued my true passion.
Since joining Vital Proteins, the collagen category has drastically changed. The competitive landscape has expanded rapidly as interest in collagen has grown and become more mainstream. In 2015, there were five brands selling collagen supplementation. As of today, there are 227.
Despite this influx, Vital Proteins maintains 55% share of all collagen supplement purchases. And we know this loyalty extends beyond product satisfaction. By buying Vital, consumers are not just committing to collagen. They're joining a community of individuals investing in their wellness with a brand they trust. Since the beginning, three values — transparency, quality and clean labels — have guided our business practices, fostered brand loyalty, and helped us become the leading collagen brand.
Marquis: You've been with Vital Proteins since the early days of the brand and became CEO this year. Why do you think it's important to lead with purpose as Vital Proteins enters its next chapter?
Warner Halama: As you can imagine, I'm incredibly proud of Vital's success. Whether serving as SVP, CRO, President or, now, CEO, I've witnessed this organization constantly embrace and adapt to change so we can maintain our advantage and leadership position in a very competitive marketplace.
And although change is necessary, it can be hard. It can be scary, introducing an element of uncertainty. That's why it's important that I provide my organization with a solid foundation of servant leadership. If I'm going to ask them to pivot to meet the ever-changing needs of the business, it's imperative that I provide them with a safe, supportive, inspiring and appreciative environment for them to do so.
Marquis: What is Vital Proteins doing to be a more responsible brand and how does that fit into your long-term vision for the company?
Warner Halama: We've embraced a triple bottom line approach to organizational success, and measure our performance by our environmental, social, wellness and economic contributions.
Marquis: Why do you think the triple bottom line is important for businesses to thrive today?
Warner Halama: I'd actually go further by saying it's not just important, but mission critical. When focusing on the triple bottom line, you're more likely to attract new consumers, foster brand loyalty with your current community, and optimize your workforce with top talent seeking employment from an organization that offers a product and belief system they believe in.
Vital Proteins recently removed scoops from its products to use a little less plastic. What else is Vital Proteins doing to deepen its commitment to sustainability?
Removing the plastic scoop from our canisters is the most recent sustainability initiative, but it's certainly not the first. In fact, one effort that's been in place since the beginning has been the use of collagen, our flagship ingredient. Collagen peptides are derived from parts of the animal which are often discarded as byproducts of various industries, so consumers can feel good knowing that they're consuming a functional ingredient that might have otherwise gone to waste.
Every day, we continue to evaluate every area of our business to see how we can improve our environmental impact. By leveraging data management platforms like Sustainabase, we've been able to identify our biggest opportunities and track our efforts' progress. We plan to optimize our shipping practices to reduce emissions, prioritize partnerships with sustainability-focused ingredient and packaging suppliers, and offset 100% of the electricity usage at our NSF-certified manufacturing facility with renewable energy offsets.
Marquis: How are you building trust and brand loyalty among consumers?
Warner Halama: As I mentioned, our commitment to transparency, quality and clean labels has served as our North Star since the beginning, for almost a decade. And while these principles continue to serve as guardrails in product development, there are other commitments we make on a daily basis that help differentiate us from other brands on the market, build trust and brand loyalty.
First and foremost, we offer consumers products that work. Along with investing in robust marketing and educational campaigns, it's consumers' positive, word-of-mouth testimonials that continue to drive our brand awareness and grow our business. As of today, we have earned a 4.6-star rating on Amazon from over 200,000 consumers.
Secondly, we obsess over every aspect of product development. Each formulation is consciously developed to be efficacious, easy to use, and enjoyable to consume. We prioritize sourcing high-quality, purpose-driven ingredients, pursue social, environmental and dietary certifications and set the bar for testing and manufacturing industry practices.
And lastly, we're passionate about our people. Our brand is only as powerful as our organizational culture is strong. We're committed to building a safe, diverse and inclusive community where being human is celebrated more than driving results.
Marquis: Why was it important to you/Vital Proteins to pursue B Corp certification?
Warner Halama: As the leader in collagen, we're also responsible for leading in the global movement for an inclusive, equitable, and regenerative economy. Becoming B Corp Certified enables us to communicate our social and environmental commitments to our community, create differentiation in a crowded marketplace, and inspire other brands to raise the bar.
As part of the B Impact Assessment reviewing the impact of your business practices, Vital Proteins scored highest on its impact on workers and governance. What has Vital Proteins done in these areas that other brands could learn from?
While we've implemented and executed successful initiatives in both areas, it's actually our organization-wide, overarching commitment to prioritizing people and planet over profit that's worth imitating. And, although that can be a challenging mindset to embrace – especially for leaders who've operated differently for most of their career – it's mission critical that everyone is on the same page, starting at the top.
This guiding belief has served as the foundation for many of our corporate, social and environmental initiatives.
For instance, we've expanded our employee fitness stipend to include a more holistic approach to wellness. Now, our employees can be reimbursed for therapy sessions, financial coaching, food subscriptions and veterinary bills. We've made it easier for working parents by expanding parental leave, partnering with Milk Stork and updating our bereavement policies to cover miscarriage and failed IVF transfers.
We've also made it easier for our employees to support their communities. Employees now have two paid days they can use to volunteer. Whether that's locally with Healthy Hood, nationally-recognized The Trevor Project, or anything in between, our employees can serve communities they care about on company time.
Lastly, we're so proud to have become B Corp Certified, an incredible milestone that recognizes and affirms our past, present and future commitment to being better.
Marquis: Do you think being B Corp certified will positively impact company performance?
Warner Halama: While our pursuit for B Corp Certification was rooted in altruistic intentions, I absolutely believe it will have a positive fiscal impact on our business. Today, employees want to work for a company they're proud of. Consumers seek to support brands who share their personal values. Being B Corp Certified motivates current employees, fosters brand loyalty and attracts top talent and new customers looking to become part of a brand they care about.