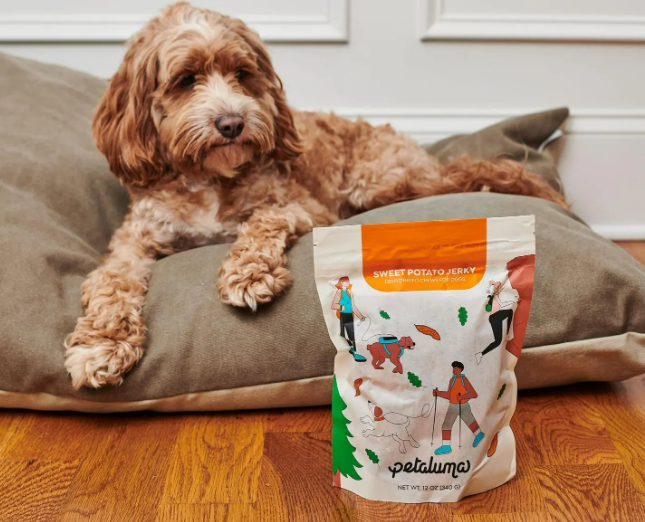 Roughly 25% of factory-farmed animal proteins in the U.S. are consumed by dogs and cats each year, and Petaluma is on a mission to reduce that percentage. Garrett Wymore and Caroline Buck created Petaluma in 2019 after struggling to find dog nutrition that equally prioritized their pets and the planet.
Petaluma brought its oven-baked formula to market in 2021 after two years of research and development and launched a single-ingredient jerky less than a year later. The Oakland-based company has since attracted a loyal customer base across direct-to-consumer and third-party e-commerce channels, and Petaluma just made its retail debut in partnership with Erewhon Market in January.
As one of the only certified B Corp businesses in any pet category, Petaluma is challenging the status quo by offering science-backed dog nutrition with less harm to the environment and zero reliance on factory-farmed animal protein. I recently sat down with Garrett to learn more about Petaluma's goal to radically change dog food as we know it for the sake of the planet.
Christopher Marquis: What inspired you to create Petaluma? How is Petaluma different from other sustainable dog food companies? Who are you hoping to reach with Petaluma?

Garrett Wymore: After spending years working in the conventional pet food industry, I saw firsthand how environmentally harmful and inhumane the category can be. Our love for our two rescue dogs fueled our passion for animal welfare and motivated us to create an alternative in the pet food industry that prioritizes both the well-being of animals and the planet. With companion animals treated as cherished family members, we see a growing opportunity to bring sustainable and ethical options to the forefront of the pet food market.
The primary environmental issue in dog nutrition is the resource intensity and greenhouse gas emissions of the ingredients, particularly animal protein. Using peer-reviewed research and available data, we found that dog nutrition must largely eliminate animal ingredients to be sustainable at the scale required to properly feed hundreds of millions of dogs. While there are other approaches to reducing demand for animal protein, including insects, invasive animal species, and lab-grown meat, we've focused on plants as we believe they have the clearest path to our product quality, acceptance, and sustainability goals. Plant-based proteins have a long track record of nutritional quality and safety in dog food, are immediately cost-competitive with animal protein, and require dramatically fewer resources to produce.
We worked closely with veterinary nutritionists to ensure that our formula not only meets the AAFCO guidelines but also reduces the environmental impact. In July 2021, we launched our Roasted Peanut Butter & Sweet Potato flavor, followed by our Sweet Potato Jerky, after two years of rigorous research and development. We are proud to be a member of Climate Neutral Certified, 1% for the Planet, and a B Corp Certified company, making us one of the few pet food brands in the US to meet these high standards.
Our customers range from plant-based individuals to omnivores who are looking to reduce their environmental impact; address animal protein allergies; or simply provide their dogs with a clean-label, organic, and whole-food diet. Regardless of personal nutritional preferences, Petaluma offers a solution for pet parents who prioritize the well-being of their dogs and the planet.
How does Petaluma's environmental impact compare to conventional dog food brands? Why should consumers care about the environmental impact of the pet food industry?
We conduct life cycle assessments for our products to accurately quantify our total environmental impact, which is important as a Certified B Corp and Climate Neutral Certified company. An 18-pound bag of Petaluma, for example, conserves 2,200 gallons of fresh water (equivalent to two months of showers), avoids 5,300 square feet of land use impact (two tennis courts worth), and reduces 185 pounds of CO2 emissions (the same as driving 200 miles in a car) compared to a typical bag of dog food of the same size. Our 12-ounce bag of Sweet Potato Jerky also saves 185 gallons of fresh water, 8 pounds of greenhouse gas emissions, and 120 square feet of land use impact compared to a chicken-based jerky.
As a $30 billion industry that purchases over 17 billion pounds of agricultural ingredients in the U.S. alone, pet food has a significant impact on the environment and animal welfare. Despite its size, the pet food industry has yet to truly address sustainability, and in recent years, growth has been dominated by fresh and frozen food, which often uses large quantities of human-grade meat and requires refrigeration and dry ice for shipping. This shift is problematic as it drives additional demand for factory-farmed meat, whereas traditional dog food has historically used less desirable (and often less nutritious) animal by-products (sometimes called the 'three D's - diseased, dying, or dead' deemed not suitable for human consumption).
We designed Petaluma so that dog owners won't have to choose between quality and sustainability, as we shouldn't have to feed our dogs remnant ingredients like 'processed feather meal' to lessen their environmental burden.
Marquis: What are examples of ways that Petaluma has gone above and beyond to equally prioritize our pets and the planet?
Wymore: Transparency is one of our core values, and we believe in being open and honest about our products and processes. In an industry that often hides behind vague marketing claims and inadequate product information, we strive to be a beacon of transparency. To that end, we publicly share all of our laboratory results, including full nutritional panels and in vitro digestibility studies, on our website. Most pet food companies tend to just post their macronutrient profile (crude fat, protein, etc.). We want to empower our customers with the information they need to make informed choices for their dogs.
Additionally, we reject misleading or exaggerated marketing tactics that are all too common in the pet food category. Many companies make broad claims about the health benefits of their products such as "improved skin, coat, and nails" or "extended lifespan" without providing any supporting evidence. We understand that plant-based dog food is held to a higher standard when it comes to demonstrating its health and safety, which is why we are committed to providing straightforward, data-backed information to our customers.
Marquis: How does the pet food category compare to the landscape within other areas of CPG where we've seen successful challenger brands emerge? Are consumers receptive to disruptors on the pet food aisle?
Wymore: Today's consumers are incredibly aware of the flaws in America's food system, and we've witnessed a widespread shift in shopping habits from the rise in plant-based dairy to upcycled ingredients. There's growing recognition that factory farming is a problem, even among people who don't follow a vegan diet, and the connection between food production and climate change is becoming clearer to the general public.
Today's pet owners, who often view their dogs as members of the family, are particularly receptive to trying new products if they believe they align with their values and support their pet's health. Research has shown that younger generations are more likely to invest in higher-quality products with transparent ingredient lists. Over the past several years, this trend has translated into rising demand for fresh and frozen meat-based dog food that uses premium animal protein. At Petaluma, we are offering an alternative option to meet the demand for better dog food by creating products that are both eco-conscious and of the highest quality. We source mostly organic ingredients like human-grade peanut butter, use minimal processing to retain nutritional value, and our products are designed for those who value sustainability without compromising their pet's health.
Marquis: What certifications and initiatives has Petaluma pursued, and how did you decide which ones to prioritize?
Wymore: Petaluma is definitely unique for how often we're putting sustainability and animal welfare at the forefront of the conversation as a dog food company. We are one of just a handful of U.S. pet food businesses that are B Corp Certified, Climate Neutral Certified, or are part of 1% for the Planet. When we attend events or meetups for these organizations, we often find ourselves as the sole representatives of the pet industry. We have taken great care in selecting certifications that demonstrate our dedication to being better and providing proof of our efforts.
Unfortunately, we are already seeing a lot of greenwashing in pet food, usually in the form of marketing reduced plastic content in packaging but neglecting to mention the ingredients, which are the majority of a food product's resource use. I'd love to see more brands publish independent life cycle assessments, so customers can wade past the marketing claims and really understand any tradeoffs.
Marquis: There are only a handful of certified B Corp dog food companies in the US. Why is that and why did Petaluma decide to pursue the certification so early on in the business' life cycle?
Wymore: We went back and forth originally on when the best time would be to undergo B Corp certification. The approval process is a big undertaking for any company, but as a team of two, it can take considerable time and effort while we're in the thick of operating the business. However, we ultimately decided it would be easier for us to make bold commitments as a young company while we're establishing our values and carving out a path for what meaningful growth looks like for Petaluma. At this stage in our journey, we aren't beholden to VCs or stakeholders, and we can set up the company to best serve our vision and our customers.
Marquis: The company's first product hit the market in 2021. What have you achieved in the last two years, and what is your big picture vision for Petaluma?
Wymore: Our ultimate goal is to be recognized as the top brand in sustainable pet care, much like Patagonia is for outdoor gear and clothing. We strive to be known for high-quality products and unwavering commitment to the environment. Since our launch, we have been making progress towards this vision by expanding our product offerings to align with our values, teaming up with retailers who share our mission, and gathering a dedicated following of customers across the United States. We aim to set a better standard in the pet food industry, elevating alternative protein diets from a niche market to a widely accepted way to care for your best (canine) friend while protecting our shared planet.