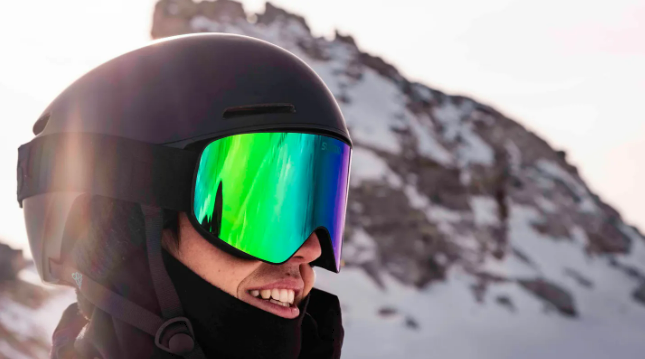 Sustainability has always been core to British eyewear specialist SunGod's business practices, and the brand recently became B Corp Certified to further bolster its credentials as a sustainable brand and commitment to a triple bottom line of people, profit and planet.
For instance, SunGod products have a lifetime guarantee to keep products in circulation and out of landfill, and their Infinite frames are made from 100% recycled material.
SunGod also partners with like-minded organisations such as Surfers Against Sewage, The Bike Project and 1% for the Planet, which sees SunGod contribute 1% of their revenue to sustainability-focused non-profits.
I recently had the opportunity to talk to Zoe Watkiss, co-founder and co-CEO of SunGod, the story of the businesses' journey from its humble beginning as a start-up in 2013, to being ranked 687th on the FT1000 - a list of the top 1,000 companies in Europe that have achieved the highest percentage growth in revenues between 2018 and 2021. Read below for an edited excerpt from our on-line conversation.
Christopher Marquis: Can you tell me about why you founded SunGod and how the business has evolved since its launch?
Zoe Watkiss: Ali and I met at Manchester University. After university, we were both working in London, Ali in architecture and me in marketing at L'Oreal. Ali was feeling uninspired (this was 2008 and nothing was getting built in London!) and I was feeling overworked… between us we were in real need of a change!
We were always looking for ways to spend more time outdoors, whether that was in the mountains, on bikes or just on two feet. We had started a Winter bobble hat company called Hats for the Hill on the side of our day jobs, which was great fun but highly seasonal! We began looking at ways we could make this year-round and our attention turned to the summer season and the eyewear industry.
It became very clear, very quickly, that the market was only offering expensive designer sunglasses that came with huge mark-ups, or cheap £10 knock-offs that broke after a few wears. We believed we could create something better - a brand that offered more - and so we took matters into our own hands and SunGod was born!
We wanted to create a brand with the customer at its heart. Through cutting out the middleman and going direct to consumer, we were able to offer durable, lifetime guarantee-backed custom sunglasses and ski goggles, all for a fairer price for our customer, and with a lower impact on the planet.
10 years later, we're really proud of what SunGod has become. Something that started off as the 2 of us grads building sunglasses in our living room, has grown into a global brand built on local community, that's fuelled by sustainable innovation. Today, we're a certified B Corp™ with a turnover of £8m last year, and the popularity and performance of our products are proven by world-class athletes on the global stage every day.
Marquis: How did you fund the start and growth of the business?
Watkiss: We've been funded by our crowd since day one. In 2013, after 6 months of prototyping and product testing, we launched SunGod on product crowdfunding site Indiegogo. The response was incredible and exceeded all our expectations! With a target to sell 400 pairs, we sold nearly 4,000 pairs in just one month. It was the impetus we needed to quit our jobs, it provided the cashflow to kickstart the business and showed us that the appetite for what we were doing was there. Looking back, we probably wouldn't have been able to go into production if we'd only sold 400 pairs, but our campaign turned out to be a record for the platform at a time where crowdfunding was new and exciting!
We ran a couple of Kickstarter campaigns over the next few years to launch new products, but remained completely self-funded with reinvested profits until 2020. Momentum was strong yet we were starting to reach a point where we felt unable to commit to the bigger opportunities and partnerships coming our way. So, in November 2020 we launched our first Crowdcube campaign, giving our community the chance to own a piece of SunGod's future. It was a huge success, and we raised £1.5m from our community (1,004 investors) in just 24 hours. This helped us triple our revenue and increase the company's valuation by 166% in two years, putting us in an even stronger position for our next Crowdcube, in November 2022. This went even better; we welcomed another 1000+ customers to our investor community, and reached our investment cap of £3m in just 79 minutes!
I couldn't recommend crowdfunding enough. When you look to your own community for investment, you turn your customers into brand advocates and are able to bring them even closer to your mission. These people inevitably want to you succeed; they choose to invest because they already love what we do and in turn help by spreading the word amongst their friends and family. We gain a huge proportion of our new customers through simple word of mouth, and it's often these investors who shout about us the loudest.
Marquis: What makes SunGod different to its competitors?
Watkiss: SunGod has grown into one of the world's leading performance eyewear brands, and is a certified B Corp. We're driven by our mission to See Better; through our lenses, through our actions, and through doing business better. To see a better future, we're building a business that's better for our customers, with better performing products, that are better for the planet. From our market-leading lens materials, to our Carbon Neutral products; from our charity partnerships, to our Lifetime Guarantee; we've chosen to do things differently.
In terms of product, we're leading the industry through award-winning sustainable innovation. Our 8KO® lens technology is clearer, stronger and lighter than our competitors, and as of 2023 it's being worn by 7x Tour de France-winning cycling team, INEOS Grenadiers, as well as McLaren F1 Team. We've put years of R&D into developing a lens with unrivalled performance benefits, and we're proud that it's now the eyewear of choice for the world's best athletes.
We're also obsessive about customer experience. We operate an independent, direct-to-consumer model, which means customers can only buy SunGod from SunGod; we don't work with third-party retailers. So, we're able to build incredibly close, two-way relationships with our customers, and it pays off (we have a 4.8/5 star rating on TrustPilot). The industry giants just don't have that. Our D2C model also lets us offer our unrivalled lifetime guarantee, which would be almost impossible to honour if we worked through retailers. Plus, our products are hand-assembled to order in the UK, and are fully customisable, at no extra cost. This means our UK customers can order a completely unique pair of SunGods at 2pm and they'll land on their doorstep the next day - not many brands can offer this!
From a sustainability perspective, we're proudly B Corp™ Certified, we offer a Lifetime Guarantee on all products, we donate 1%+ of revenue to charity, and we're certified Carbon Neutral - across both our products and our operations, back to Day 1. We work with a range of charities to raise funds and awareness for the causes that matter, and we're committed to using our brand as a force for positive change. This comes through campaigns like our MOMENTUM campaign, which celebrated the progress being made in women's sport (particularly around the first women's Tour de France last year), and highlighted the work that's still to come.
But ultimately, as B Corp, we're focused on collaboration, not competition. When we see other brands taking inspiration from our way of doing business, we view that as a success, not a problem; it means we're influencing the wider industry to make positive, sustainable change.
Marquis: What does SunGod being B Corp certified mean to you / the business?
Watkiss: In Summer 2022, we became a Certified B Corporation™, joining a global community using business as a force for good. This means we meet verified high standards of social and environmental performance, and we're commited to a triple bottom line of people, planet and profit, that's written into our legal charter to protect it forever.
B Corp means a lot to me because at the end of the day, it means we have held ourselves to account across every area of the business and that our customers can trust us - its assessment process leaves no stone unturned to ensure businesses are creating positive change. Greenwashing is rife in today's marketplace, and B Corp is definitely the best option out there to guide customers towards brands that are operating under high levels of integrity, transparency and accountability.
Becoming a B Corp has reached into every area of our business. From measuring the minute details of our carbon emissions, to offering free, unlimited mental health support for employees, to using our marketing platform to promote gender equality in sport; the B Corp framework has helped us analyse and enhance everything we do at SunGod, across people and planet. I'm incredible proud that we've invested in building such strong foundations now, that will help us continue to grow sustainably as we scale up.
Marquis: How important are partnerships to SunGod's vision and values?
Watkiss: Our partners are absolutely essential to our business. We have a dedicated Partnerships Team who, before signing a new partner, ask: a) how is this partnership meaningful? and b) how could we work together to positively impact our community?
From England Rugby and McLaren F1, to the professional cycling team INEOS Grenadiers, to charities like Surfers Against Sewage and Protect Our Winters UK; we've built a partner community that proves the performance of our products at the highest levels. They help us continually tap into new and engaged audiences, offer product feedback to allow for constant innovation, and create aspirational digital content to keep our community engaged. At the same time, we support our partners by creating unique products specifically for their teams and fans, raising funds for their charities, and using our own substantial platforms to support their aims. SunGod partnerships really are symbiotic relationships, and they've played a core role in getting SunGod to where we are today.
Marquis: What's in store for the future?
Watkiss: We have some really exciting plans for the next year. As well as signing our biggest and best partnerships yet (which are strictly under wraps… for now!) we're going to be expanding into the US market. We've proved our concept in our home market and experienced incredible growth, so scaling up across the pond, where we have a growing customer base already, feels like the obvious next step.
We're also incredibly excited to be releasing prescription sunglasses to our community, imminently! It's something our customers have been asking us about for a long time (70% of the UK population are glasses wearers!), and we're finally in a position where we can offer an exceptional product and and buying experience to them. Watch this space!