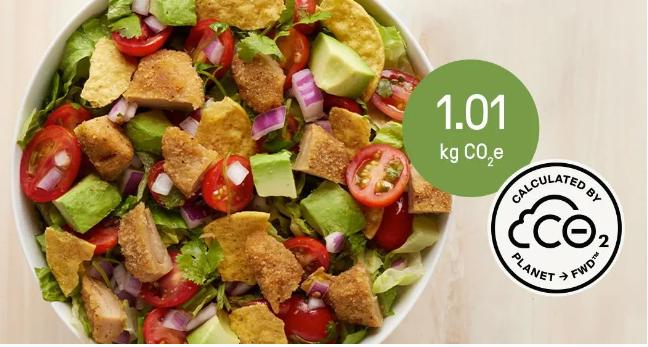 As consumers become increasingly conscious of the environmental impact of their choices, fast-casual dining chain Just Salad has spearheaded a series of important initiatives to address sustainability concerns head-on. The chain focuses on reducing waste, sourcing responsibly and fostering community engagement. And as I reported in a previous Forbes article, the brand provides carbon labelling for its products as well as a "climatarian" menu that identifies which of its salads and other offerings are better for the planet.
I recently sat down with Just Salad's Founder and CEO, Nick Kenner to uncover the story behind the brand's sustainability journey. He told me how over the years, the brands commitment to sustainability has evolved and grown, reflecting a genuine dedication to the planet. He also discussed how at the core of Just Salad's mission is a relentless pursuit of innovative solutions that push the boundaries of what's possible within the fast-casual category, with the goal transform the way customers interact with their food and the environment.
Kenner also shares insights into the strategies, challenges and successes that have shaped Just Salad's recent path to becoming a Certified B Corporation, as well as the company's forward-looking vision for continuous improvement. Please read below for more from our conversation.
We launched as a startup salad bar in Manhattan on a journey to make small changes that had a big impact. Our first step was introducing our Reusable Bowl Program on day one - the heart of the brand, and one of the most unique sustainable restaurant concepts in the industry - which Just Salad still uses across all stores to date. As we grew, we recognized the influence our organization could have on people and the planet, and continued to find new and innovative ways to operate as a responsible business. Today, our mission has expanded beyond preventing waste to so much more, culminating with our recent B Corp Certification.
Marquis: Can you talk about some of the programs and initiatives that Just Salad has implemented to become a responsible restaurant brand? How are these unique from other competing concepts?
Kenner: Our goal to revolutionize the zero-waste dining movement with innovative sustainability solutions is reflected in every aspect of the business. Just Salad is home to the world's largest restaurant reusable program, which has served millions of customers since the brand's founding in 2006. To incentivize sustainable eating, guests can purchase a reusable bowl at any Just Salad store for just $1 and receive a free salad topping with every reuse - a concept unlike any other in the restaurant industry.
Just Salad was additionally the first U.S. restaurant chain to carbon label its menu and offer a Climatarian menu category, quantifying the environmental impact of our menu down to the item level. This carbon transparency allows guests to understand, and make ordering decisions based upon, the environmental impact of their food choices. As part of this effort, we continue to expand our repertoire of climate conscious ingredient options - we offer an entirely vegan smoothie menu, plant-based proteins like Beyond Chicken, and Violife Creamy Vegan Feta Cheese, to name a few.
In addition to our signature Reusable Bowl Program, we've implemented a number of policies aimed at reducing waste in all forms across our stores. Notably, our partnership with food surplus app, Too Good To Go allows us to save thousands of meals from going to waste.
We are closely monitoring the data around these initiatives to measure their impact on our environmental footprint and identify opportunities for further improvement. In alignment with the high standards set by B Corp, these efforts are just the beginning of a journey to reducing our impact even further.
Marquis: Just Salad was a pioneer in carbon labeling. Can you tell me about the decision to calculate and present to consumers emissions at the product level, and the challenges Just Salad encountered?
Kenner: Food production makes up more than one-quarter of global greenhouse gas emissions, and shifting to more sustainable, plant-based food choices is necessary to change this statistic. To achieve this, greater transparency about food's role in climate change is needed to help consumers choose lower impact foods, and our team decided to play a part in creating a solution.
Our signature innovation is the carbon label and a corresponding "Climatarian" menu. We label our menu items with their carbon footprint, which empowers customers with the transparent information needed to understand the impact of their meal: the lower the number, the less the item contributes to climate change. Just Salad uses these carbon labels to help guide customers to climate-smart food choices on our menus. Following the launch of our Climatarian filter, we saw a nearly 10% increase in sales of Climatarian menu items.
As for challenges, the process of carbon labeling our menu was extremely data intensive. While it was enlightening to understand our supply chain and ingredients in a whole new way, this endeavor was also daunting due to the sheer amount of calculations involved in bringing it to life. Our response was to team up with an external partner, Planet FWD - a woman-owned, leading carbon management platform - to provide third-party verified emissions calculations. To calculate our carbon labels, Planet FWD traces the cradle-to-grave emissions of every ingredient within a menu item and the packaging it's served in. Apart from helping customers make climate-smart food choices, our carbon labels help us, as a company, make culinary and sustainability improvements together.
Going forward, the challenge of carbon labeling will be making it more and more relevant to a larger subset of customers. Carbon literacy needs to be at least as high as nutritional literacy so that labels have the intended effect of helping people make planet-aligned choices.
Marquis: Are there any new initiatives or technologies Just Salad is exploring to reduce its environmental footprint even further? How do you see the company's sustainability efforts evolving in the future?
Kenner: As a company committed to reducing our environmental footprint, we are constantly exploring new opportunities to achieve this goal. Most recently, we've been focused on the expansion of our BringBack Program - a first-of-its-kind digital solution for single-use takeout packaging waste. As an extension of our in-store Reusable Bowl Program, BringBack allows customers ordering via the Just Salad mobile app to receive their meal in a green returnable container, making reusables available to the increasing number of customers who order meals online. By offering reusable packaging for both online and in-store ordering, we have increased the accessibility, scale, and impact of our reusables programs.
We've made notable progress in building and advancing this initiative since you last spoke with our Chief Sustainability Officer, Sandra Noonan regarding the pilot program in 2021, at which time we were testing the bowls at just two of our stores in NYC. As of this year, BringBack is currently available at ten Just Salad locations, and we're actively looking to expand the program to even more stores and markets moving forward.
Our next frontier is the intersection of loyalty and sustainability, as we aim to reward customers for making environmentally-conscious food choices. Through our efforts to advance our mobile app technology and digitized customer journey, we're in the process of developing a new rewards program designed to incentivize healthy, climate-conscious food choices. In the future, we will look to reward and incentivize customers to make more sustainable purchases through this program, such as offering rewards to guests in exchange for ordering plant-based menu items or salads from our Climatarian menu category.
Marquis: Just Salad recently received B Corp Certification. Can you tell us about the journey towards this achievement and what it means for the company?
Kenner: As a B Corp, Just Salad is now part of a global community of businesses that meet high standards of social and environmental performance, accountability, and transparency. Our team is proud and honored to join the B Corp movement of leaders using business as a force for good, and looks forward to strengthening our ongoing commitment to social and environmental responsibility.
To become a Certified B Corporation, companies must undergo a rigorous and extensive review process, administered by B Lab, to assess performance across five impact categories, including workers, communities, customers, suppliers, and the environment. Receiving this certification was a multi-year journey, requiring intensive levels of teamwork across departments to collect data and closely examine every aspect of the way we do business.
B Corp Certification marks the positive impact that Just Salad has made in the communities it serves by focusing on people and the planet since our founding in 2006. The standards set by the B Corp movement will remain at the forefront of our purpose and overarching business strategy, including our product, sustainability programs, employee relations and engagement with the larger community. This certification is the beginning of a journey towards ongoing improvement, and as CEO, this achievement inspires me to continue finding new ways to make a positive impact with our business.
Marquis: The food industry is a significant contributor to environmental issues. What impact do you hope Just Salad's B Corp Certification will have on the industry and how do you plan to lead the way for others to follow?
Kenner: We are hopeful that this certification will bring the restaurant industry together in constructive ways to reduce our collective environmental impact. We need more food companies in this community to make a powerful, lasting difference, and we're optimistic that our certification will energize other restaurant brands and food companies that have come before us to do business in a way that's better for our planet.
We continue to lead by example through pioneering a truly circular, waste-free way to dine on-the-go and hope that other QSR concepts will follow suit with similar initiatives. Our Reusable Bowl Programs demonstrate that closed loop packaging systems are feasible to execute within the wider fast casual category, paving the way for other chains to eliminate single-use plastic waste and alternatively adopt circular solutions. In creating BringBack, we completely reimagined the online ordering experience with the principles of circularity, resource conservation, and zero-waste front-of-mind, and we pushed the boundaries of what's possible for restaurant apps. By introducing these industry-first programs, our goal is to accelerate the transition to reusable, zero-waste packaging within the fast-casual restaurant category.
Marquis: What advice would you give to other business owners who are looking to make a positive impact through their operations? What steps should they take to start this journey?
Kenner: My biggest piece of advice to anyone considering B Corp Certification would be to involve all departments at the company in the process through a full ownership approach, rather than assigning ESG efforts to one person or team. B Corp is a multifaceted certification covering five impact categories, which affect the entirety of an organization. As such, environmental and social goals should not be the responsibility of just one department, and all teams should be involved in setting objectives, executing them, and tracking progress through measurable KPIs and performance metrics.
It's important to instill a culture of ownership. Each employee should feel accountable for the environmental and social impact of the business. By empowering your team members to take ownership, you can ensure that everyone is working towards the same goals and inspired to take part in a purpose-driven mission.