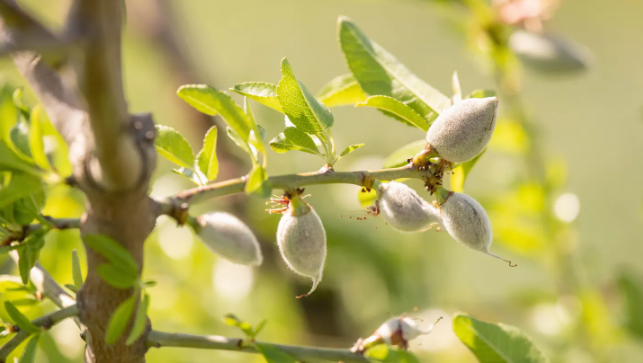 Since launching in 2015, New Barn Organics has been focused on making food better through its dairy-free, regenerative products, including almond milks, coconut milks, and pasture raised eggs. One notable recent milestone for the company is the introduction of Regenerative Organic Certified almond milk, tapping California-based Burroughs Family Farms, the first Regenerative Organic almond farm in the country.
Regenerative Organic is a new certification for food, fiber, and personal care ingredients that combines rigorous standards in animal welfare, social equity and organic sustainability under one umbrella, founded by leading sustainability focused organisations including Dr. Bronner's, Patagonia, and Rodale. Michael Bronner, president of Dr. Bronner's evocatively described the certification to me as kind of like the maxim from Lord of the Rings: "one ring to rule them all."
I recently spoke with Ted Robb, the co-founder of New Barn Organics, to discuss the launch of their newest products and the importance of this certification. As a second generation natural products entrepreneur, Robb shared his insights and expertise on regenerative agriculture, New Barn Organic's journey to launching the first of its kind Regenerative Organic Certified almond milk, and the state of the food industry.
Christopher Marquis: While you all started out as an independent brand, you joined forces with NestFresh in 2021. How has that shaped the New Barn Organics business, and how has it helped you evolve and expand the brand and its product offerings?
Ted Robb: Honestly, it's been one of the most important decisions we ever made, as it allowed the mission and vision of New Barn Organics to continue flourishing. It isn't easy to launch and build a food brand, especially one with national ambitions; joining NestFresh gave New Barn Organics a well-capitalized partner who shares the desire to build a successful and enduring business. And more importantly, they share our commitment to supporting regenerative organic agriculture.
On the product assortment side, joining NestFresh has been more about refinement and focus. We learned a lot about doing too much in the first few years of building New Barn. Candidly, we tried to do too many things at once, creating a lot of excitement and an enormous amount of stress and challenges. Joining a larger company has been helpful because you can't do it all at once like you think you can as an ambitious startup. NestFresh would rather see us do a few things well, instead of taking on too many projects at once. Joining this team has given us more of a focus on learning who our core consumers are and what they really want, then doing our best to deliver on those expectations.
We've worked to define a solid base of products we know shoppers want: almond milk, coconut milk, and pasture-raised eggs. These are "essential" items that most US households now consume regularly. We're proud to offer them products that are both premium in quality and relatively accessibly priced. Like a mainstream brand we're conveniently found in grocery stores, but our product experience and ingredients are more consistent with what you'd find at a farmers market or smaller local shop. We feel this positioning will serve the brand well in the long run, and we're confident that we have the right partner to help support us in that direction.
Christopher Marquis: Burroughs Family Farms is the first regenerative almond farm. What was the process like identifying a farm to source regenerative almonds from to produce New Barn's Regenerative Organic Certified almond milks, and how did you all work together on these products?
Ted Robb: We learned about the Burroughs a few years ago, but the timing wasn't quite right as we had recently switched all of our almond sourcing to European suppliers. At the time, we were purchasing only dry-farmed organic almonds. We felt this was the most responsible ingredient we could choose for our products. Dry-farmed almond trees are watered only for the first year or so, then irrigated only with rainwater after that. The yields are lower for the farmer, but the flavor is more intense, and water usage is dramatically lower per acre. California almond growers don't typically practice dry-farming at any sort of scale.
Then in 2021 after we joined NestFresh, the team started down the road of adding Regenerative Organic Certified® pasture eggs to the New Barn Organics brand. We worked very closely with our friends at the Regenerative Organic Alliance, and learned a lot about how the standard for ROC products was evolving. During that time, we re-connected with the Burroughs and realized we shared core values and a commitment to regenerative organic agriculture. The partnership came together quickly, because they had been working on achieving ROC certification for their almonds just as we had been on our eggs. This created the ideal situation because we trust their intention 100% as farmers, and we can stay focused on making products, which is what we do best. The process of coming together has been wonderful and we're delighted to know that we can work with their family for the long-haul.
Christopher Marquis: What kind of practices are being implemented to meet the Regenerative Organic Certification at the farms?
Ted Robb: The Burroughs follow a foundational set of practices that build a healthy ecosystem and enrich the soil. They never spray any toxic chemicals and use no-till practices. Using sheep to graze weeds and fertilize the almond orchards, they work with nature to maintain a natural harmony between the soil and the trees.
By keeping the ground covered all year long, the farm's soil is enriched and protected by a mixture of cover crops specially selected for optimum soil health. A blend of mustard, rye, and other grasses cover the ground across the entire farm, fixing carbon and nitrogen into the earth while locking water into the soil beneath.
To promote biodiversity and bring pollinators to the farm, hedgerows of native plants and wildflowers are planted on the borders of the almond orchards. A diverse blend of varieties such as coyotebrush, white sage, and California wildrose take turns blooming all year long. The hedgerows attract local pollinators, and they provide a safe haven for many bird species who call this beautiful farm their home.
The Burroughs also believe in the importance of taking good care of the people who work on their land. The farm's workers are paid a living wage, and are offered the ability to participate in a 401K program through the farm. They're also provided with housing or other financial assistance as needed, and many have worked on the farm anywhere between 10–30 years. Employees also receive baskets full of farm products to take home to their families.
Christopher Marquis: Criticism of almond milk is heavy use of water. Can you discuss how you address that issue and how your water use compares to other almond farms?
Ted Robb: This is always an important topic and one we're incredibly passionate about. We're also continually learning about the realities of water usage against the backdrop of a changing climate.
The truth is that most crops use lots of water, not just almonds. However, almonds are unique because they're popular and grown in high concentrations in California, where water challenges are always apparent.
At their origin, almonds are a desert crop from the Middle East and Southwestern Asia. For centuries, almonds were grown without much water other than rainfall. It wasn't until industrial farming came along and demanded higher yields that we started seeing irrigated almonds. For example, almonds in California weren't commonly irrigated until the 1930s. It's also important to note that higher planting density, chemical pesticide application, and numerous other ecological challenges also came with the industrial style of farming.
Now we expect cheap almonds, produced in enormous quantities on the farming and supply side, and often misplaced vilification of the water usage on the consumer demand side.
What's exciting is that regenerative organic farming meaningfully addresses nearly every "problem" that comes with conventionally farmed almonds. Water demand goes down dramatically with healthier soil that remains covered and can retain moisture throughout all seasons. Combine that with more advanced micro irrigation techniques, and you have a much lower water footprint than what's commonly represented in the media.
You can see this situation playing out in California currently. This winter brought record rainfall and now snowmelt from the Sierra Nevada Mountains. For the time being, California has too much water. Almond farms that don't maintain cover crops, or regenerative farming methods, have been flooding and seeing significant runoff in their orchards. On a regenerative organic farm, such as Burroughs', that same water is getting "banked" into the rich soil. This means the soil will remain moist longer as temperatures rise in the summer months, and less water will be needed throughout the growing season. That same healthier soil will also provide a more substantial base for the entire ecosystem of pollinators, animals, and workers who enter the orchard throughout the year. True regenerative farming means all systems are working together to create year-over-year improvement.
Because this is our first year of working with the Burroughs, it's hard to say accurately how much our water footprint has changed for New Barn Organics by moving to regenerative organic sourcing. We were using exclusively dry-farmed almonds up to this point, and it's likely that our water usage actually went up. That said, we're confident that we now have a long-term partner who shares our desire to learn and continually improve our knowledge about how we're using water for almonds.
It's also worth noting the Burroughs' have started a multi-year study to understand better how much water their soil holds. They use advanced technology, such as GPS water meters on each tree, to deliver accurate data across the orchard. This will help all of us have a clear picture of exactly how much water is being used or, importantly, saved system-wide.
We're committed to investing in the partnership in any way that can help us provide more transparency to our customers. They want to know about our practices, and so do we. It all goes back to being purpose driven as a brand and bringing more consciousness and awareness to the food system.
Christopher Marquis: Can you share any challenges you all have had to overcome in creating and bringing to market regenerative products?
Ted Robb: The most considerable challenge we've faced to this point has been succinctly explaining what regenerative organic farming means. People are busy, so much of our culture gets distilled into sound bytes. We're working on extensively interconnected systems, and figuring out how to fit that into an elevator pitch can be challenging. We're grateful for outlets like this one, that are bringing awareness to the larger regenerative agriculture story.
Christopher Marquis: You've been immersed in the food industry for your entire life. How do you see the industry evolving to be more sustainable, and what does the future look like, particularly as it relates to eggs and plant-based milks?
Ted Robb: Over the last few years, I've been quite disheartened about the state of the food industry in this country. As a culture, we're so collectively obsessed with costs and efficiencies that we often lose sight of the joy and love that's inherent in food. We also tend to chase trends and shallow aesthetics. Lately, there's also been a tendency to reward greenwashing instead of looking deeper into the story of where products come from.
The pressure placed on the food system throughout COVID also brought a lot of harsh realities about the supply chain out into the open. Labor shortages, inflation, and the over proliferation of private-label products are just a few examples. We've now reached a point where scale and consolidation drive most consumers' choices. The last few years have worn us out, making convenience and cost our primary focus; and that's ultimately not a good thing. Food isn't just about calories, dollars, or brand positioning – it's essential to being alive. It should nourish your curiosity and connection to how your food was grown and who it was produced by.
On the positive side, each consolidation cycle will ultimately lead to a renaissance. This is starting now with the regenerative organic movement. People want amazing food, and they want to know it's not harming people, animals, or the planet. Since regenerative organic builds on the well-established standards of the National Organic Program, we have an opportunity as an industry to redefine what "organic" means. It won't be easy, but ultimately, the first principles behind organic and regenerative farming methods will bring more awareness and consciousness to our food system. This is especially true for our youngest generations, who have been exposed to challenges for most of their lives. I have hope because of them – they get it and will force changes and clarity when their purchasing power comes of age.