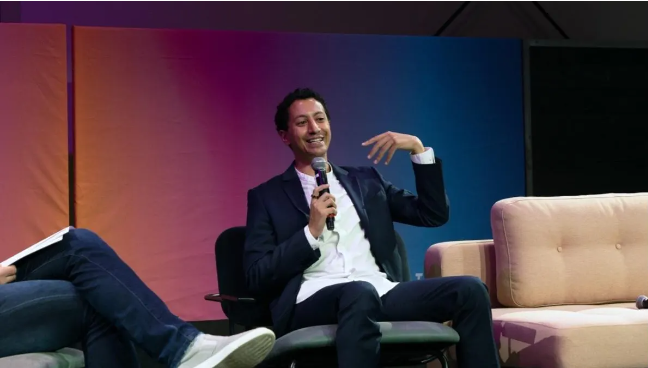 Small-business entrepreneurs are the leading job-creators worldwide, generating jobs for seven in ten workers across the globe. Yet despite their impact, these entrepreneurs – especially those from underrepresented backgrounds, like entrepreneurs of color, women entrepreneurs, low-income entrepreneurs, and immigrant entrepreneurs – face outsized obstacles in gaining access to capital, networks, and distribution.
One award-winning social venture, Mona, is creating new opportunities for – and amplifying the stories of – these entrepreneurs. Mona means "wish" in Arabic and is a multi-channel platform that connects underrepresented entrepreneurs across the globe with access to capital, distribution opportunities, product investment, marketing, and design support.
This week, the venture launched the Mona corporate gifting platform that connects company buyers to innovative products by small businesses, the majority of which are founded by women, immigrants, and refugees.
I recently spoke with Mona's founder, Andrew Leon Hanna about Mona's mission, its new gifting platform, and its work to empower underrepresented founders more broadly.
Andrew's focus is on creating opportunity for and telling the stories of underrepresented entrepreneurs around the world. He is a Forbes 30 Under 30 entrepreneur, Harvard-trained attorney, University of Chicago Booth professor, and Financial Times Bracken Prize-winning author for his recent book on refugee entrepreneurs. Andrew incubated the idea for Mona while at the Stanford Graduate School of Business.
Andrew Leon Hanna
: From my childhood, I have always been inspired by entrepreneurs – but more so the ones that are less celebrated in the media. The folks that energize me are the ones running small businesses that uplift their communities, in good times and bad. The ones who are able to create economic mobility for their families despite the challenges facing them. These small businesses create the majority of jobs around the world and two-thirds of net new jobs in America. My father was an entrepreneur in this mold, immigrating from Egypt and creating his own primary care practice that impacted the lives of thousands of patients in my hometown. I think those entrepreneurs are the true, unsung heroes.
They also face so many barriers, especially those from underrepresented backgrounds – low-income communities, people of color, women, Indigenous communities, refugees and immigrants, those in rural areas, people with disabilities, and so on. They face a lack of access to affordable capital, a lack of distribution connections to bigger companies, a lack of professional networks, and more – with immigrants and refugees dealing with language adjustment, a lack of credit history, and a whole set of additional obstacles.
So, for me as I thought about my next entrepreneurial venture while at Stanford, I wanted to create a social enterprise that provides these entrepreneurs with the opportunities and the spotlight they deserve.
Marquis: One of the ways you are creating this opportunity for underrepresented entrepreneurs is through Mona's corporate gifting platform, which I understand is launching now after piloting with a few clients. Tell me how this element of Mona came about and why gifting was a route you chose to focus on.
Hanna: One of the key obstacles facing small businesses is a lack of product investment and connections to larger purchasers. A major product investment can change the life of a small business – providing it a valuable infusion of capital and hopefully a recurring revenue stream, exposure to new customers, and the opportunity to refine its operations for bulk orders.
On the other side, Chief People Officers I talk to are tired of the same old corporate gifting programs. They are commonly generic "swag" distributions – water bottles and so on – or often-underutilized tech platforms that allow people to shop for and claim gifts. Particularly as remote work has increased, as organizations have grown in their desire to show employees of all backgrounds that they belong, and as studies show that memorable gifts (especially impact-oriented ones) are the ones that have a real ROI, Mona has so far been a breath of fresh air for our clients.
So it's a win-win. Our partner entrepreneurs get a product investment and a platform to share their brand stories to customers around the world. And our clients get heartfelt, handcrafted products that tell beautiful stories about cultures represented within their workforce and around the world.
Marquis: Tell me about some of Mona's partner entrepreneurs and the boxes you've co-created with them.
Hanna: Mona's partners are inspiring creators from around the world. Through Mona, we're proud to have collaborated with and supported 30 entrepreneurs thus far – 87 percent of whom are women and 90 percent of whom are immigrants, refugees, or first-gen. Supporting these creators has a second layer of impact because they frequently source from small enterprises across the globe – from family-owned farms in the Middle East to women artisan collectives in South Asia and beyond. And they do so ethically, often providing far above market rates to their suppliers.
Many of our boxes are special in that they bring together entrepreneurs with products representing cultures from across the globe. Our Global Unity Box, for example, features Syrian date snacks by Diana Farrar of Magic Dates, Mexican cinnamon churro cactus sticks by Regina Trillo of Nemi Snacks, Taiwanese tea by Maggie Xue of Us Two Tea or Moroccan tea by Mina and Fouad Kallamni of Mina, West African chips by Pierre Thiam of Yolélé, and Vietnamese latte kits by Debbie Mullin of Copper Cow Coffee. Each box includes a handwritten note, customized company card, Spotify playlist curated by the creators, and "Meet the Creators" card that shares their personal, brand, and product stories.
We often have boxes dedicated to specific cultures as well. For example, our Mexican Heritage Coffee Box is co-created with Areli Barrera de Grodksi of Little Waves Coffee Roasters. Areli's box includes specialty coffee grown in her father's home region of Nayarit, Mexico, traditional copal incense resin, and piloncillo to make café de olla. The Pan-African Wellness Box by Grace Kinda, founder of Iber! Naturals, features a range of wellness produces sourced from across the African Continent.
Marquis: Mona's gifting is only one piece of the puzzle in how you partner with and support entrepreneurs. Tell me about some of the other elements.
Hanna: Our goal is to create a community of entrepreneurs that we support and highlight in many different ways: from capital to distribution to design and beyond. On the capital side, we have a partnership with Kiva and DreamxAmerica to secure zero-interest loans for any entrepreneur who needs a cost-free capital infusion. And we work with community partners, like immigrant welcoming centers, to generate and publicize additional funding opportunities. Our partner entrepreneurs have gotten loans to secure store locations, develop new product lines, hire more employees, and buy critical equipment.
We also have a design studio, Mona Studios, that helps provide world-class website design for entrepreneurs, which we are able to do at a pro bono or subsidized rate by also providing those services to bigger companies. And we have a few media and marketing elements we are building out as well to create greater exposure for our entrepreneurs and their inspiring stories.
Marquis: From your book and Mona, you are on a mission to not just support your partner entrepreneurs but also to spotlight their dignity, creativity, and power. What are some of the moments that have kept you energized by this mission?
Hanna: For me, it means the world to see our entrepreneurs get the opportunities that they deserve. They launched their ventures often with very little support, and their products are top-notch. Even more, they are incredibly kind leaders who create a new message of entrepreneurship that I wish we heard more: a selfless, community-based, others-oriented entrepreneurship. During the pandemic, for example, our partner entrepreneurs were on the frontlines of delivering free food to the elderly in their hometowns. They provide fair wages to the folks they source from around the world, and have donated portions of their profits to support disaster relief in Turkey, Syria, Haiti, and more.
So I know the opportunities we create are more than well-deserved. And I love to hear about the impact those make on our partner entrepreneurs' ventures. Grace recently shared that Mona was a huge support to her business, both because of the zero-interest loan we connected her to and the holiday gifting bulk order we made with her. She surpassed her production and sales goals for last year because of our work with her, and is now able to move toward a permanent home for Iber! Naturals. Other early-stage entrepreneurs have told me that they had their life "on hold" and partnering with Mona gave them the support they needed to launch their businesses. That brings me a lot of joy.