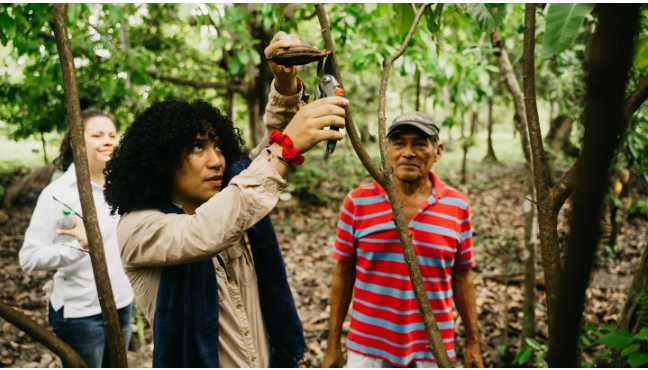 There is something special about chocolate. But beyond the joy that comes from the experience of eating chocolate, the industry has also been exposed for poor labor conditions and environmental degradation. So it is important for chocolate companies to take their responsibility all the way back to the origin or the raw materials, starting with the farmers in the field who take pride in nurturing their crops and maintaining a legacy for their families. Making the connection from field to finished product is at the heart of Luker Chocolate.
Founded in 1906, Luker Chocolate is a manufacturer of fine chocolates crafted at origin and made exclusively from fine flavor cocoa (as opposed to bulk cocoa) sourced in Colombia, Peru and Ecuador. A family owned business for over 120 years, Luker takes great pride in working hand in hand with their partners. They work with emerging boutique and specialty brands around the world who are looking for a partner to help them create purpose-driven chocolate products whether that means a turnkey approach or the sourcing of chocolate ingredients for their own manufacturing.
As a business-for-business (B4B), Luker is committed to the sustainable social, economic and environmental development of their cocoa growing communities. The brand works with companies from around the world to fulfill direct sourcing and integration of the cocoa value chain from farm to chocolate. Luker Chocolate also aims to transform the value chain more generally with their The Chocolate Dream program that engages chocolate brands from around the world for collective impact on providing economic, social and environmental impact in chocolate communities.
Luker Chocolate was recently certified as a B Corporation, which provides a third party assessment of the company's social and environmental commitments from the independent non-profit B Lab.
I recently had a conversation with Julia Ocampo, VP of Cocoa Sourcing and Sustainability for Luker Chocolate about the company's B Corp Certification and how the company seeks to transform the cocoa value chain and move beyond sustainability.
Julia Ocampo:
 Since our early days, we have made substantial contributions to the sustainable development of rural communities in Colombia. Our business operations are aligned with our "triple-impact approach", which seeks to raise farmer income, promote social well-being in cocoa-producing areas, and nurture the environment. We also work to create shared value at origin- keeping more capital within Colombia and investing profits directly back into our local communities. In 2023, the full audit process for B Corporation took place from January to April, which included providing evidence and explanations of our efforts. The process was rigorous and required the support of all of our teams and departments from across the entire company. We are so proud to be a Certified B Corporation 
TM
.
Furthermore, we also focused on our Sanitation and Toxin Reduction Model, based on the inclusion of products such as organic cocoa and organic cleaning products, to measure, mitigate, and offset greenhouse gas emissions. CasaLuker, Luker Chocolate's parent organization, received 92.8 points from B Lab, and is a figure we are so incredibly proud of. Overall, the B Lab assessment enabled us to make many improvements to our internal processes, with more still to come.
Marquis: What comes next for Luker Chocolate?
Ocampo: We're taking proactive, measurable steps toward meaningful change, and our goals align with our mission to make a difference in the world. As a company, we vehemently uphold the values of transparency, fairness, and sustainability in our operations and throughout the cocoa value chain. This B Corporation certification recognizes the work we're already doing and the responsible sourcing practices we have in place. We're excited to continue raising the standards for our industry and aligning people and the planet with profit. With more than just a motto behind us, our team has carved out a unique sustainability roadmap with specific goals like complete carbon neutrality, in order to create a powerful, positive impact.
As we continue to release our Sustainability Progress Reports, showcasing our company's remarkable strides in farmer empowerment, environmental stewardship, and responsible sourcing, we remain steadfast in our visionary initiative, The Chocolate Dream, launched in 2018 with a mission to transform the cocoa farming industry in Colombia by 2030. Reinforcing our commitment, our Race to Zero initiative seeks carbon neutrality down to the granular by involving small farmers and their emissions, on top of our own reduction in carbon usage. We will continue to create a more significant, sustainable, and positive future for cocoa farming communities and the wider chocolate industry.
Marquis: How does becoming a B Corporation change Luker?
Ocampo: Aside from evaluating our operational practices, B Lab reviewed our impact models for poverty mitigation in the supply chain and the hiring of vulnerable populations (people with low incomes, up to high school education, young people with their first job, migrants, etc.). These measures aid in narrowing the employment access gap while offering avenues for skill development and access to advanced education in technical and professional programs.