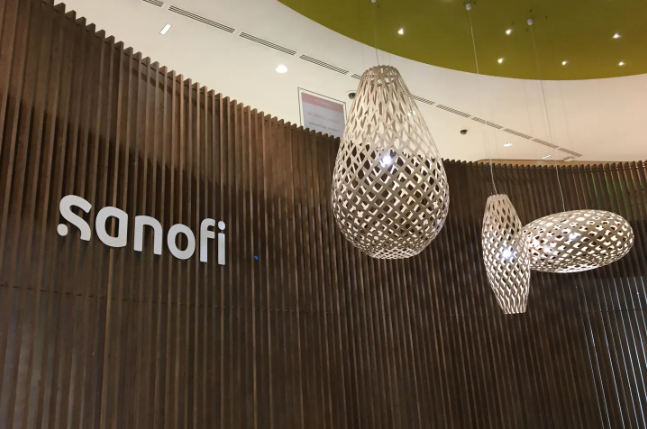 Sanofi is a French multinational pharmaceutical and healthcare company with four global business units and products in seven major therapeutic areas, and it is one of the world's largest producer of vaccines. For such a business that is focused on helping people be more healthful, societal impact should be at the core of its strategy and products delivered.
I recently talked to Julie Van Ongevalle, Executive Vice President of Sanofi's Consumer Healthcare Global Business Unit, about the recent B Corp certification of the company's North American subsidiary. She discussed the importance of transparency and accountability to continuously improve Sanofi's sustainability standards and social and environmental impact. Julie described the certification process as a 3 year "labor of love" as Sanofi worked through the challenging and holistic screening process.
As Sanofi's B Corp movement started in North America, and we also covered the company's plans to roll B Corp to other parts of the world and Julie provided some advice to other large companies that want to make similar changes, Julie emphasized how the rigorous process requires dedication, commitment, and sacrifice. In her words, "it's a marathon, and it's not a sprint."
Julie Van Ongevalle: Multiple reasons. And luckily, it's not just a strategy. It's not just because I decided, but it's something that was a real desire, first of all, from our people. We are in a world that's facing many, many challenges as everybody knows. And I personally strongly believe that as individuals as well as a company we have an important role to play, and with a certain urgency, and particularly in areas of health, inequality, and all the adverse events of climate change which, as an organization we are duty bound to help to address.
It's our duty to be a responsible corporate citizen and demonstrate this through our products. Our first order of business is obviously to contribute to the health and the well-being of people and the communities that we serve. For Sanofi Consumer Healthcare, we are a business focused on self-care, enabling people to help themselves. There's nothing more important than health. I do think that healthcare, and specifically consumer healthcare, which are products that are accessible to people without going to see a doctor, contribute to the world.
So I think we have a huge role to play in making it easier for people to take better care of themselves, and hopefully have fewer health problems in the future. The whole self-care piece is core to what we do as a business and is really our mission as well, because our very ambitious vision is to become the best fast-moving consumer healthcare company for the world.
But this requires embarking on and embracing this journey of continuous improvement, of our sustainability standards and our social environmental impact. This is why we're making sustainability truly central in our governance and in our strategic decisions at all levels. We're changing the mindset also of our people. Because when you're part of a publicly traded company, the performance is always number one. Both I – and our people- believe both can go together. So it's a super exciting journey.
Marquis: Very helpful to understand. For healthcare focused companies, social impact, social mission should really be at the core, because the business is about helping people be more healthful. And then that naturally extends over to the natural environment and other aspects of the business. So I can really see the connection in your business.
The things you said around formalizing this more through governance and how the employees are engaged is very important. I know the certification process has been ongoing for a pretty long time, but as such a large company, I am sure there were challenges.
Can you say a bit about the certification journey and what you learned? Having a social mission at the core gives you a leg up, so to speak, but I am also sure there were new things you learned along the way. Can you give a little bit of flavor of the process, especially what some of the challenges were, and how you overcame those.
Van Ongevalle: It's been a three-year labor of love. The whole process is extremely demanding and extremely rigorous. But that's also indicative of why B Corp is so meaningful.
We met many challenges, of course, along the way. But all were geared toward ensuring that we could meet the B Corp transparency standards, and this was a completely new territory for us, because B Corp is a new concept within the pharmaceutical industry. And because none of our major peers or competitors have achieved it before, it is so worth it.
The process was long and involves a lot of external audits. But it's so important because B Lab needs to keep up that standard. They need to keep up that credibility to help us together make this world a better place. They need to keep that credibility, and they can only keep it by having that rigor. As I said, labor of love, but totally worth it. We started with North America, because it's a big market, and it's a market where we had a manufacturing and distribution site.
Marquis: That really resonates a lot with my experience. I've been studying and writing about B Corporations since 2009 when there were under 300 globally. It's great to see large companies like Sanofi taking this on because, for so long, it was just smaller companies. And your work and others shows the relevance of this set of tools for larger companies as well.
I was wondering what advice you would have for other large companies, healthcare and beyond, based on your experiences with the B Corp system?
Van Ongevalle: I think maybe two pieces of advice. First of all, it's a marathon, and it's not a sprint. It didn't happen overnight. It started almost 3 years ago but it was also a very beneficial adventure. I think for every single human being, the emotional side is as important as a factual side, and people want to be part of a bigger purpose.
At Sanofi Consumer Healthcare, we say that "Health is in your hands." But we also see we can layer on top of this ability to improve health also the ability to do good for the world. So there was a sense of responsibility.
A shared vision among our team is as a company that goes beyond traditional business goals. And people at the beginning, they tend to doubt. Because these changes do not come for free. You have to make the investments to be a sustainable company.
And the second one is that you need to be really committed because of that rigorous process. We started the journey for North America in November 2021 where we conducted the comprehensive assessment of the social and environmental impact of the company through the use of B Impact Assessment (BIA). We delved into every aspect of the organization, from supply chain to employee welfare, environmental sustainability, community engagement, everything. That's why I said you need to be committed and understand that it will take time. But it's worth it, right? And it's not once you're certified, it's over. And that's what I love the most about it. On top of doing good is that it doesn't stop at the certification. We will continuously be challenged to continue to improve. It's good to have somebody who will keep us on the tip of our toes.
It's a marathon. It's a commitment. It doesn't stop at certification. You need to be aware of that.
Marquis: One of the things implicit in what you're saying that I've heard from other large multinational, multi-business unit organizations is the importance of incremental implementation. You mentioned you're starting with North America. Can you give a sense of how large the North American operation is? And how that compares to the rest of the consumer healthcare organization? And what are the plans for rolling B Corp out to other parts of the company?
Van Ongevalle: We have to do it step by step. We cannot do everything at the same time. It's a learning process for sure now that we have done one major country with manufacturing operations, and hopefully, we have built the muscle to replicate this work. We'll see that when we tackle the next one. But the US is our number one market. North America is about a quarter of our business. That's also where it was a choice to say, OK, let's do a country with a manufacturing site and distribution center, and that is meaningful to start with.
It really has galvanized our 9,000 plus employees around the world. Now that North America has been certified, others are asking, "When are we next?" And it's creating a very positive momentum. Now all the countries want to do it. I'm a big believer in the fact that doing good can also mean doing well, it totally goes together.
Marquis: A couple of follow-ups to ask about different elements of the certification. First on the employees. The US is in many ways lagging the world in its human resource provisions, and how it treats employees. Maybe as a French company you might have better benefits, so maybe easier to fulfil the B Corp worker criteria? In general, how has the BIA helped you upgrade or create better standards for your employees in the US?
Van Ongevalle: From the employee perspective, we were mostly good from the beginning. Obviously, we need to respect local requirements. But we treat our people around the world the same way. That's number one.
We're a healthcare company and we try to support people who are supporting others - supporting people in any difficult situation. We already had that before B Corp.
I lived in the US before and I've worked for a US company, and now I work for a French company. I think there's good and bad in both. We need to try to take the best of all of it. For example, the US is more advanced in diversity. I lived in New York for a while, and there salaries are higher, but benefits are lower. We cannot change the entire world but we can help make it a better place and especially for our people.
For example, Sanofi is working to ensure gender balance. B Corp has helped us to reinforce this commitment.
Marquis: I can really see how B Corp principles resonate with Sanofi's mission as well as employees. Can you say more about the environment aspect of your work? For instance, net zero, waste and packaging reduction, and your environmental footprint more generally? How is the work that you're doing in this area part of your mission, and also how, if at all, B Corp processes helped you with that?
Van Ongevalle: By securing the B Corp certification, what's fantastic is that you join a global community of businesses that share the similar values, strong commitment to both people and planet. And it's not because we're a healthcare company that we're only committing to the people aspect. The B Corp assessment is completely part of our business and our sustainability strategy, which is basically a dual purpose where we have the healthier society to empower self-care, behavior change, and make an impact on communities through our purpose-led brands, and also have that culture of inclusion and employee safety.
And then you have the healthier planet piece, which is the other part of our strategy. I don't even like to call it our sustainability strategy because it's part of our core strategy. That's number one. Number two is reducing waste from our products, and the whole value chain, to protect the natural ecosystem.
Steps taken to date under the healthier planet pillar have eliminated 35 tons of plastic packaging per year by removing plastic windows, for example, on our brands like Allegra or Nasacort in the US . It's a square box and in middle where there were plastic windows.
We are working towards achieving our goal of using 100% renewable electricity across our Consumer Healthcare business by 2025. We will reduce by 70% greenhouse gas emissions resulting from on-site energy consumption from 2019 to 2030, increasing energy efficiency, procuring electricity from renewable sources, and replacing fossil fuels by biomass, biogas or through process electrification.
We've been reducing operational greenhouse gas emissions of our North America manufacturing site by 77% since 2019, as well as powering North American manufacturing and distribution site with 100% renewable electricity.
As a proof point of our environmental sustainability commitment, we have decided to stop our cogeneration plants which were used to produce electricity, and switch back to renewable electricity from the grid, resulting in 4000 tons of avoided CO2.
I also want to mention that we have integrated sustainability objectives. Or let's say "planet objectives" into the annual objectives of our people. Sustainability sometimes comes as the last chapter of a presentation or the last piece, I want it to be integrated. I don't want it to be a separate sector. I want it to be part of what we do as a business. For example, we have partnerships with TerraCycle for packaging take backs.
Marquis: One of the things we haven't talked about, but I hear from a lot of other companies is consumer impact and the role of that in social mission. I do think many of the things that you mentioned are more important: it's about having accountability; It's about responsibility; It's about your employees; It's implementing frameworks for understanding the natural environment. That's where the value of engaging in ESG is.
But I also assume on your products like Allegra, Gold Bond and others will now have a B Corp logo. Do you think consumers will care about that? Was that part of the calculus at all?
Van Ongevalle: Yes, of course. We know we're in a messy world. We need to be part of the solution, as I said, as individuals and as a company. That for me still remains number one. We're all consumers. I'm a consumer, too. A successful brand usually does not only meet or exceed consumers' needs or wishes or expectations, but also create that positive emotional connection.
And we know from different research that the younger the consumer, the more they care about the world beyond themselves. If someone has a choice between two products that offer the same efficacy, but one comes from a company taking purposeful strides to bettering the planet, people will say, "I'm going to buy a B Corp certified product" versus a non B-Corp product.
And on top of that, I think some of our brands have a clear sense of purpose to drive connection, and ultimately also success. I come from the beauty industry before, and I remember the time you had a traditional department store model, where you had the beauty advisors, and traditional perfumeries in Europe. Now you have to support the world where consumers know which brand they want. I have one son who wants headsets for his birthday. He knows exactly what kind, he knows he wants Patagonia, and knows where he has an emotional connection. My daughter will say, "I want this mascara from this brand because of that reason, too." In the same way, I think this certification will help us to amplify our emotional connection with consumers for our brands, with our consumers.
We're all consumers, including me, and consumers are at the heart of what we do. We all want to be able to make the world better. With the B Corp certification, our CHC brands are creating a stronger emotional connection with the consumer. It's a win-win for all. At this stage, it's no longer a question of choice, but our duty as a company.