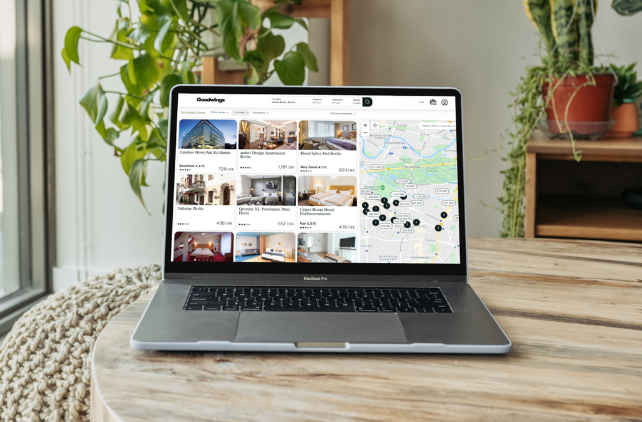 Goodwings, a Copenhagen based travel provider that helps consumers reduce emissions from their travel, has announced today that it will be launching a biofuels option to its suite of climate solutions. It works as follows - when customers book a hotel on the platform, Goodwings uses its booking revenues (which for the likes of Bookings.com are spent on advertising) to finance green jet fuel (biofuel) and nature-based removal offset projects on their behalf, providing them with transparent travel emissions data for sustainability reporting.
This move puts them at the forefront of businesses investing in this area, but also there is a crucial difference compared to other providers- they are offering it at a rate that's affordable for business travelers. The new offering will mean that Goodwings customers will be able to reduce their flight emissions by 25-100% on domestic trips, 10-50% on regional trips and 1-10% on long-haul, at a considerably lower cost than purchasing it directly through the airline.
The announcement from Goodwings comes as the aviation industry rushes to invest in green solutions to reach net zero targets, while still accommodating the increased demand for travel. Relying heavily on subsidies or private investment, biofuel has remained out of reach for most businesses, until now. Goodwings's innovative business model, where hotel booking revenues contribute directly to financing the use of biofuel and removal offsets, has made it possible to accelerate the transition to a fossil free future.
To learn more about this new offering, I spoke to Christian Møller-Holst, CEO and founder of Goodwings, about impact and how businesses are finally waking up to climate change.
Christopher Marquis: What was the thinking behind adding biofuel to the Goodwings offering?
Christian Møller-Holst:
 We have been investing in verified carbon removal projects for some time now, [which are a hugely effective way of using nature to neutralize emissions], but we always knew we wanted to go one step further with our impact strategy, and keep pace with the innovations reshaping the aviation sector. As it stands, biofuel is still not a viable replacement for fossil fuels - it's prohibitively expensive and produced at a volume that's not yet scalable for the whole industry. So, we knew we had to position it in a way that made it seem like a no-brainer for businesses to get onboard.
Marquis: How does the addition of biofuels complement your existing climate projects? Does this mean that biofuels are better than removal offsets?
Møller-Holst: For us the focus is impact. How can we have the most impact with the climate solutions we invest in? If we look at the goals set out in the Paris Agreement, the approach is twofold - we need to reduce our reliance on fossil fuels and replace those with renewable alternatives, but we also need to invest heavily in nature to absorb the huge quantities of CO2 that we emit. With the addition of biofuel and our existing removal offsets, we are addressing both of these needs.
Marquis: How have you made biofuels work financially?
Møller-Holst: That's a great question. If you read any article about biofuel, it's almost the first thing that's written, so for many of our customers, it's almost "too good to be true". But we've made it possible with our business model, where booking revenues go directly towards financing biofueland nature based projects, and subscription fees help keep the lights on at Goodwings HQ.
I'll give you an example: If you fly from New York to Boston, your round-trip emissions will total around 150 kg. For that trip, a 3-night hotel stay booked on Goodwings.com will generate around $60 in hotel booking commission, which means that we can afford to reduce your round-trip emissions by 50% using biofuel, and pay for the remainder through verified removal offsets. But the important thing to remember is that the longer you stay, the more commission goes towards the purchase of biofuels, which is ultimately where we want to get to. The good news is that this is a trend we're already seeing, and a direct by-product of the post-COVID era, where business travelers are traveling less frequently, but for longer stays, and therefore reducing their carbon footprint.
Marquis: Did you see a lot of demand for biofuel from your customers?
Møller-Holst: Absolutely. Our current portfolio of customers were very happy with our verified nature-based projects, but increased ESG legislation means the bar will just continue to be set higher. Fortunately we were one step ahead with biofuel. But on a general note, I believe that businesses of all sizes are finally waking up to climate change. Not only are companies witnessing the effects on supply chains and revenue streams, but decision makers are noticing the effects in their personal lives too, which is driving a lot of positive action at a senior level, with the likes of Bjarke Ingels Group (BIG), Bird & Bird, Manyone and Designit recognising the need for Goodwings. I'm hopeful that many others will follow their example and start introducing sustainable travel policies and reduction targets. The reality is that no single business is going to solve this problem alone - we all need to take part.
Marquis: How does it work in practice - are you putting biofuel in my plane?
Møller-Holst: It could be yours, sure! But unfortunately Goodwings doesn't have employees with green fuel cans sitting at airports, so we rely on our biofuel provider that supplies the top 20+ global airlines with biofuel. What we do is calculate your travel emissions using the DEFRA conversion factors and then purchase the respective amount of biofuel which is then put into operation in a plane somewhere in the world. Everything is audited by TÜV and we pass on the purchase certificates to our clients, so they can use the emission reductions in their accounting. And as we do with our nature based projects, we make sure that everything is third party audited so our customers feel they can trust that what we say is happening, is actually happening!