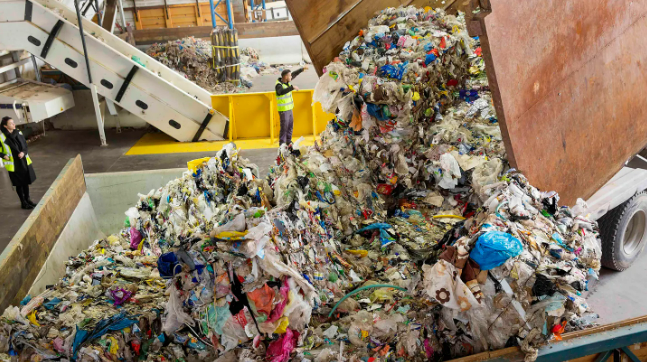 About 2 billion tons of waste are discarded every year, a number that is growing annually, the equivalent to the weight of 10 million airplanes. When this waste is buried in landfills, the organic materials within decompose, and form methane, one of the most potent green-house gases. In fact, methane formed in landfills is the third largest contributor to methane emissions globally.
I recently spoke with Jack 'Tato' Bigio, co-founder and co-CEO of UBQ Materials, a company based in Israel about how the company converts organic and unrecyclable waste into a new, sustainable alternative to oil-based resins.
He told me "UBQ Materials is not a waste management company. We are an advanced material company that uses household waste to create a new and novel bio-based thermoplastic material that is highly sustainable and provides brands and manufacturers with a competitive alternative plastic to the existing oil-based resins predominantly used."
The company is preparing for this year's United Nations Climate Change Conference (COP27) event in Sharm el-Sheikh, Egypt, where it will be featured as one of ten climate tech companies in the Israeli Pavilion.
I recently had a discussion with Tato to learn more about UBQ and the companies ongoing work.
Christopher Marquis: Why did you establish UBQ?
Jack 'Tato' Bigio:
 Coming from an entrepreneurial and financial background and having developed and established several clean energy projects internationally earlier in my career, I was inspired to form UBQ to transform waste destined for landfill into a usable material. Waste is an untapped and virtually unlimited resource; sending it to landfills is the end of a linear economy that depletes our valuable resources. By diverting landfill-destined waste and converting it into a usable material, UBQ is bringing back to life precious resources to support growing global material demand.
UBQTM is a climate-positive raw material that prevents methane emissions, preserves finite resources for future generations and directly responds to the growing problem of waste accumulation, closing the loop of a true circular economy.
UBQ Materials is not a waste management company. We are an advanced material company that uses household waste to create a new and novel bio-based thermoplastic material that is highly sustainable and provides brands and manufacturers with a competitive alternative plastic to the existing oil-based resins predominantly used. In doing so, we are effectively solving two issues: 1) landfill waste and the associate methane emissions, underwater, soil and oceans leachates 2) the need for sustainable materials that reduce the environmental impact associated with all manufactured goods.
Marquis: What sets UBQ's material apart from other bio-based materials? Can you explain some the process of how you can include organic waste in the process and still obtain pure and high quality materials?
Bigio: What is unique about UBQ's patented conversion process is that it uses the entire, heterogeneous household waste stream, dirty diapers together with chicken bones, salad residues, dirty cardboard, and mixed plastic leftovers. Only metals and minerals, which are easily removable and valuable, are sorted out and sent to the correct recycling facilities.
The residual waste is dried and shredded into a fluff size. Then, through a proprietary reaction process, we break down all these materials to their cellular organic components at the particle level and reassemble them into a homogenous matrix together with the mixed plastics to create UBQTM. By replacing plastic, concrete and wood with UBQ™, it is now possible to reduce the carbon footprint of products and even reach carbon neutrality. The material itself can also be cycled back into production many times, providing a circular solution that is cost-competitive with oil-based resins.
Importantly, UBQ™ is compatible with all current manufacturing processes and materials. So even replacing a percentage of traditional plastic with UBQ can reduce the carbon footprint enough to make the product have a climate neutral or climate positive impact on the environment.
Marquis: You recently received the UL certification for your material – how do you see this impacting your business?
Bigio: The UL certification confirms that UBQ™ is composed entirely of post-consumer recycled content. As global corporations are racing to assess and implement solutions to fulfill ESG commitments, companies and manufacturers can now substitute oil-based resins with UBQ™ to maximize use of post-consumer recycled content in products. We have a scalable process and cost-competitive material that we can confidently supply to the industry and support companies in meeting ESG goals and regulatory requirements.
Marquis: You've been certified as a B-Corp since 2018, and this year were recognized as a "Best For the World: Environment" company by B Lab – what does this mean for the company?
Bigio: Receiving the B-Corp certification and being recognized by B Lab affirms UBQ's efforts to use business as a force for good, helping us build trust with customers, partners, and investors. UBQ™ has proven its utility and value as the missing link between waste disposal through to new product manufacturing, helping transform a linear extraction and consumption system into a truly circular economy.
Marquis: What are the key applications and industries you are working with?
Bigio: UBQ's global partners span automotive, logistics, supply chain, construction, retail and others. Any durable products you can imagine can be made using UBQ™. From car parts to flowerpots, dog houses, transportation pallets to PVC roofing and pipes, almost any durable product traditionally using plastic can be made using UBQ™.
Marquis: You recently shared an interesting application for your material geared to the conferences industry – what does the waste challenge look like in this industry and how does UBQ address it?
Bigio: The conference industry is notorious of waste. Conferences are set up as "mini cities" for a few days or a week at a time. Conference infrastructure, including signage, booths and desks are built up and then trashed. After the event, everything is torn down, and most of these materials are thrown out to landfill at the end of a conference. This doesn't even account for all of the food waste associated with conferences, one-time-use cups, plates, cutlery. All of this waste ends up in landfills, and eventually causes emission of methane, ground water leakage and other environmental harms.
At the recent PLANETech World Conference, the first global event built from landfill waste, UBQ partnered with thermoplastic sheets manufacturer Palram, to compose elements of PLANETech World's infrastructure out of Palboard™ multilayered PVC panels made with UBQ™. The Palram building panels prevent up to 12 tons of CO2eq for every ton of UBQ™ used and at the end of the event, were collected by the manufacturer to be recycled into new panels.
This first-of-its-kind product helped empower PLANETech World to close the loop on its waste-to-production cycle several times over. By replacing oil-based plastic paneling with UBQ™-based PVC boards in conference infrastructures, we were able to demonstrate that events, as well as the larger building and construction industry, can serve as an engine of a circular economy.
Marquis: I understand you will be expanding to the Netherlands in the coming year – why the Netherlands and what is next?
Bigio: UBQ is expanding its global footprint to further localize the waste to production cycle. Our first large-scale facility in the Netherlands, opening in 2023, will produce 80,000 tons of UBQ™ annually to power the local and regional circular economy. We'll be able to utilize regional waste to fuel regional production. We are already looking towards our next large-scale facilities in Europe, the United States and beyond, providing new opportunities to utilize household waste as an endless resource.