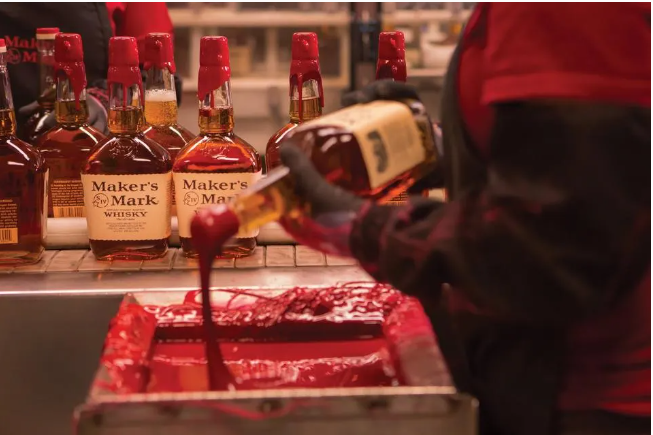 As a leader in the U.S. bourbon market — with its family legacies and time-tested practices and traditions — Maker's Mark is known for its smooth whisky and distinctive hand-dipped bottles. But the Loretto, Kentucky-based company founded in 1953 also is building a reputation as an innovator with forward-thinking projects and collaborations designed for social and environmental good.
Rob Samuels, Eighth Generation Whisky Maker & Managing Director of the Maker's Mark Distillery, is the latest in a line of family members who have steered the company through the years and established its place as a stalwart of Bourbon Country, home to the barrel-aged whisky made with corn. The grandson of the Maker's Mark founders and others on the team are establishing practices at the company, and with its business partners, to reinforce its strong foundation and set a path toward a sustainable future.
This includes adopting a stakeholder approach on the Maker's Mark acreage by pursuing a pesticide-free orchard and collaborating with research experts on regenerative farming and livestock practices; achieving LEED certification for its cellar and operations building; and providing career advancement opportunities and comprehensive benefits for its workers.
These initiatives and others are part of the culture at Maker's Mark, which earlier this year became a part of the Certified B Corporation community. It now is the largest distillery in the world and the first in Kentucky's Bourbon Country to achieve B Corp Certification, which recognizes companies evaluated for their social and environmental impact. In Samuels' view, B Corp Certification also reflects the way of business he learned from his grandparents, Bill and Margie Samuels, and father, Bill Samuels Jr.
Expanding With Purpose And A Commitment To Craft
Bill and Margie Samuels selected the Maker's Mark site for its water source when they bought the property in 1952 for $25,000. It's off the beaten path, Rob Samuels says, but less than 20 miles from Bardstown, Kentucky, a town of about 13,000 people known as the Bourbon Capital of Kentucky. Now that 1,000-plus acre property includes a nature preserve and water sanctuary as well as the original distillery, still in operation and a National Historic Landmark. The natural resources are what sets Maker's Mark apart from other bourbons, Samuels says. "If you talk to really passionate whisky lovers, informed whisky consumers, they almost all think of whisky as a manufacturing product when, in essence, it's agricultural. The flavor all comes from nature."
But it took time to build an appreciation for that flavor as well as the company's financial strength and production. Premium bourbon didn't have a huge market in the 1950s onward, Samuels says, until a 1981 article changed that. "The 
Wall Street Journal
 said 'Maker's Mark is a model of purposeful inefficiency,' which is exactly the way we think about everything," he says. "The goal here was never to be the biggest. The goal was never to be the most efficient. But you had a craftsman and his wife with a very clear vision for what they wanted to create and an unwavering commitment."
Since the early '80s, Maker's Mark has seen strong average annual volume and value growth. Beyond the strong financial performance, Samuels says he's most proud of how the company treats its team and prioritizes a healthy workplace culture. "If you were to go talk to the folks that hand-dip bottles, the folks that are rotating barrels, our salaried team members, they could articulate who Maker's Mark is. They could articulate to you why we do what we do," he says. "It's about treating the team members really well, expanding with purpose to ensure quality over time — which is really hard to do in the whisky business — and giving back to society."
By building connections with its community and within the hospitality industry, Maker's Mark pursues a purpose beyond the bottom line. "Since the beginning, this brand has thought it was important to give back, and to be active in the community, and play a large role in giving back to society," he says. "Our entire team is committed to this vision, to really living these values, even though it's uncomfortable. It's never the easy way."
Setting An Example And Crafting A Regenerative Supply Chain
Choosing to pursue B Corp Certification is another way that Maker's Mark is taking on challenges rather than opting for the easier path. Samuels and other Maker's Mark leaders have discovered that the rigorous third-party screening through the B Impact Assessment can help them build on their strengths and encourage other companies to consider their social and environmental impact.
"What I'm so proud of is we were B Corp before we knew there was a B Corp. We qualified to be a B Corp based on the way we were already operating," Samuels says. "They've helped us understand that we can use the power of our brand to really encourage our supply chain to live these values as if they are Maker's Mark. Because in the end, they are."
That can mean using regenerative farming practices at Maker's Mark to show its suppliers — local corn and wheat farmers — how they lead to competitive yields and more flavor. It's part of the company's perspective of innovating for long-term growth rather than seeking immediate though short-lived wins, Samuels says.
"Companies and brands that play the infinite game — which is giving back to society, being involved in the community, treating your team members really, really well, quality, innovating with purpose, having this infinite mindset — is the way great brands are built," he says. "The reason our team has so embraced B Corp and this value system is because we are playing the infinite game."
At its property known as Star Hill Farm, Maker's Mark continues to innovate to preserve the natural resources used to create its whisky. These include a distillery-wide zero landfill initiative; an onsite recycling program that is open to community members; and the implementation of a solar array that powers the Maker's Mark warehouse complex. It's all designed to help celebrate the role of agriculture in its signature product and encourage other growers and producers to adopt Earth-friendly practices, Samuels says.
"We want to prove that flavor, in large part, is created through more sustainable farming practices. Farm-to-table chefs will tell you that their palate can taste the difference, but at the biological level, it's never been proven," he says. "What would it look like if we can actually prove that these more sustainable farming practices not only minimize the impact on the environment but also help us achieve more flavor? Because they go together."
Maker's Mark has done this as a subsidiary of Suntory, a family-owned Japan-based business that purchased the company in 2014. "They have an infinite mindset, and they are a kindred partner," he says. "They have many, many businesses. But their heart is in whisky."
With a century in business, Suntory is an appropriate fit for Maker's Mark, Samuels says. "If they were here today talking about what they're proudest of, they would not talk about the P&L. They would not talk about the economic success or value creation," he says. "They would talk about Suntory and the family legacy" that includes a commitment to community and public health.