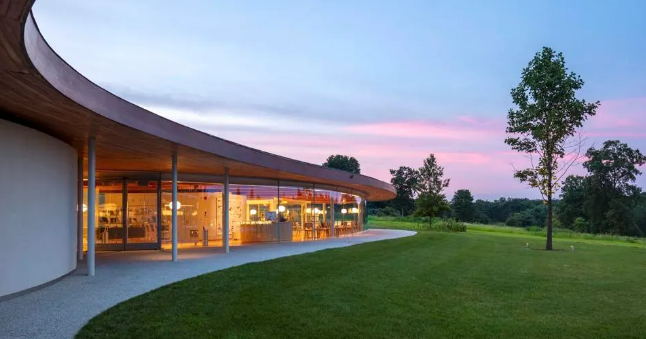 If you could help end forced labor around the world just by changing your morning coffee or afternoon tea – would you? Grace Farms, a cultural and humanitarian center in Connecticut, believes they can – and they want to invite you to join them.
Designed by Pritzker Prize winning architecture firm, SANAA, Grace Farms has been serving local and global communities since its inception in 2015. Now, Grace Farms Foundation, a not-for-profit private operating foundation that owns and operates Grace Farms, is reinventing social entrepreneurship with a new Certified B Corporation subsidiary called Grace Farms Foods.
Grace Farms is inspiring a new form of philanthropic capitalism with its ethically and sustainably sourced coffees and teas to become the only premium tea and coffee brand that gives back 100% of profits to ending forced labor worldwide.
I recently caught up with Adam Thatcher, co-founder and CEO of Grace Farms Foods, below, Adam shares his insights on this innovative social enterprise structure.
Christopher Marquis: How did Grace Farms coffees and teas came to be?
Adam Thatcher: When we were preparing to open Grace Farms in 2015, we were focused on creating a new kind of public place that was inviting to all. A place where everybody could experience nature, encounter the arts, participate in meaningful dialogue and foster stronger local and global communities. The open, transparent architecture of Grace Farms creates a sense of connection with both nature and other people. Coffee and tea became our way of welcoming people while demonstrating, in a subtle but meaningful way, the Foundation's charitable purpose of ending forced labor worldwide.
Prior to opening a supporter of Grace Farms who owns a coffee importing and roasting company generously offered to donate all the coffee to Grace Farms. Our founder and CEO, the visionary Sharon Prince, graciously accepted the offer on the condition that the coffee be sourced from women-led co-ops and be ethically sourced. Our partner came back months later with an incredible blend of organic and Fairtrade certified coffees sourced from women-led co-ops in Colombia, Indonesia, and Ethiopia. The coffees were so popular we started getting calls from people as far away as Florida asking us to mail them bags of the exceptional roasts.
At the same time Grace Farms' resident tea master, Frank Kwei, was using tea as a way to welcome hundreds of thousands of visitors to Grace Farms, too. Tea has become an iconic part of the visitor experience and an opportunity to learn about the Foundation's humanitarian work.
As a public place, the pandemic forced us to pivot our operations to serve our local community by being a provider of PPE and meals. This period of separation encouraged us to think about a new way to stay connected with our community while also reaching a whole new group of people who wanted to experience Grace Farms. So we started Grace Farms Foods with three goals in mind: invite everyone to experience Grace Farms through our signature coffees and teas, demonstrate and educate about ethical and sustainable supply chains, and give back 100% of profits to ending forced labor worldwide.
Marquis: How are your coffees and teas ethically and sustainably sourced?
Thatcher: Coffee and tea are two global commodities that are often taken for granted as a delicious utility as we rush out the door. However, we want everyone to know that behind every coffee bean and every tea leaf, there are farmers, tea pickers, mothers, and oftentimes children that are harvesting and processing what will become your morning caffeine fix.
While no brand can ever guarantee there is no child labor in their supply chain, we are committed to fighting the root causes of child labor and preventing any abuse and exploitation of children. We've decided to partner with Fairtrade International and become the first US-based tea brand to source Fairtrade certified ingredients in our effort to create positive impact for farmers and workers. By partnering with Fairtrade producers and organic farmers, we are supporting climate resilience and combating deforestation. Not only do the Fairtrade ingredients we source meet a higher standard of environmental and social criteria, but every pound includes premiums that directly support the communities where the products are sourced from.
However, a third party certification only provides a certain amount of assurance. That's why we make the effort to visit the tea gardens and coffee farms we source from to see for ourselves. One of our most recent trips to India gave us the opportunity to speak directly with the tea pickers and factory workers. We learned that being paid on time and educational opportunities for their children are their top priorities and that the Fairtrade premiums have help pay for the busses that are used to get their kids to school.
As mentioned above, we only source coffee from women-led co-ops in Ethiopia, Colombia, and Indonesia. These co-ops are made up of mostly female farmers who own less than 2 hectares of land and grow coffee and other native fruits like bananas and cacao. On our last visit to Colombia to meet with farmers like Emerita, we were surprised to learn that we were the first customers ever to meet the co-ops' farmers. It is during these visits that you learn so much and confirm that we are supporting entrepreneurs who are in turn, supporting their families.
Marquis: How does the give back model work?
Thatcher: Thanks to a small change in the IRS code, called the Philanthropic Enterprise Act, we started a public benefit subsidiary of Grace Farms Foundation called Grace Farms Foods with the mission to invite everyone to experience Grace Farms through our ethically and sustainably sourced teas and coffees that give back 100% of profits to help end forced labor worldwide.
Grace Farms Foods was set up a public benefit company, with a legal obligation to provide a positive social or environmental impact on society. As mentioned above, we do this throughout our supply chain, but what makes our model especially unique is the fact that we are 100% owned by Grace Farms Foundation, a private operating foundation and 501c3. That means when profitable, 100% of all profits will go back to Grace Farms Foundation and the funds are reserved to support Design For FREEDOM™ by Grace Farms, the leading movement to end forced labor from the building materials supply chain.
We are excited to join a small cohort of other B Corps™ like Greyston Bakery and Patagonia, who are not only using their business operations to advance their cause, but also giving back all the profits to support charitable purposes too. We look forward to a future where more and more B Corps join us in their commitment to having a larger social and environmental impact by dedicating equity to nonprofit organizations.
Marquis: What comes next for Grace Farms?
Thatcher: We are really excited to be launching a new wellness tea collection that will round out our current portfolio of everyday teas and coffees. In 2023 we are also focusing on pursuing meaningful corporate partnerships with businesses that want to share our teas and coffees in their offices, kitchenettes, meeting rooms, and events. We can't think of a better way to galvanize change than working directly with the businesses that want to collaborate on creating new outcomes for a better world.
Sharon Prince is one of those rare leaders who is always open to new ideas and seeing how far we can take things. So, do I think we can have Grace Farms coffee and tea shops around the U.S.? You bet I can.