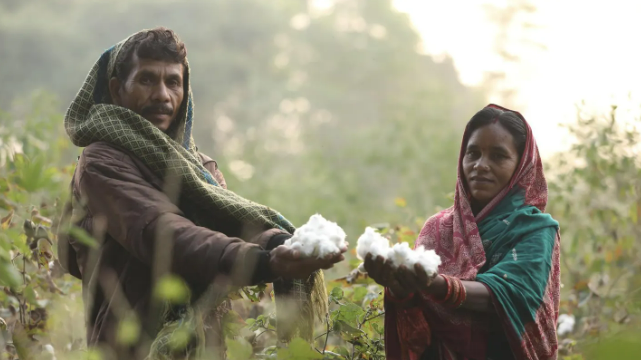 Many shoppers are placing a higher value on ethical consumption, and apparel brands are trying to pivot to align with those values. Brands tout terms like "conscious," "eco," "recycled" and "vegan" on their clothing labels, and shoppers are left wondering about the validity and impact of such claims.
Most of the time these vague labels are not regulated terms, meaning there is no way for shoppers to know the conditions for the factory workers making the garments, the farming practices used to grow the materials, the waste and pollution created in the process, or the impact this all has on the environment. There are, however, third party certifications that are closely regulated for these criteria. In fact, I spoke about these certifications – and more broadly about sustainable fashion – with Vizan Giri, the 27-year-old co-founder of Terra Thread. The brand offers a wide range of bags and accessories handmade from 100% organic fairtrade cotton in Fair Trade™ Certified factories, and has most recently expanded into the world of apparel, making sure that every element of their process is traceable and as sustainable as possible from the farm to your arms.
Frequently visiting TerraLUNA3 0.0% Thread's organic farmers in India – and having personal ties to South Asia as a U.S.-Nepalese immigrant herself – Vizan has seen firsthand the positive impact that a transparent and ethical supply chain can make on the lives of each individual farmer. Many of Vizan's goals for Terra Thread revolve around the betterment of their farmers' and workers' lives.
"We know that operating this way is more expensive, and it means that we have to be patient in order to grow and reach more conscious consumers. But on the flip side, it gives us the opportunity to grow mindfully, incorporating feedback from our customers and our partners in India," Vizan said.

Christopher Marquis: Let's start at the beginning. What inspired you to start Terra Thread, and how have you grown it since then?

Vizan Giri: After moving to the U.S. from Nepal, I started getting involved and eventually working at my father's company, Gallant International, which supplies businesses with organic cotton promotional and retail products. Gallant, a Certified B Corporation, was ahead of the "sustainable trend" and built a direct relationship with farmers and workers. Meeting those farmers and workers myself in India while working at Gallant was a great learning experience. I saw the difference a company – no matter the size – can make in the lives of farmers and workers if it makes the extra effort to do things the right way.
While helping my father, I realized that very few bag and accessory companies primarily use natural fiber, such as organic cotton. Most of the backpacks and bags in the market are made of synthetic fabrics such as polyester and nylon, all of which are made from fossil fuels and are not biodegradable.
This led to Terra Thread. In 2017, we launched with just a few SKUs. We now have over 200 SKUs made using only organic cotton. Our products are now sold at Urban Outfitters, EarthHero and Made Trade, as well as our own website.
We chose to make our products from 100% organic and Fairtrade cotton grown by family farmers in India. The organic cotton is grown without GMOs and harmful and toxic inputs such as fertilizers, herbicides and pesticides. This contributes to a healthier life for farmers, workers and consumers as they are not exposed to toxicity and runoff, which also contaminates food systems and waterways. We also make all of our products in Fair Trade Certified™ factories.
Along the way, we have also supported Feeding America's campaign to end hunger in America. So far, we have helped donate over 1.8 million meals to children and families in need.
Marquis: Can you explain what fast fashion is and why you think it is so popular with Gen-Z even though the generation is known for their desire to help the planet?
Giri: I believe fast fashion is popular with Gen-Z because it is cheap, accessible and on trend.
Frankly, you have to make designs that people want to wear. No matter how sustainable a product is, if it isn't stylish also, and practical (like in backpacks, you have to take into account how people are going to use pockets, or if they need padding for their laptops), people will not buy it. Consumers want practicality and sustainability combined.
Secondly, a lot of sustainable brands have been historically pretty pricey. That's why one of our key goals with Terra Thread is to make it as affordable as possible and be on par with other mainstream bag brands.
Marquis: You just launched a clothing collection made from traceable Regenerative Organic Certified® (ROC™) cotton. Can you tell me what that means and why you chose to use it?
Yes, we just launched our t-shirts and hoodies made of Regenerative Organic Certified® (ROC™) cotton this year! ROC™ is the highest standard for organic agriculture in the world and the only certificate with stringent requirements for soil health, animal welfare and the social wellbeing of farmers and workers. We're now the only clothing brand carrying ROC™ cotton apparel aside from Patagonia.
We chose to work for this certificate for a couple reasons. It's very important to us that we actively support not only the wellbeing of our planet, but also the wellbeing of every single person in the supply chain. We are very mindful to keep our supply chain as transparent as possible, and this is another step we can take to help consumers feel confident about the products they purchase.
We also felt like this was the next frontier in terms of supporting our farmers and working toward rehabilitating the environment. The farmers we work with have always been mindful of the environment, but now we can support their efforts by introducing even more regenerative practices and helping them rebuild the soil they rely on. As we're learning, healthy soils can sequester carbon, and we're excited to be at the forefront of that movement.
Marquis: Given how supply chains are notoriously opaque, how do you ensure the transparency of Terra Thread's supply chain?
Giri: From day one, we have been going directly to the source. We know where our cotton is grown, and we know where our products are made. We visit the family farmers who grow our cotton at least once a year, as well as the factories where the products are made. We realize investing in a traceable and transparent supply chain is costly, but we would not do it any other way.
We also rely on objective, third-party certifications like GOTS and Fairtrade to verify and certify that our products meet the highest social and environmental standards.
Marquis: What are your goals for Terra Thread, and how do you make sure you stay true to your values as you grow?
Firstly, we are self-funded. That helps immensely because we don't have to answer to anyone but ourselves. We are committed for the long-haul to build a brand that is environmentally and socially sound. As a result, it's been a slow growth process for us.
This has given us time to consider the products we add to our collection and the relationships we build with our customers and partners. In fact, many products we bring in are recommendations from our customers. We encourage conscious consumption and we do not overproduce.
Soil and farmers play a key role in solving climate change and are at the forefront of our business as well. We want to equip farmers with the necessary support they need to build a healthy ecosystem on the farm. We are actively working towards making our entire collection at Terra Thread out of Regenerative Organic Certified® cotton.
Many farmers migrate to cities away from their families for work once the harvest is done to earn extra money. So, in addition to paying organic and Fairtrade premiums to the farmers, we are also building a team on the ground starting this April to work on community projects to enhance the wellbeing of the farmers and generate extra income.
We're constantly working towards the betterment of our farm and factory partners.
Marquis: Where do you think the future of sustainable clothing as a whole is headed?
Giri: I am hopeful about the future of sustainable clothing as a consumer and also as a brand. We now see several brands offering clothing made of either natural or recycled materials. With this, I hope sustainable clothing moves toward becoming mainstream rather than a luxury.
We have also seen several proposals to regulate the textile industry, which gives us hope for the future. The EU proposed its plan to address the way textiles are designed and consumed, and California signed a bill to expand protection to its garment workers. This will push companies and brands to evaluate their supply chains.
We need to be mindful that we don't need closets packed with sustainable clothes. We all need to be thoughtful about what we bring into our homes. I think that will make the greatest impact and keep products out of the waste stream in the long run.
Marquis: There are a lot of sustainable clothing options out there, and it can be almost overwhelming for shoppers trying to make the right environmentally friendly choice. What advice do you have for them?
Giri: Yes, this can be a bit tricky!
With many sustainable clothing options, it is easy to over-consume, thinking that buying sustainable clothing does not affect the planet. This goes back to the same cycle as fast fashion. One thing we can immediately do to make an environmentally friendly choice is REUSE because the most sustainable clothing is the one we already own. Caring for your clothes (not washing too often) and mending your clothes when needed (sewing up that hole!) helps reduce the amount of clothing we buy.
When you do need to buy something, go for products made of natural fiber, like organic cotton t-shirts. Products made of natural fibers like linen, cotton, hemp and bamboo are less likely to cause a problem when they've reached the end of their lifespan.
If you can opt for organic, it helps keep chemicals out of farming and out of landfills. Plus, look for third-party verifications such as GOTS and Fair Trade, which you can find on item labels or brand websites. If the brand is small and doesn't have certifications, just ask them about their manufacturing practices. We recognize that some small brands cannot afford the certification process but may be aligned on environmental and social impact. So it never hurts to just ask!