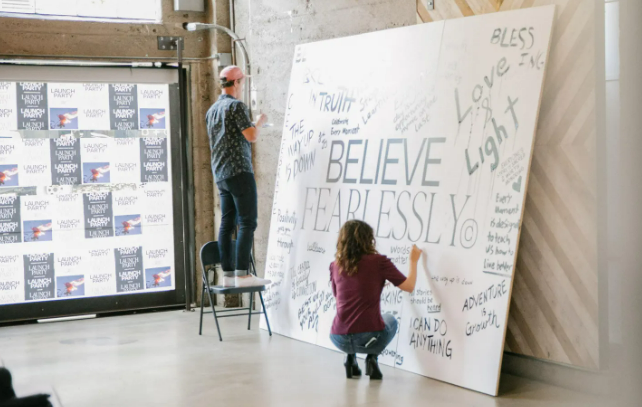 Over the past two decades, BLVR has evolved from a small digital agency to a global company specializing in rebranding, new brand creation, and brand amplification for purpose-driven businesses.
At the heart of the company – and as its name suggests – is belief. When they first worked together, Partners Scott Hancock, CEO, Adam McWethy, COO, and Todd McWethy, Senior Designer, discovered a shared passion and desire to work with businesses that create impact through a deeper conviction. Businesses that believe something.
Since then, BLVR has grown and works with many clients, from lifestyle brands such as Legends and Vessel to consumer goods and other purpose-driven spaces like clean energy and health tech.
Hancock told me how BLVR holds itself to the same standards it preaches to its brand partners – using business as a force for good. A Certified B Corporation since 2020, the agency also gives a percentage of its profit and pro bono services to organizations providing disadvantaged children and families around the globe with opportunities to thrive.
I sat down with Hancock to learn more about how businesses can take more responsibility for the community and the world, the company's work with other B Corps in its home community of San Diego, and BLVR's focus on future generations.

Christopher Marquis: Tell us a bit more about BLVR and its approach. How do you empower your clients to use business as a force for good in this way?

Scott Hancock: BLVR was founded 20 years ago. We're more than a strategic brand and creative agency, we're a global belief company. I joined brothers Adam and Todd McWethy as a partner in 2012, and we quickly realized how well we worked together. We've always been passionate about businesses giving back to their communities, and as a company, BLVR has always had a huge heart for making a difference in the world.

We believe that the brands and leaders that make the greatest positive impact are those led by a deeper conviction. We want to work with brands to define that conviction and help them live it out through everything they do. This is what drives our business now and is at the core of our approach to all partnerships.
The common tie between the brands we work with is that they know there is more to business than just answering to shareholders. They are driven to make a difference in the world around them. But often, their business could be more active. They need to grow; their brand doesn't reflect what they hold true, and their programs feel fragmented.
That's where we do our best work to empower clients. We show them that if they want to use business as a force for good, they need to put conviction at the heart of their business and, in turn, their brand. It's more than just having a social impact strategy. It's about connecting what you believe to every aspect of your business – from your long-term vision to defining the products you sell, how you run your business, and how you treat your people.
Marquis: What thinking has most influenced the way you do business?
Hancock: If you look around our world today, the people, businesses, and organizations that make the most significant impact are the brave storytellers, altruists, and entrepreneurs who passionately live their purpose, envision a better future, and strive to make it so.
Belief shapes our company's perspective on the world and guides our business. It has inspired our name, methodology, and purpose—to transform business, people, and the world through the power of belief.
The consumer world is changing. Organizations hoping to create resilient legacy brands built on a solid foundation of loyal customers and employees must push beyond products, features, and benefits to lead with a more profound belief. Because when consumers support a belief-led brand, they're not just buying things. They're buying a code of ethics, a shared conviction, and a badge of personal identity. Whether this revolves around reducing environmental impact, investing in community projects, or helping to root out unethical practices, it's about finding your reason to exist and how that benefits the rest of the world.
This belief is distinct from purpose. Where belief conveys a brand's unwavering core, purpose is all about what a brand intends to do about that belief. For example, National Geographic's belief is that 'the earth and all of its inhabitants deserve respect' and its purpose is 'to explore and protect our planet. Similarly, Dove believes 'everyone is beautiful' and strives to 'help women and girls realize their full potential'.
Putting belief, purpose, and behaviors at the center of a brand gives companies the framework to move beyond short-term transactions. It allows them to create deeper emotional bonds with consumers, with the power to become lifelong relationships of shared values.
Marquis: How did BLVR come to be a B Corp? What does B Corp certification mean to you? What is its true value to both the business and sustainability more generally?
Hancock: Since our inception, BLVR has always been about giving back and using our business to make a difference in the world. Over the years, we've committed to choosing a different nonprofit partner each year and giving a percentage of our profits and pro bono services to help advance their mission. In 2020 we partnered with an organization called Love Does to help fund scholarships for children in Uganda. In 2021, we worked with Love Light + Melody to help build a school in Nicaragua. In 2022, we partnered with PUSH For Empowered Pregnancy to help raise awareness around preventable stillbirths in the U.S.
When we learned about B Corp, it seemed like a natural fit for how we operated. Joining B Corp in 2020 wasn't a significant shift in behavior for BLVR but a way to amplify what we were already doing. It was an opportunity to join a growing community of like-minded businesses and become advocates to drive more attention to the B Corp movement.
Now that we've been a B Corp for almost three years, we're learning that we still have a long way to go and are discovering more ways to improve the world beyond philanthropy. While we will continue to engage in philanthropic work, we're looking to become more holistic in how we view what it means to be a 'Benefit Corporation' throughout our entire business.
This means continually revisiting our practices, policies, and procedures and being more deliberate about improving environmental impact, diversity and inclusion, governance, and employee engagement, to name a few.
We see immense value in being a B Corp. On the one hand, it brings a heightened level of transparency and accountability to our work and gives us a space to work with a community of change-makers. But at a macro level, we see it as an investment in running a better business that aligns with our values and a way to participate in the conscious economy. It allows us to take more responsibility for our community, the world, and how we want to leave it for future generations.
Marquis: What was the idea behind forming San Diego's B Local community? Why do you think the community is so important when you're looking to effect change?
Hancock: Soon after BLVR received its B Corp certification, I went to the B Local website to see if San Diego had a B Local community we could join. To my surprise, there wasn't a B Local community established yet.
I knew it was a great opportunity to bring people and businesses together in our backyard. So I reached out to B Lab to learn how to start one. They made a couple of connections, and in 2021 I helped co-found B Local San Diego with three other business leaders. Over the past two years, we've worked to organize, grow membership, hold events, and share the B Corp story with the broader community. Today, we have close to 40 members participating in B Local San Diego, including companies like Classy, Dr. Bronner's, and PuraVidato name a few.
At the 2022 Champions Retreat, Jorge Fontanez, CEO of B Lab U.S. & Canada shared, "I see a community that prioritizes human wholeness, collective care, and interdependence. We are more than the sum of our parts. This historic moment for making deep changes to our current system – change powered by businesses acting as the B Corp movement."
I couldn't agree more with Jorge, and it's incredible to think that what we are doing in San Diego is also happening in many other cities around the globe. We're organizing, collaborating, sharing information, and promoting each other and the broader B Corp mission. We're holding B Local breakfasts, speaking at local universities, volunteering for different causes, and guiding future B Corp members to engage in the movement. Community is the power, and it is effecting change.
Marquis: Where do you see BLVR, the B Corp community, and capitalism being in 10 years?
In 10 years, I envision every state in the U.S. will recognize Public Benefit Corporations as a legal business structure. Currently, only 34 states in the U.S. allow it. B Corp will be much more predominant, and there will be global knowledge of what it is.
B Locals will be in every city, and our collective voice will be even more influential in establishing standards, policies, tools, and programs that shift capitalism's behavior, culture, and structural underpinnings. A community mobilized towards collective action to address society's most critical challenges.
Though capitalism has positively impacted our world and helped many people, prioritizing short-term profits for individuals has sometimes meant that the long-term well-being of society and our environment has been lost.
As we continue to understand and experience the downsides of capitalism, it is forcing governments, business leaders, nonprofits, and individuals to find ways to evolve and improve. B Corp and all the businesses that belong to it, like Cotopaxi, Allbirds, and Warby Parker, to name a few, are excellent expressions of this evolution.
Consumers and the workforce are also playing a role in driving change. More now than ever, consumers are using their buying power to support businesses whose values go beyond merely making a profit. The workforce is also taking a stand and seeking employment with companies that balance their duty to drive returns with an authentic commitment to using their business to drive positive change.
In 10 years, I hope we've flipped the script, and there are more socially conscious and impact-focused businesses than companies focusing solely on making a profit.
As for BLVR, our vision is to create a future where everybody is a world changer – and we want to be right at the heart of it, delivering belief-led strategic thinking and award-winning creative—positioning the world's most meaningful companies to lead markets, shape culture and create positive change.