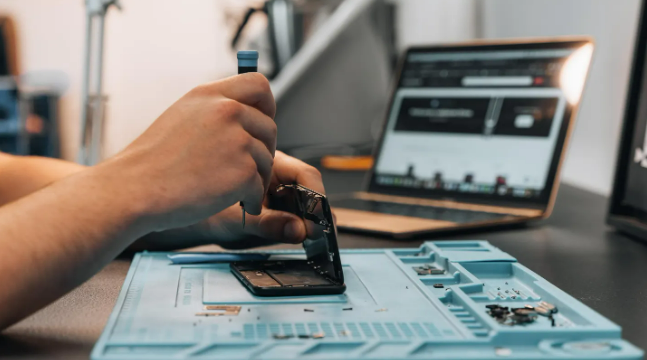 The circular economy is an increasingly talked about idea in industries from fashion to autos, but examples of high impact circular solutions are still hard to find. One exception in electronics and devices is Back Market, a global marketplace that since 2014 has given consumers access to high-quality, professionally refurbished electronics – everything from iPhones to laptops to appliances. By redirecting customers away from purchasing a new device, Back Market recently announced that it had saved 1 million tons of CO2 emissions from being emitted.
Based in Paris, 1 in 4 people in France have purchased their phone from Back Market and the company currently operates in 17 countries including the US, Germany, the UK, Spain, Japan. Back Market's products are sold by verified sellers through a curated search algorithm, providing consumers a convenient alternative to buying brand new tech.
When I spoke to Back Market CEO and Co-Founder, Thibaud Hug de Larauze last year about his goals in making refurbished electronics the first choice for tech purchases, he explained the huge opportunity around circularity in this space both as a driver for reducing e-waste (and carbon emissions, pollution, depletion of water and raw materials) and making tech more accessible. He told me that Back Market aims to ignite global change for a more sustainable way of consuming technology – one that values the rebirth of technology and a longer device lifespan.
Now, in a little over a year's time, I had the pleasure of speaking with him again about Back Market's most recent achievements - the avoidance of 1 million tons of CO2 emissions and attaining B Corp certification.
Christopher Marquis: Since our last conversation, how has Back Market grown and evolved?
Thibaud Hug de Larauze: Over the last year, we have really focused on educating consumers on how impactful their purchase can truly be when they choose refurbished devices and appliances–not only on their own personal finances, but the environment as well–all while still having a quality product experience.
Our growth in the U.S. alone has been very exciting. We have remained steadfast in our mission to shift US consumers' perspectives that refurbished tech — once seen only as a lower quality alternative to new — actually offers people the same factory-quality devices, at far less cost. Recently, during the 2022 holiday season we launched our first major ad campaign, "Tech Reborn." The heart of the campaign was a delightful film "The Monster," that follows a conversation between a tireless, tech-creating Monster and a young girl who sees the madness of his endless pursuit to feed society's insatiable desire for new. The campaign had great success and we are relaunching it in more regional markets in the U.S. this spring, and bringing it to the UK and Japan.
This approach and focus on consumer education has also supported our growth and visibility with new audiences globally having reached more than 8 million customers around the world. We've also developed a dedicated team in Japan in 2022, both to meet rising demand in APAC and to tap into a robust secondhand supply market, and we now offer Back Market in South Korea.
Marquis: Can you tell me what it means for you/the company to have reached the milestone of avoiding 1 million tons of CO2 emissions?
Hug de Larauze: First and foremost, reaching this milestone signals to consumers that the circular economy, in tech specifically, can be and should be a mainstream purchasing alternative to buying new. We avoided 314,177 tons of CO2e in 2022 alone, contributing to our just-reached milestone and have been saving since 2014.
We know that demand for devices isn't going anywhere – from the technological requirements needed for education, job opportunities, social mobility, and more – so reaching this goal proves that there is an affordable option that makes the best use of existing resources. By redirecting customers away from purchasing a new device, Back Market has saved 1 million tons of CO2 emissions from being emitted. For some context of what this means, this is equivalent to what it would take to manufacture…
41,788,550 pairs of jeans, or
52,631,579 pairs of sneakers, or
1,666,666,667 liters of coffee, or
28,328,612 kg of steak (or 2 million vegetarian meals)
We're proud and motivated by what we have achieved, and it's just the beginning.
Marquis: Can you say a bit more about how you calculated this?
Hug de Larauze: We based our calculations on the results of the first global life cycle assessment on refurbished tech devices, performed by the ADEME (French Agency for environment). The ADEME study focused solely on smartphones, laptops, desktops, tablets, since we've sold these products since our launch in 2014 and, accordingly, have the most robust data to inform the analysis. We're looking forward to calculating the impact of more devices as we expand these offerings and gather more data.
Marquis: Back Market is now a B Corp certified. What value does this certification bring to your operation? Do your consumers care?
Hug de Larauze: As you know, we have been working toward our B Corp certification since last year because it felt like a natural progression within the growth of the company. Back Market's business model has always been designed to have a positive impact, both socially and environmentally, so becoming a B Corp just made sense.
Companies are often keen to say they are B Corp, without putting much more work behind their sustainability goals. I believe that a company can only last over time if its purpose is as strong as its profits, so this certification solidifies our performance across our community, culture and environmental impact. For us, B Corp is a recognition of the ongoing commitment we're making to build a sustainable business that still upholds the high standards of our consumers.
Marquis: Has this certification led to any changes in your company?
Hug de Larauze: The B Corp audit inspired us to change our legal status as a company in our home country of France; we are now legally designated as purpose-led. Back Market's purpose to "Empower people to make machines last through circularity and repair" is now written into our company status, and a steering committee was formed to ensure that we fulfill it appropriately.
In terms of our day to day – this certification will not radically change our daily work since our core business has always been aligned with the B Corp certification requirements. We've simply raised our standards and codified practices that we have been carrying out for a long time like sustainable purchasing policy and carbon trajectory.
Marquis: What's next for Back Market and how will you continue to innovate and set new milestones for your company?
Hug de Larauze: In order to build on this milestone and further evolve our marketplace, we'll continue to dedicate a majority of our work toward diversifying and innovating our offerings for both sellers and consumers. There's even more opportunity across the category to refine and create a frictionless experience from end-to-end–it's the beauty of our marketplace. With that, we'll also continue our efforts in consumer education about the purchasing power of their dollar – we want to enable them both to understand the climate impact of their purchases and to be able to choose the more sustainable solutions.
Today, we also offer a buyback service on our platform and we intend to expand this offering to all the markets. To continue to innovate our sustainability position, our main ambition is to offer a buyback or recycling solution for all products regardless of their value.
It's encouraging to know that we were able to reach the 1 million tons milestone in just our first 10 years, all while focusing primarily on personal tech devices. But, there is always more to be done; it requires investment to engage consumers, maintain affordability and access, and build out our marketplace.