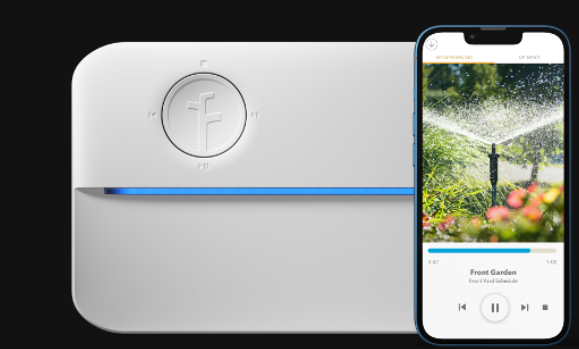 The concept of 'tech for good' is often overplayed and unachievable for many start-ups and larger tech companies. But for some applications there is a natural connection between delivering innovative products and contributing to a more sustainable world.
Denver-based Rachio hit the market in 2014 with an award-winning smart sprinkler controller, a technology that conserves precious resources. The company just marked its 10-year anniversary with a major milestone: 150 billion gallons of water have been saved with their smart watering products. Rachio has also made a commitment to save 3 trillion gallons of water by 2030.
This month the company released their newest product, a Smart Hose Timer which builds upon its flagship model to automate manual hose-watering. At the core of Rachio's products is the free Rachio app which enables its users to save water through features like hyper-local weather forecasting and climate data that monitors and controls their scheduled watering from anywhere.
I connected with Rachio CEO Kim Sentovich just before Earth Day about their water conservation efforts and how their recent B Corp Certification and how they have applied IoT technology in innovative ways in the smart yard industry.
Christopher Marquis: Can you tell me the background and founding of Rachio? Ten years is a long time in today's technology landscape. How have you stayed ahead in innovation?
Kim Sentovich: The idea for the Rachio Smart Sprinkler Controller came about when co-founder Chris Klein saw sprinkler systems watering in the rain during a drought in Denver. He noticed all the water being wasted and as both an engineer and yard aficionado, he worked with co-founder Franz Garsombke to form Rachio in 2013 with a goal of using smart technology to solve inefficient yard watering. By 2014, the first generation controller was on the market. Since then, we've introduced two additional generations of our flagship sprinkler controller and just introduced our new Rachio Smart Hose Timer.
We continue to innovate and stay ahead because we have an amazing team that is always looking at trends in the smart yard space, and they're so passionate about both technology and conservation. They look for new problems that consumers are trying to solve for their outdoor spaces, and we really want to help our customers "Connect Outside." That's why we created the Smart Hose Timer, for all the households that don't have in-ground irrigation. And we've built in-app integrations with other smart yard products that offer more tools to make yard care easy for our customers.
Marquis: Rachio has product lines for a variety of market segments including consumers and professionals. How do you differentiate them? How do you communicate the differences?
Sentovich: Our consumer line of products are built for homeowners and end users who want to water more easily and efficiently. These products make installation and setup easy, and have features like hyperlocal weather data, Quick Runs, Fixed and Flex schedules, and more that simplify the irrigation and yard care experience.
Our separate line of Rachio Pro products is built with features that are designed specifically for lawn care professionals. Features that make it easy for Pros to help their customers get the yard they want, like "Properties", to manage multiple sites for quick routing and "Wire Status", which provides Pros with real-time current and voltage monitoring with malfunction alerts.
Marquis: People are spending more time investing in their homes and outdoors. How are you appealing to the growth of these smart home categories?
Sentovich: We spend so much time researching, talking with our customers, and understanding their needs, that we only launch products and features that work the way our customers expect them to. Landscaping is a big investment, and we don't take it lightly that they're trusting their Rachio to help protect that investment. With our sprinkler controllers and smart hose timers, you know your plants are getting the right amount of water. Our products tailor your watering to deliver the right amount for your yard and plants, so you don't end up over or underwatering anything. A single tree purchased from a nursery for example, can easily cost hundreds of dollars and provides thousands of dollars of home value.
Additionally, as the leaders in the Smart Yard, we've continued expanding our partner product offerings with the Rachio Market - an online marketplace of products that work together to give customers a full smart yard experience that extends the comfort of home into their yards. Some partnerships include Weather Stations for hyper-local weather data, water flow monitors, and even a smart umbrella that retracts if its' too windy! As people are spending more time outside, we are leading the charge into the smart yard…and, there's a lot more to come.
Marquis: You have the EPA WaterSense certification. What is that, and does this matter to customers?
Sentovich: The EPA WaterSense label means that a product meets "EPA's specifications for water efficiency and performance, and is backed by independent, third-party certification".
Our smart sprinkler controllers have earned the EPA WaterSense label as a result of proven water savings. This means that when you shop Rachio controllers, you know they have met rigorous standards for using less water – at least 20% less water than other conventional sprinkler controllers.
We find that customers who are conscious of their water footprint seek out the WaterSense designation for indoor products like low flow toilets and water efficient washers, and they are becoming more and more aware of products that conserve water outdoors as well.
Marquis: Rachio is a certified B Corp. What does that mean and why is it important?
Sentovich: We've been a Certified B Corporation since 2017, meaning we meet the highest standards of verified social and environmental performance, transparency, and accountability. For Rachio, getting certified as a B Corp and continuing to uphold those standards is how we make sure our business interests align with those of our people and planet. Being a B corp is also important to our employees and our ability to attract talent to grow our business, and we are committed to living by that ethos. For instance, for Earth Day this year, our company has a three day weekend to volunteer with any type of non-profit organization they feel passionate about.
Our B Corp status helps us really stand out in the irrigation industry, where there are a lot of larger companies that are not mission based and do not hold themselves to any environmental or governance standards. B Corp really resonates with customers who want to support businesses that are doing better for the world.
Marquis: What can we expect in the future from Rachio?
Sentovich: Well, since we just launched our Smart Hose Timer this month, you can expect further expansion of that product - multiple valves, new features and more benefits for the customer. Also, we're continuing to look at what else in a yard can benefit from becoming "smart". Our market research team is looking at the next big problem that our incredible engineering team can solve, and where else we can bring a little Rachio flare!
And of course, you're going to see a lot more development on the software side of our business. I always say that Rachio is a software company enabled through hardware products. We stand apart because our in-app experience is second to none - and we don't have any monthly fees for that software. So we'll continue to bring the features, services and functionality that our customers want, to market. We're always looking at the latest technologies, be it AI, integrations, machine learning or whatever else, to make it easier for customers to build, maintain and monitor their smart yard through Rachio.