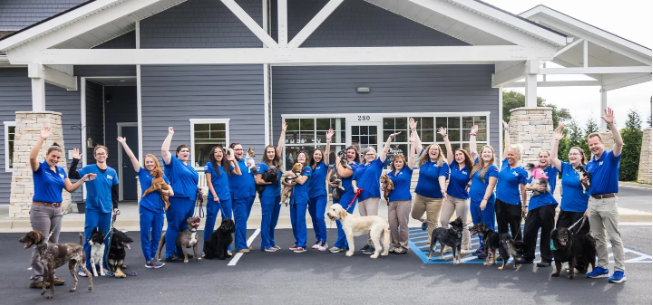 A recent article in Financial Times caught my attention. Titled "Lipsticks, lattes ... and now labradors: JAB's bet on pets", it brings to light the massive infusions of private equity capital into the veterinary healthcare industry. Corporate takeovers have become so aggressive that they are now generating a lot of work for antitrust regulators in the U.S. In this particular case, for the second time in a month, the U.S. Federal Trade Commission ordered JAB Holdings to divest its veterinary clinics in several states due to antitrust law violations. The German conglomerate that operates in the areas of consumer goods, coffee, and luxury fashion, and has invested over $9 billion in acquisitions of veterinary clinics across the globe, is one of many private equity firms rolling up animal healthcare providers in the U.S.
Reading further, I discovered that the amount of private equity investment in the veterinary industry reached a record $18.4 billion in 2020. While I have written about new business models in veterinary care previously, this article got me thinking about the industry more generally and in particular, who actually owns veterinary medicine? And does it have anything to do with the worrisome reports about the all-time high burnout rate in the veterinary profession?
I decided to talk about these issues with Dr. Ivan Zak, a veterinarian, entrepreneur and a former executive consultant to corporate groups. Dr. Zak has worked with dozens of veterinary consolidators in the U.S. before he launched his own veterinary clinic startup, Galaxy Vets, with a promise to give veterinary medicine back to veterinarians.
Currently, around 25% of veterinary hospitals in the U.S. are consolidated," he told me. "According to some estimates, 1-in-3 dollars spent on pet care goes into a corporate pocket. There are 
approximately
 50 consolidators (most of which are backed by private equity capital) shopping for practices. The problem with this is that these institutions are detached from the realities of the veterinary profession. Limited by a 3-5 year investment horizon, they prioritize generating returns and often overlook the employee well-being or quality of patient care. When you are here to play the short game, you are not interested in building a sustainable business," he concluded.
Building organizations with people in mind is what Dr. Zak told me he was trying to help veterinary consolidators do with his previous consulting firm, Veterinary Integration Solutions. He created an operating framework that would help corporate groups with enterprise management while improving the employee experience. But he admits to having wholly failed in finding a demand for the burnout prevention component. "Consolidation can be good if done right. Because of their large size, groups can have a bigger impact on the industry — improving medical standards, investing in research, and providing more growth and career opportunities to the veterinary teams. Unfortunately, most consolidators earned a bad reputation for a reason. Their approach is buying as many hospitals as quickly as possible and then reselling at a higher multiple. What happens to people is not important."
The Cornell Center for Veterinary Business and Entrepreneurship estimated that workplace burnout 
costs
 $2 billion in lost revenue annually, which is 4% of total industry value. The cost of burnout, however, isn't the only reason to fix mental health issues in the profession. One in six veterinarians has contemplated suicide. The likelihood of veterinarians taking their life is twice as high as in the medical profession and four times higher than in the general population. The situation among support staff is even 
more daunting
. Male and female veterinary technicians are more likely to die by suicide compared to the general population — 5 and 2.3 times more likely, respectively.
Dr. Zak has personally been through this experience. After more than a decade as an emergency veterinarian, he almost lost his life to depression and burnout. "I've seen firsthand what it leads to when your employer doesn't care that you worked a 12-hour shift, then slept for two hours in your car in a parking lot, and then started another 12-hour shift," he shared.
After an almost year-long recovery and a long list of management mistakes to avoid, Ivan found his purpose in reducing burnout in the veterinary industry. With Galaxy Vets, he aims to do just that.
The solution Dr. Zak found lies in employee ownership. Launched in August 2021, Galaxy Vets became an ESOP (employee stock ownership plan) company by design, allocating shares to all of its employees – veterinarians, technicians, support staff, and even relief workers. "We want to bring veterinary medicine back to where it belongs – in the hands of veterinary teams," Dr. Zak explained.
With nearly 6,500 ESOP businesses in the U.S., I was surprised to learn that Galaxy Vets is the only consolidator that uses this model in the veterinary domain. I immediately became interested to learn more; below I am sharing some of our discussions.
Christopher Marquis: Can you tell me more about Galaxy Vets and how did you become employee-owned?
Dr. Zak: When I started sharing my thesis for Galaxy Vets in the professional community, it attracted a group of like-minded investors that gave me a push to start. The idea was to partner with general practices that would fuel our future growth through part cash, and part equity rollover. As opposed to a traditional exit, when sellers receive a payout and leave, and their staff gets nothing, with Galaxy Vets, practice sellers remain co-owners and their employees also receive equity in the entire organization. From Day One, I knew that I wanted to build an organization where everybody is an investor and has a voice in how we do things. An Employee Stock Ownership Plan is perfect for that. The beauty of this model is that employees don't need to buy out their shares or have a certain amount of money taken out of their pay. They are granted shares at no cost accumulating in their retirement fund.
Marquis: I understand that Galaxy Vets grows through acquisitions. How does having an ESOP help with that?
Dr. Zak: Many acquisitions fail because there is a tremendous mismatch between buyers' purpose and employees' purpose. In the case of consolidation backed by private equity, most buyers' purpose is to make money for their investors. Veterinary teams' purpose is to help animals. There is a conflict of values that burns people out and drives them away.
We are the only consolidator in the U.S. that uses ESOP to acquire veterinary practices, and we are run by veterinarians. The advantages of this approach are endless. Hospital owners who decide to sell are worried about three things (and not necessarily in that order): how their legacy is preserved, what is going to happen with their team, and of course the payout. Selling to an employee-owned company covers all three. First, their business remains in the hands of veterinarians who understand and care for the profession. They get to stay on as clinicians and co-owners, and together with Galaxy Vets, continue growing their hospital. Second, their employees also get shares, which yields tremendous financial and emotional rewards. Lastly, we deliver a dramatically higher payout compared to what is currently offered on the market because a sale to an ESOP company is tax-deferred. In the long run, the seller and their team continue building significant wealth as shares appreciate over time. It's a win-win model for all the parties.
Marquis: Aside from employee ownership, how are you different from other companies that are consolidating an industry through acquisitions? And why are you called "a veterinary healthcare system?"
Dr. Zak: We are building out a vertically integrated system of veterinary services designed to provide care to pets when and where they need it. We will create hubs in dense areas (solar systems) that will include general practices (planets) and a specialty and emergency hospital in the center (a star) enhanced by membership-driven telehealth services and a network of retail diagnostic centers.
Historically, the veterinary business is very transactional. Clients come in, get an appointment, pay the bill, and leave. It's difficult to scale, especially given the shortage of veterinary professionals. We want to change the entire healthcare delivery model into a subscription-based service that will improve access to care while providing more efficiency and variety to the veterinary teams.
Marquis: Do you think employee ownership can reduce burnout which I understand is an issue among veterinarians?
Dr. Zak: I like to take a data-driven and evidence-based approach to burnout prevention. I've done a lot of research, including an MBA dissertation, and I think that employee ownership combined with thought leadership can combat the six classic burnout triggers — work overload, lack of control, unfairness, community breakdown, lack of appreciation, and conflict of values. When all employees are owners, they are motivated to work together on solving problems, they share a purpose and by seeing how their work contributes to our overall success, they feel rewarded. Think of it as a rented versus owned house. You are more incentivized to improve something that you own.
Marquis: It is known that employee-owned organizations grow faster and perform better compared to other businesses. How does that work in the case of Galaxy Vets? How does an employee ownership culture look for Galaxy Vets?
Dr. Zak: We foster an ownership culture by being transparent and inclusive. Our business rhythm and cadences are designed to involve every team member in the process of planning, and everyone identifies what they can do within their area of responsibility in order to help achieve our goals. Then, they have the autonomy to decide how to address those tasks. In the spirit of the founder's mindset, we provide unlimited paid time off because we want people to have a healthy work-life balance and feel that they have our trust that the work will be done.
In our headquarters — the mission control — we are very clear that employees are our key stakeholders. We work for them, not the other way around. The best culture is built bottom-up and our first task as an employer is to empower team members to share their opinions and give them the tools to do that. We have a platform called "Idea Portal" where anyone can submit a suggestion about any change or improvement that they want in Galaxy Vets. It can be anything, from sponsoring cooking classes to establishing a charity program for financially challenged pet owners. If an idea collects a certain amount of votes, it must be reviewed by the idea committee — a group of people who volunteered to do it — and if there is a business case for it, it will be implemented.
Marquis: I understand there is a serious labor shortage in the veterinary workforce. And we all hear about weeks-long wait times to get an appointment and the unimaginable lines in emergency hospitals. A recent study found that by 2030, the U.S. will need nearly 41,000 additional veterinarians and nearly 133,000 credentialed veterinary technicians. What is the solution to this problem? Is it graduating more students?
Dr. Zak: I'm not a fan of this idea. Ideally, yes, this will help but we need a more systemic change. If everything stays the same, we will be simply producing more vets just to burn them out.
The solution is complex but I believe that it should start as early as veterinary school. Students receive exceptional medical education but they are not trained for real life. Such skills as conflict resolution, negotiation, providing and receiving feedback, and teamwork are essential in a practice setting. We can still hear from aspiring veterinarians that they want to treat animals because they don't want to talk to people. In reality, all you do is talk to people and those people may not always be happy. This disconnect between academic education and actual practice is the reason why younger veterinarians are the most burnt-out group.
Another example of how the foundation for burnout is laid from the early days is the veterinary professional oath. When veterinarians and technicians graduate, they take an oath similar to the Hippocratic oath taken by physicians. Only revised once since 1954, it is solely focused on serving animal health and welfare. Something that has such a strong emotional power should incorporate the concept of individual well-being. The physician oath does. We need to engrave in young professionals' minds that taking care of their own health and well-being is a basic premise to be able to deliver on the other commitments laid out in the oath. It's like with the oxygen mask on a plane, you need to protect yourself first to be able to help others. Even such small things as a revision of the veterinary oath can have an impact.
So to answer your question, yes, we should be graduating more veterinary professionals but we need to reconsider how we prepare them to cope with the human and emotional aspects of practicing veterinary medicine. This approach to dealing with the veterinary shortage, however, will only show its effectiveness in 5-10 years and we can't afford to wait this long.
Marquis: So what is your vision to overcome the workforce crisis?
Dr. Zak: In my opinion, it's not a market of few vets, it's a market of poor jobs. The majority of employers have just failed to create attractive workplaces. When we launched Galaxy Vets and began talking about our vision, in just over a few months, more than 1,000 people expressed their interest in working with us. We didn't have a single hospital at that time — we had just started. This shows that if people believe in you and your purpose, if you are genuinely trying to solve their challenges, you will succeed as an employer.
Veterinary medicine is a very conservative business but today, technology disrupts every industry. Uber revolutionized urban transportation. Airbnb entirely redesigned the rental experience. Netflix transformed the global entertainment landscape. Now is the time for the veterinary domain. We need to finally start taking advantage of technology. By implementing telehealth workflows, practices can significantly optimize and improve the service delivery model. It is the only way for the veterinary industry to scale and be able to serve the growing pet population. It will also bring more remote work opportunities and make a massive difference in veterinary teams' work-life balance.
It's time to rethink the entire organization of work and employment standards in the profession. For example, the overwhelming majority of veterinary practices still require veterinarians to sign a non-compete agreement that prevents them from working within a specific radius of their clinic. Instead of trying to create workplaces where people want to be, they are trapping employees with no freedom and no choice.
Veterinarians are purpose-driven by nature. Just give them more freedom and choice, and the intrinsic motivation will do the rest. With Galaxy Vets, I've initiated a fundamental shift, and I hope others will follow.