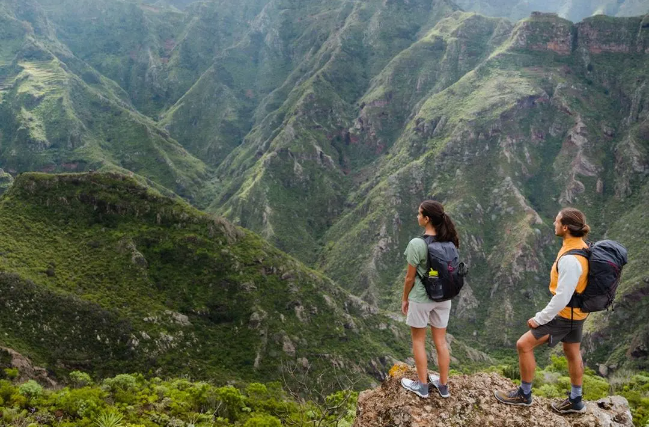 In 2022, footwear and lifestyle brand Vivobarefoot sold a record 773,000 pairs of shoes, but if you ask co-founder and Chief Ecosystem Officer Galahad Clark about his vision, he will tell you that above sales, the brand has much more far-reaching goals: human and planetary health.
I recently sat down with Galahad to discuss Vivobarefoot's regenerative business initiatives that include aggressive sustainability goals, a recycle and repair platform, upcoming bespoke scan-to-print footwear, and why the brand believes that looking to indigenous cultures will show us how to improve modern footwear design.
Read more from our discussion below.
Christopher Marquis: Tell us a little about your background. The last name sounds familiar. How did you get into barefoot shoes?
Galahad Clark: 
My family's heritage lies deeply rooted in the footwear industry - we are seven generations of cobblers from Glastonbury, Somerset England, dating back to 1825. While Clarks Shoes stands as one of the oldest and most recognized footwear businesses in the world, I began a personal journey to revolutionize the way society perceives shoes through the advent of Vivobarefoot.
Together with my cousin and co-founder, Asher Clark, we embarked on a global odyssey, immersing ourselves in the world of shoemaking. We sought wisdom from both contemporary shoemakers and indigenous craftsmen, seeking to absorb their knowledge and techniques. Throughout our travels, a paramount principle crystallized—the essence of barefoot design and the inherent purpose of footwear is safeguarding our feet from cuts, cold, and heat. We believe the most extraordinary piece of technology ever incorporated into shoes is the human foot itself. Thus, our brand pivoted around this profound realization, liberating feet to move freely as intended by Mother Nature.
Marquis: What does a regenerative business model look like at Vivobarefoot? What are you doing as a leader to impact social change?
Clark: At Vivobarefoot, we are committed to being a regenerative business both inside and out. This means our business is one that supports the connection to natural systems for the people that work in our company, those who make our products and the people that wear them. We want to foster a working environment where people feel welcome to bring their whole selves to work and therefore are able to discover more of their natural creative spark. I believe this humanness invites innovation, collaboration and purposefulness into the heart of everyday meetings and decision-making. Our culture of agility and empowered entrepreneurialism allows failures to be continuously transformed into learnings and reduces the burden of bureaucracy.
Looking outside, we aren't afraid to shake up the status quo and revise ingrained, habitual approaches to commerce. This means swimming ever more firmly against the tide to achieve substantial social and environmental impact. In 2020 we achieved B Corp certification and we're going above and beyond the usual 3-year B-Corp assessment by conducting self-assessments every year.
We also believe in value chains over supply chains. We offer complete transparency through our newly launched Digital Value Chains Map about exactly who we are working with, where they are, and how they are performing against Vivobarefoot standards. Additionally, we created an in-house impact fund, the Livebarefoot Fund, which is an incubation hub for social and environmental initiatives that aim to pioneer regeneration solutions. We achieve this through driving research, innovation and action in footwear, experiences and community engagement.
Marquis: Why do you believe ancient wisdom is the foundation for the future of human and planetary health? Can you tell us more about your projects with indigenous communities?
Clark: We have built our modern life on the belief that we are separate from nature. As a result, our sedentary, cushioned, toxic lifestyles is making us and our planet sick. Our base fulcrum at Vivobarefoot is the notion that we are nature and nature is us, so instead of fighting nature we need to let nature heal us and the way we believe we can embrace human nature is to "rewild" our lives.
We have traveled the world on the quest for the perfect shoe, and along that journey we were introduced to some of last persistence hunters left on earth based in the
Kalahari Desert of Africa, the Ju'/hoansi bushmen, artisan from the Saami community in Finland, the Mongolian feltmakers, the moccsain makers in Canda and cobblers in India. We began learning and collaborating with the cobblers who have been making shoes for millennia, and gained tremendous insight into how we could best simplify our designs, and improve the natural function and environment-specific performance in all our shoes.
We dedicated ourselves to working with the Ju'/hoansi tribe to create 2,000 sandal run that will be released this summer creating a grassroots enterprise where the profits are reinvested directly back to the local community. Reviving this imperative ancient craftsmanship with the San as well as other indigenous communities around the world will remain core to our ongoing indigenous advocacy efforts.
Marquis: As you know, a lot of industry players have made lofty promises with their sustainability platforms but are lagging in their delivery of circularity. What do you see lacking in the industry's efforts to tackle environmental concerns? Is there enough transparency?
Clark: The truth is, no shoes are truly regenerative and anyone who claims otherwise is not being transparent. At Vivobarefoot, we utilize a Vmatrix tool to internally assess the sustainability of our design principles and score everything from longevity to materials and end-of-life potential. All of our shoes are made of biofabricated, recycled and natural materials and we are constantly working on ways to make footwear that is more easily recyclable repairable or biodegradable.
In 2024 we are tackling our biggest innovation yet when we launch VIVOBIOME in the US. The project will aim to solve the overproduction and manufacturing waste that is common in the months-long cycle it typically takes to produce a pair of shoes with a radical scan-to-print circular footwear system that will reimagine how footwear is created. Made-to-be-remade, the footwear will be made person-by-person, foot-by-foot, out of local materials.
Marquis: Tell us more about your e-commerce platform, Revivo. What can consumers do to make a difference at home?
Clark: Every year 22 billion pairs of footwear are dumped into landfills.
We want to try and combat this in a real way, so we created our recommerce platform, Revivo. Launched in July 2020, it is the first repair-for-resale website launched by a footwear brand. On Revivo, customers can buy professionally refurbished Vivos at 20-50% off the original price. Worn Vivos are cleaned, sanitized, and then checked so that any faults are repaired by a trained craftsperson before they are boxed and ready to be sold. This means that customers that shop on Revivo receive secondhand products that are certified as refurbished by experts, unlike on resale marketplaces. Revivo sells to more than 50 countries and offers more than 15,000 products at any given time, many from previous collections that are no longer available on the Vivobarefoot website.
Revivo offers a global take-back program that allows customers to send back worn Vivos to ensure that they do not end up in landfill. While we love seeing this circular economy implemented by a number of brands these days, the footwear industry is still catching up. We are probably most proud of the massive of growth in repairs we are already seeing, with nearly 31,000 last year. So the more Vivos that are returned back to us (currently we see 48% return rate), the more we can repair and keep them away from landfills.