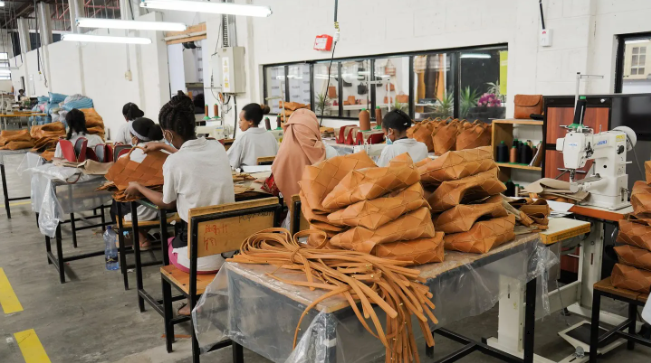 The current fashion industry is broken. For decades, consumers have chosen the latest trends for cheap prices, at the expense of the underpaid, exploited, workers and it doesn't have to be that way. But since 2014, Parker Clay has shown that a more ethical and sustainable fashion industry is possible.
Drawing inspiration from Ethiopia's cultural heritage, Parker Clay collaborates closely with local artisans to create premium leather goods and accessories that blend traditional techniques with modern design. Their commitment to sustainability is reflected in their use of Ethiopian full-grain leather sourced from environmentally friendly tanneries, as well as our efforts to minimize waste and empower communities. Parker Clay's product range includes meticulously handcrafted leather bags, wallets, accessories, and home goods that showcase timeless style and exceptional quality.

For the first time, Parker Clay is inviting the public to support its call-to-action through Regulation A crowdfunding. Part of the Obama Administration's JOBS Act, companies, this regulation allows non-accredited investors to invest in private companies.

I recently had the chance to talk with founders Ian and Brittany Bentley about how a dream of theirs turned into a Certified B Corporation that is also a Best For The World winner, a recognition for being one of the top 10% of B Corps in a certain area. They emphasized that the heart of the brand is a mission to empower vulnerable women in Ethiopia. Through their partnership with local organizations, they provide training and employment opportunities for those affected by human trafficking. By supporting these women, they help break the cycle of poverty and contribute to the betterment of their communities.
Ian Bentley
: My wife and I created Parker Clay in 2014. In 2011, our family visited Ethiopia for the first time and it was just us four – myself, my wife Brittany, Parker and Clay (yep, their names came first). In 2012, Ethiopia became our home. We adopted our second daughter while living in Addis Ababa, the capital city. While living there, we worked with organizations empowering disadvantaged women through rehabilitation, skills development, and job creation. Meeting these women and witnessing the transformation that can come with just a teaspoon of opportunity deeply moved us. We were inspired to continue growing this brand to celebrate local materials and Ethiopian craftsmanship and share it with a broader audience.
Marquis: Can you say more about the products or services Parker Clay offers and what sets the brand apart?
Brittany Bentley: At Parker Clay, we craft premium leather bags to provide dignified employment and uplift women out of exploitation. We provide better — better bags and better production to make a better world. Our products are handmade with full-grain Ethiopian leather at our company's factory in Ethiopia. First, the leather is sourced from local tanneries, we then begin production: cutting, stitching, finishing, and shipping to our fulfillment location in Santa Barbara. We own our entire supply chain, which allows us to create a more sustainable business model.
One thing that makes us stand-out is that we don't take shortcuts. We obsess over sourcing, stitching, and every last grain of leather, leaning into centuries of Ethiopian leather-working tradition. Our bags are built not just to last, but to get better with age — a claim we'll back up with our Lifetime Guarantee. These bags change lives at every step of their journey.
Brittany Bentley: Parker Clay has also been a Certified B Corp since September 2018. meeting the highest standards of verified social and environmental performance, transparency and accountability. We have also won "Best for the World" for Community Impact the past two years. The process isn't easy, it's a lengthy and detailed process that for many brands ends without certification, but this is important as the rigor of the assessment is what makes the certification so important. It's proof that what you say is what you do, and I think that's one of the most important aspects of the B Corp certification. We just renewed our score to 112, placing us at the top of the list in terms of leather goods productions worldwide.
Ian Bentley: And our employees are truly part of our business. One of my favorite memories is when a woman, now dear friend, Meselu came up to me at our factory in Ethiopia and showed me her son's report card. Her pride and joy were spilling out of her shining eyes – because of her opportunity, she had been able to afford to send him to school, and he had received straight A's and was first in his class. It's such an important story because it's not just the opportunity for women, but it's transforming future generations.
Marquis: What is the long-term strategic vision and mission for Parker Clay?
Brittany Bentley: Through growing our community and fundraising campaign, we hope to create a lasting impact through sustainable employment for women in Ethiopia. We plan to build new retail stores in some of our key markets in 2023-2024; we're super proud of the growth we've had to date. We now have retail locations in Playa Vista, San Luis Obispo, Denver and of course our flagship in Santa Barbara. We also have plans for more wholesale accounts as well as collaborations with like-minded brands. We just moved into a new factory in Ethiopia with room to expand and we plan on hiring more women.
Ian Bentley: We have also launched a fundraising campaign that was inspired by the idea of building the community. Through our vertically integrated supply chain, we are changing the fashion game entirely and working towards eliminating fast fashion. This exciting new chapter for Parker Clay is something we want our customers to be a part of. Since the beginning, we built our company on the foundational proverb that says, "if you want to go fast, go alone, if you want to go far, go together." The crowdfunding felt in line with this principle. We have built a community of customers who have helped scale our impact by purchasing products. Through the crowdfunding campaign, we want to offer not just a product but the opportunity for a financial return. By democratizing the investment process customers can truly invest where their values are.