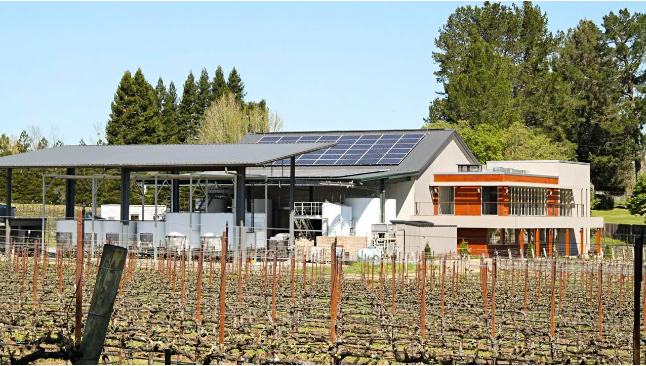 In recent years, wineries and winemakers have become increasingly conscious of the impact wine production and distribution has on the environment. Many companies are now altering farming practices to be more climate friendly, and considering sustainability in packaging and distribution. However, the weight of wine bottles, which accounts for 29% of wine's carbon footprint, is still one of the largest issues the industry faces.
I recently spoke with Ron Rubin of Ron Rubin Winery, Sonoma County Vintner and founder of BLUE BIN, to learn more about the launch of the brand's new 100% recyclable wine bottles, and how others in the wine industry can join this trend.
Ron told me how BLUE BIN is the first premium wine packaged in a 750ml bottle made from 100% recycled polyethylene terephthalate (rPET) plastic and that these bottles are smaller and lighter than conventional bottles, shatterproof, and fully recyclable. As a veteran in the wine industry, Ron also shared his journey and reason behind founding BLUE BIN and the state of the wine industry.
The inspiration behind the name came to me last summer when I was driving to our winery on Route 116 (Gravenstein Highway) outside of Sebastopol, and I noticed all the blue recycling bins out on the road ready for pick up that day. As we were exploring alternative bottles to combat the waste from traditional wine bottles, we discovered that we could make a 100% rPET bottle, and knowing that blue bins are where all the recycled material comes from to produce rPET, BLUE BIN felt like the perfect name.
Marquis: What was the process like to make a 100% recyclable bottle made from 100% recycled material? What sets the bottle apart?
Rubin: We worked in partnership with Amcor, the global leader in responsible packaging solutions, to create the BLUE BIN bottle - the U.S' first wine bottle made out of 100% recycled materials. Without the leadership, support, and working in partnership with Amcor, BLUE BIN would not have been launched. This was a most enjoyable collaboration and learning experience for all.
With BLUE BIN's first-of-its-kind bottle, we hope to inspire more wineries to no longer purchase glass bottles weighing more that 420 grams and to consider using 100% recycled PET wine bottles for wines they produce that are consumed shortly after consumer purchase.
Marquis: How can other wine brands follow in Blue Bin's footsteps to create a more sustainable + planet-friendly wine industry? Do you have any recommendations for wineries that want to become B Corps?
Rubin: More wineries need to be open to using some type of alternative packaging (rPET, aluminum, lightweight glass) for wine in their businesses. Being cognizant of packaging and which is better for the planet will create a more sustainable and planet-friendly wine industry.
My recommendation for wineries wanting to become B Corp Certified is to JOIN the movement to become part of a global community of businesses that meet the high standards of social and environmental impact while being committed to continuous improvement. Small steps can help our planet and beginning those steps as soon as possible will help create a better future for people and the planet.
But the process was time consuming, difficult, and exciting all at the same time. From start to finish it took us 651 days. I think more wineries haven't embarked on this journey because of the commitment to transparency and rigid scoring on 5 impact areas in the B Impact Assessment (Workers, Environment, Governance, Customers, Community), which are all pillars Ron Rubin Winery proudly adhere to.
Marquis: The wine industry has been deeply impacted by climate change, whether fires or droughts. What's the future of wine look like, and why is it important for consumers to take action to drink more sustainably?
Rubin: The future of wine can look positive as long as winemakers and consumers work together to create positive, planet-friendly decisions throughout the wine making and purchasing process. As we know, the wine industry can have huge impacts on the environment, from packaging to farming practices. Along with BLUE BIN, there have been many wineries and advocates that have spoken out about ways to make the industry better for the planet, including packaging, which we know accounts for 29% of the industry's carbon footprint.
For consumers, a good first step is for them to do their research and seek out and purchase planet-friendly alternative packaging to enjoy the wine they love with less environmental impact to planet Earth.