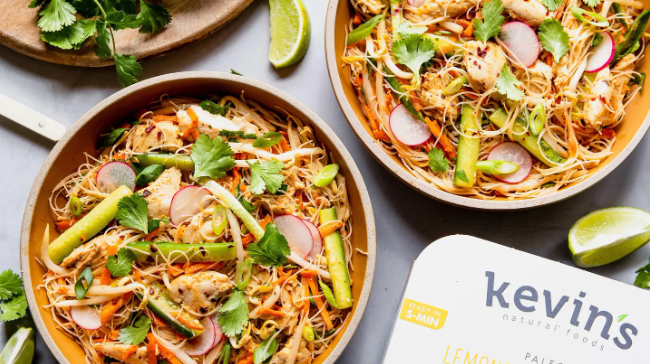 Kevin McCray faced an unexpected twist in his life during college when he was diagnosed with a debilitating autoimmune disease that left him hospitalized for months at a time. Previously Kevin had a passion for health and fitness, but he found himself unable to eat and relying on a feeding tube. His experience was not only physically challenging, but emotionally draining as well. Realizing that conventional hospital treatments only provided temporary relief, he decided to develop a nutritional protocol to reduce inflammation and aide his healing process.
Frustrated with years of consuming flavorless and unexciting food, Kevin next embarked on a mission to create foods that would satisfy both the strict guidelines of the anti-inflammatory diet and his craving for tasty, comforting meals.
In 2019, his journey led to the birth of Kevin's Natural Foods, the first refrigerated entrée brand that specializes in crafting delicious, nutrient-dense, and easy-to-prepare meals for individuals with autoimmune diseases, food sensitivities, and/or those who want simple, healthy foods.
Recently I heard that Kevin's Natural Foods will be acquired by Mars and so I wanted to catch-up with Kevin to learn more about this development and also the inspiration for his founding the company and where he sees it going next.
When I was twenty years old, I was hit with an auto-immune disorder out of the blue. It turned out to be a chronic issue that had me in and out of the hospital for weeks at a time dealing with debilitating flair ups for years. I tried a variety of treatments with conventional medications, and nothing helped consistently until I discovered the power of a diet that is rich in whole foods and avoids refined sugar. This lifestyle change helped me reclaim my energy and return to good health.
This experience opened my eyes to the power of eating better. However, what came next led to Kevin's. Standing in my kitchen late one night, I was dead tired and trying to muster the will to meal prep for the week ahead when it hit me––if I'm having a hard time doing what it takes to change my lifestyle, then what about the person trying to pull this off that doesn't have the outsized motivation of a looming auto-immune disorder? The more I dug, the more I was convinced that there was a large unmet need that needed to be solved. So we dug in and focused on a solution that provided healthy meals that the average consumer could make in under five-minutes that still tasted fantastic.
According to the U.S. Department of Health and Human Services, over 60% of US consumers have one or more preventable, diet-related chronic diseases. This is what keeps us up at night and what inspires us to execute against our mission. By offering a wide-ranging menu of prepared meals with strict health standards, that taste shockingly delicious, and can be heated in less than 5 minutes, we are helping people improve their lives without sacrifice. We are eliminating the need to sacrifice nutrition and flavor for convenience.
Marquis: How has the brand grown since you launched in 2019?
McCray: We shipped our first case to Costco's Bay Area division in August of 2019 and the product exceeded their velocity expectations right out of the gate. When Costco started calling to pull orders forward, we knew we had something special with Kevin's and we have been growing like crazy ever since. Today, Kevin's is selling in over 22,000 retail locations across the US, Canada, and Mexico including Costco, Whole Foods, Target, Walmart, Albertson's, Publix, and Kroger.
What's more, working directly with our customers through focus groups and gathering multiple rounds of feedback we have expanded the Kevin's product line to include a wide-ranging menu of culinary shortcuts including sous-vide protein entrées, heat & eat sides, sauces, cauliflower-based pasta entrées, and raw/marinated chicken entrées. Every product is in service to the mission of empowering people to eat clean without sacrificing flavor.
Marquis: How does Kevin's Natural Foods incorporate social and environmental values into its business practices?
McCray: We created the brand to help people improve their lives. The brand was designed to do right by people. In our view, that ideal can't be limited to just the Kevin's product. It was bigger than that. The company behind the brand needed to live up to those same high standards. With that in mind, we felt that the company's culture, operating practices, and governance should be held to the highest standards for social and environmental impact. That fueled our decisions to pursue the B Corp Certification. As we conducted the certification process we were pleased to know that we were already operating at a high standard and we didn't have to make major adjustments. We simply refined our tracking and instituted on-going goals to continually improve.
We approach social and environmental values like we would other important business initiatives with strategy, objectives, and creative ideas for moving the ball forward. With this in mind, we decided to methodically hone-in on key areas where we can make an impact and continually add projects to the queue so that we are always making progress. One of the current initiatives is plastic reduction. By re-concepting our packaging format to utilize more sustainably harvested corrugated and fiber trays, we have been able to remove over 500,000 lbs. of plastic from our products in 2023 alone.
Transparency is key to our success here at Kevin's Natural Foods. We have a culture of radical transparency and every employee has an ownership stake in the company. We believe that continuing to share our mission and goals and report on our progress allows our teams to all be working towards the same goal. We value every employee and their opinions and have scored exceptionally well on the workers section of the B-Corp evaluation. We are very proud of this fact as this is a company built by the people that work here and we wouldn't be having the success we are without them.
Marquis: Can you say a bit about why you chose to sell the company and why Mars is a good home for your work in the future?
McCray: We recently made the decision to join Mars' Food & Nutrition portfolio of brands, which will allow us to accelerate the development of more product innovations and support our mission of bringing Kevin's to more consumers across markets. We are excited to play a key role in Mars Food & Nutrition's ongoing journey to build purpose-driven business, enabling delicious, healthier eating habits. Mars is committed to upholding Kevin's rigorous nutritional standards and will operate as a standalone business within Mars Food & Nutrition to maintain its entrepreneurial spirit and the authenticity of its brand and culture.