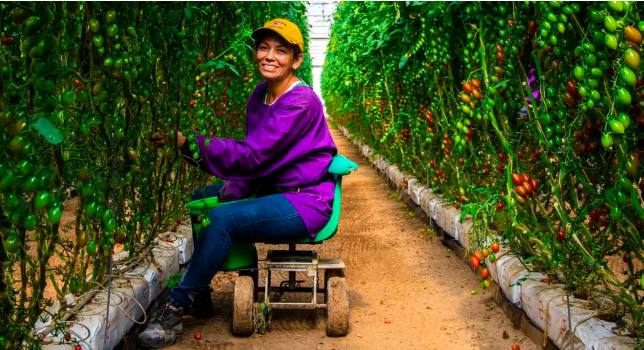 When you purchase tomatoes at the grocery store, you probably don't ask yourself who picked them and if the people behind the product are being treated fairly. The agricultural industry has long been criticized for the treatment of its workers due to poor working conditions, low wages, and limited access to healthcare.
NatureSweet, a produce company known for its greenhouse-growing methods, is also focused on humane and equitable approaches to workforce management that the company hopes its example takes root within the industry. The snacking tomato company pays workers competitively, provides educational opportunities, and encourages them to earn their degrees. More than 2,000 associates have benefited from these programs. This year, the company launched a pilot program for employees to earn their bachelor's degree in agriculture, and 30 team members are expected to graduate in 2028.
NatureSweet has earned three important social and environmental certifications: Fair Trade, Equitable Food Initiative (EFI), and recently, B Corp certification, becoming the world's largest controlled environment agriculture (CEA) company to do so. I sat down with NatureSweet's President and CEO Rodolfo Spielmann to discuss the snacking tomato brand's social and environmental initiatives, and what the future holds for the company.
Christopher Marquis: NatureSweet employs more than 6,000 agricultural workers, and a big focus of your social mission is focused on them. Can you say more? Also, are there any financial trade-offs that the company has faced in this work?

Spielmann:
 Over 30 years ago, we started the business with a commitment to transforming the agricultural industry. Today, our associates earn almost 40% more than the median wage of agricultural workers in Mexico and have access to educational programs, psychological and healthcare services. I firmly believe we have the best and most talented people who create the best-tasting product in the industry. Our Associates create a difference you can taste. They're able to do this, in part, because NatureSweet has a supportive environment worth staying, growing, and thriving in.
Case in point, our turnover rate is less than 1% a month in an industry with an average employee turnover rate between 150-250% per year. Because they stay and grow, our Associates know best practices in terms of quality and safety, and they know our product inside and out. Treating employees right is a virtuous cycle: We invest money in our associates and they care for the produce as if its theirs in return.
Regarding your question about trade-offs, there's a false dichotomy between treating workers with dignity and being profitable. At NatureSweet, we don't question "How can we be profitable if we do this?" We are profitable because we treat our employees right. That's our business model. There's no conflict.
Christopher Marquis: Congratulations on your recent B Corp certification. As a labor-intensive large company, I know that must have been a challenge. Can you say more about the certification process and what you learned?
Spielmann: You are right. It can be complicated to become B Corp Certified when you have a big business with large operations, because the scale doesn't work in your favor. It works against you. As one of the founders of the Equitable Food Initiative, we have focused on the right things for a long time, so this was not a large hurdle for us. We see it more as an obvious step in our evolution to transform the lives of agricultural workers in North America. We are the largest CEA company that is both Fair Trade and EFI certified. The B Corp Certification process helped us fine-tune many in-house processes and opened our eyes to opportunities we had not seen. Because we have it in our DNA, we were able to quickly identify these opportunities and capitalize on them. Our B Corp journey didn't require our company to change who we are. It just asked us to become better.
Christopher Marquis: Can you say more about what's next for NatureSweet?
Spielmann: We are committed to continuing our strong growth and giving consumers the highest quality produce. Consumers can trust NatureSweet products will taste great all the time, and that it comes from a proud worker who put all his or her effort into growing it. From an ESG perspective, this is a decades-long commitment. We will continue improving. We cannot fail.
We're going to focus more on the environment. Since we are CEA company, our practices are more sustainable for the environment than open-field farming. At one time, that was good enough for us. What we've realized through this process is that we can do a lot more. For example, during the certification process, we made the decision to voluntarily protect more than 120 acres of land at our plant in Jalisco, Mexico. We were the first business in the state to become certified doing so. We will continue to search for better ways to protect our environment and improve our practices.
Looking at the bigger picture, our industry must change. There's no shot of thriving in the 21st century if that industry is based on exploitation. There is no debating that. We know that a vast majority of the players want to do the right thing. But the change will go as far as our workers will take it, and that will only happen if leaders pave the way. For us, becoming B Corp Certified shows others in agriculture that when you do the right thing you can still be widely successful. That is what NatureSweet is today.